Binance plunges 8% on scrapped Singapore exchange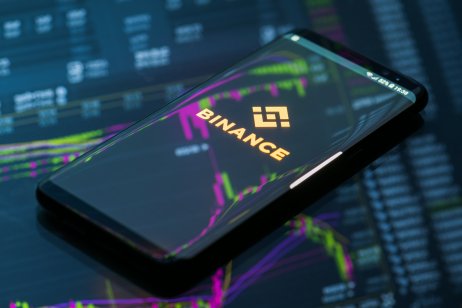 Binance fell more than 8% on Monday after the company behind the digital coin scrapped plans to set up a cryptocurrency exchange in Singapore.
The company, also called Binance, said in a news release that it intends to withdraw its license application, and wind down its digital token in Singapore by February 2022. Effective 13 February 2022, Binance investors will not be able to trade on the organisation's Singapore platform, Binance.sg.
Leading cryptocurrencies bitcoin and ethereum also declined on the Binance news.
Binance's backing company operates cryptocurrency exchanges globally. The exchanges trade the Binance coin and other crypto assets.
Move connected to Hg Exchange investment
CEO Changpeng Zhao said on Twitter that the move was connected to Binance's acquisition of an 18% ownership stake in private Singapore-regulated Hg Exchange.
"This investment made our own application somewhat redundant," tweeted Zhao. "We will continue to work through our partners to grow the crypto industry in Singapore. Onwards."
The company ranks as the world's largest crypto exchange operator by trading volume. Binance's crypto ecosystem includes a digital wallet, token launchpad and blockchains, the decentralised public-ledger systems that serve as the backbones of digital currency.
Binance stopped registering new accounts on its Singapore.sg platform on Monday.
What is your sentiment on BNB/USD?
Vote to see Traders sentiment!
Singapore.sg accounts must close
As well, the Binance news release said all Singapore-based accounts must be closed by 13 February. The company recommended that customers act as soon as possible.
Binance.sg customers who do not close positions or withdraw crypto assets by the final deadline will have their accounts suspended. The company will also apply a 5% monthly maintenance fee and 25% one-time administrative charge until the crypto assets are transferred.
Binance's license application withdrawal came as regulators around the world are getting tougher on digital currencies and crypto exchanges amid concerns about a lack of fiat, or traditional, currency backing, along with potential severe price drops and money laundering.
Company discussing Indonesian business
Binance's price plunge also coincided with a Bloomberg report that the company is discussing the possibility of setting up a cryptocurrency exchange with some of Indonesia's largest players.
According to the report, Binance is in talks with PT Bank Central Asia (BCA), which is controlled by billionaire brothers Budi and Michael Hartono and state-owned PT Telkom Indonesia, the country's largest telecom firm.
Bloomberg cited unidentified people who have knowledge of the discussions. Binance has declined to comment on the report.
But Telkom Indonesia spokesman Ahmad Reza told Bloomberg the company is studying new opportunities to form partnerships with top players through its venture-capital arm MDI Ventures, especially considering the potential in the blockchain and crypto markets and the opportunity to leverage connectivity capabilities.
A BCA representative told Bloomberg that bank had not discussed such a strategic investment at its board meeting.
Indonesia's government is pushing to set up a crypto-focussed exchange by the end of the year, according to Bloomberg.
Binance wants to operate in Britain
Binance already has an investment in Tokocrypto, which operates one of Indonesia's largest crypto exchanges.
The Asia-related news came a week after Zhao served notice that Binance is renewing efforts to get regulator permission to operate in Britain. The CEO told The Telegraph that Binance plans to launch a UK arm, and register with the British Financial Conduct Authority (FCA), within the next six to 12 months.
The FCA banned Binance from conducting any regulated activity in the UK without written consent. Since then, the company has established a UK office staffed by compliance officers and former FCA employees.
"We're fully re-engaged there," Zhao told The Telegraph. "We're making a number of very substantial changes in organisational structures, product offerings, our internal processes, and the way we work with regulators."
The FCA contended that Binance failed to supply its business model and wider product offerings while citing a lack of effective supervision. Binance withdrew its FCA license application in mid-May after failing to comply with the company's anti-money laundering requirements.
Read more: BELLUS Health stock jumps 76% after Phase 2 trial results