Crypto's big year: The five best crypto investments of 2021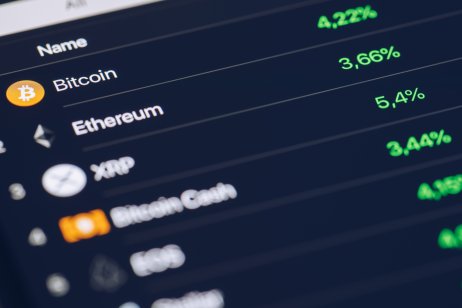 2021 has been described as a breakthrough year for cryptocurrencies. Increased regulation of crypto-assets has led to more mainstream acceptance.
We saw the UK'S Her Majesty's Revenue and Customs (HMRC) weigh in on cryptocurrencies earlier this year by providing new UK guidance on the taxation of staking rewards and derivatives.
In the US, a 2021 bipartisan bill, which has a provision to levy taxes on digital currency transactions, imposed new tax reporting obligations on cryptocurrency brokers.
Such regulatory action has set the groundwork for cryptocurrencies to be considered a legitimate asset class.
In the UK roughly 2.3m adults are holding crypto-assets, up from 1.9m last year, according to data from the Financial Conduct Authority (FCA).
In November 2021, there were a 8.3m transactions on the Bitcoin network. Total fees incurred for all transactions on the Ethereum network that same month amounted to $1.82bn, a 34.6% increase from October 2021.
Other significant crypto developments include a Mastercard and Island Pay partnership this year that saw the launch of the world's first central bank digital currency-linked card, along with news from PayPal in October 2021 of a new service that enables customers to buy, hold and sell cryptocurrency directly from their PayPal account.
And one of the world's most well-known basketball teams, the Dallas Mavericks, announced this year that it will be accepting cryptocurrency payments for official merchandise and tickets.
The overall market capitalisation of all cryptocurrencies has grown from $500m in December 2012 to $782bn in December 2020, representing a compound annual growth rate (CAGR) of over 150%.
On 8 November, the cryptocurrency market soared to a new all-time high when it reached a global market capitalisation of $3tn for the first time, according to data from CoinGecko.
Best crypto investments of 2021
"This year has been an exciting one for cryptocurrency investors who have witnessed bitcoin hit two all-time highs, not to mention the rise of meme coins such as SHIB and DOGE, as well as lesser-known rising stars like LIGHT and XRDOGE," Anndy Lian, chairman of BigONE Exchange and chief digital advisor for Mongolia's national productivity agenda, told Capital.com.
"For example, a high performing crypto like AXS is seeing top players earning up to 1,500 smooth love potions (SLP) a day. It's worth noting that Sky Mavis's core revenue (the developer which created Axie Infinity and also raised $152m to help grow the game) is tied closely to AXS's year-to-date performance."
Let's therefore take a look at the top five cryptocurrencies of 2021.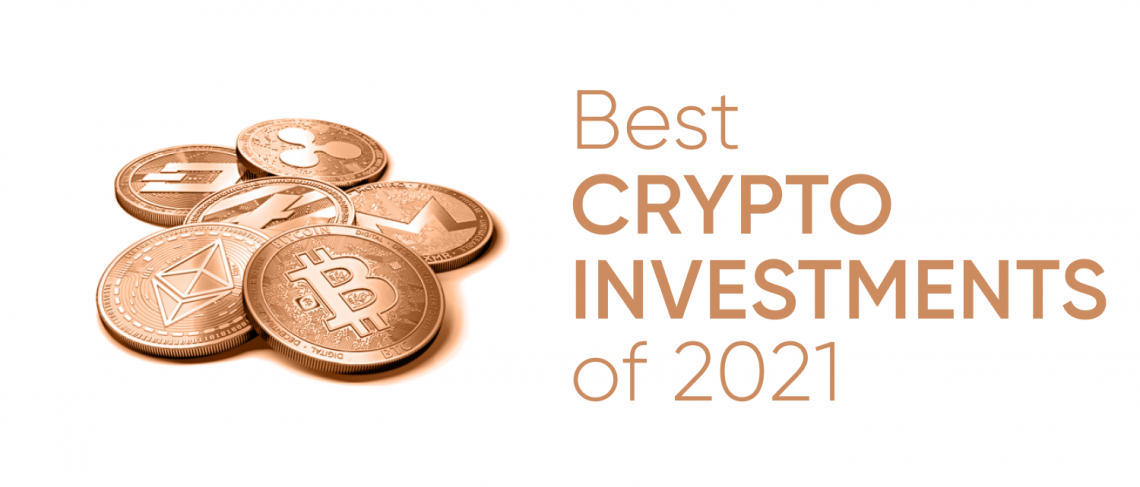 Shiba Inu (SHIB)
Shiba Inu is a meme currency created in August 2020 by the anonymous founder Ryoshi. It's based on the Ethereum blockchain, like many other cryptocurrencies, but what stands out about the project is its declaration of being a community-run token led by 120,000 members who participate in spontaneous community building within an ecosystem that's run by its own decentralised exchange (DEX).
In May 2021, Shiba Inu made the headlines when it sent half of its total supply – 50tn coins – to Ethereum creator Vitalik Buterin through his publicly available ETH address.
SHIB entered into the top 10 biggest cryptos on 28 October this year as the eighth highest-ranking coin on CoinMarketCap, jumping ahead of Dogecoin and Polkadot. That same day, the coin had achieved an all-time high of $0.0000844, a rise of 173% over the preceding seven days.
Last month, SHIB was listed on Kraken, one of the world's largest digital asset exchanges, after a community-led Twitter post grabbed the attention of over 80,000 users.
????♥️????♥️????♥️????♥️????@brianchoffman said if we get 2,000 likes we will list $SHIB tomorrow - but he doesn't think we can do it.#SHIBArmy where you at?

???? ???? ????
???? ???? ♥️

— Kraken Exchange (@krakenfx) November 1, 2021
SHIB's price soared by more than 10% on 22 December to $0.00003638 after an unknown whale (a term used to describe individuals who hold a large number of coins of a particular cryptocurrency), added 4trn Shiba Inu tokens, valued at $136m, to their wallet on 21 December 202
SHIB tops the list as the best performing cryptocurrency of 2021, with a year-to-date return of 47,240,054%. As an indicator of wider adoption, 390 merchants worldwide accept SHIB as a payment. The dog-themed coin has the biggest 24-hour trading volume in this list at $2.4bn, dwarfing that of its competitor GALA's trading volume of $566m. It's currently (23 December) the 13th largest cryptocurrency by market capitalisation at $19bn, according to CoinMarketCap.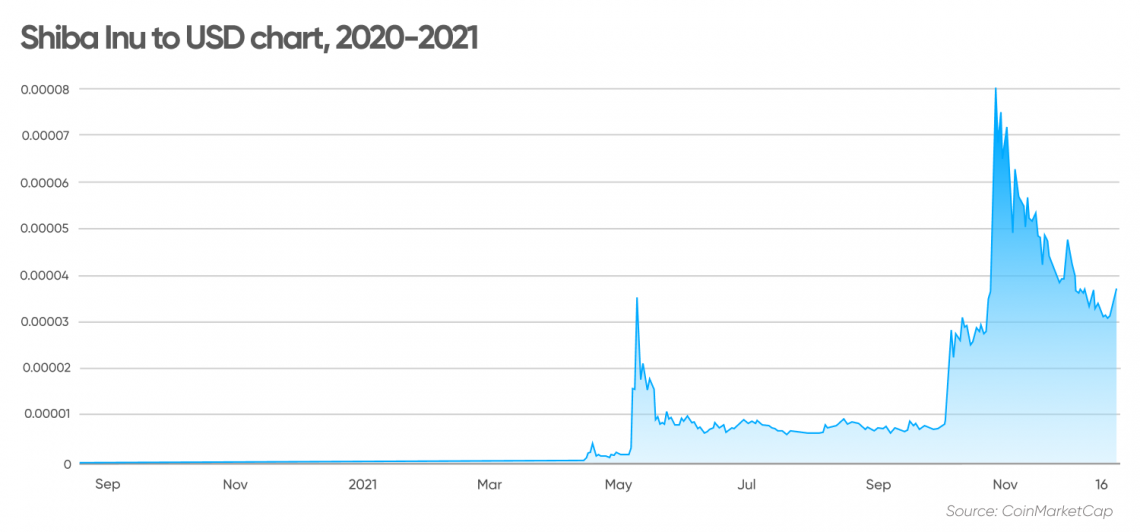 Gala Games (GALA)
Gala Games, a blockchain gaming developer that allows gamers to use their unique non-fungible token (NFT) characters in gameplay, was launched in 2019 with the goal of redefining the world of gaming. The project offers a whole range of different blockchain games. Since its launch, it's sold 26,000 NFTs and attracted 1.3m monthly active users to its ecosystem.
A distinguishing factor for the project is the fact that all GALA tokens run on a network that's secured by its own set of 50,000 Founder Nodes.
Given that users can even steer the direction of development and gameplay by voting on which games will be published on the Gala Games platform – a governance process that can have a direct impact on the overall trajectory of the Gala Games ecosystem – GALA is one of the best performing cryptocurrencies of 2021.
Furthermore, Gala Games entered into a partnership with Polygon, a layer-2 scaling protocol for building and connecting Ethereum-compatible blockchain networks in March 2021, which has allowed it to benefit from a decrease in transaction fees. In September this year, the company announced that its Town Star usership has been increasing at a high rate.
Other positive catalysts for GALA include three listings this year. First the coin was listed on Binance, the world's largest crypto exchange, on 13 September. On 16 September, Bibox, an artificial intelligence digital assets trading platform, also listed the Gala Games coin, followed by the well-known crypto exchange Coinbase on 16 November. Overall, the crypto has pleased investors with a 38,026% year-to-date performance.
On 18 September this year, the GALA coin value rose 488% to the all-time high of $0.1236. It currently (23 December) ranks 48th in the list of cryptocurrencies by market capitalisation at $3.3bn.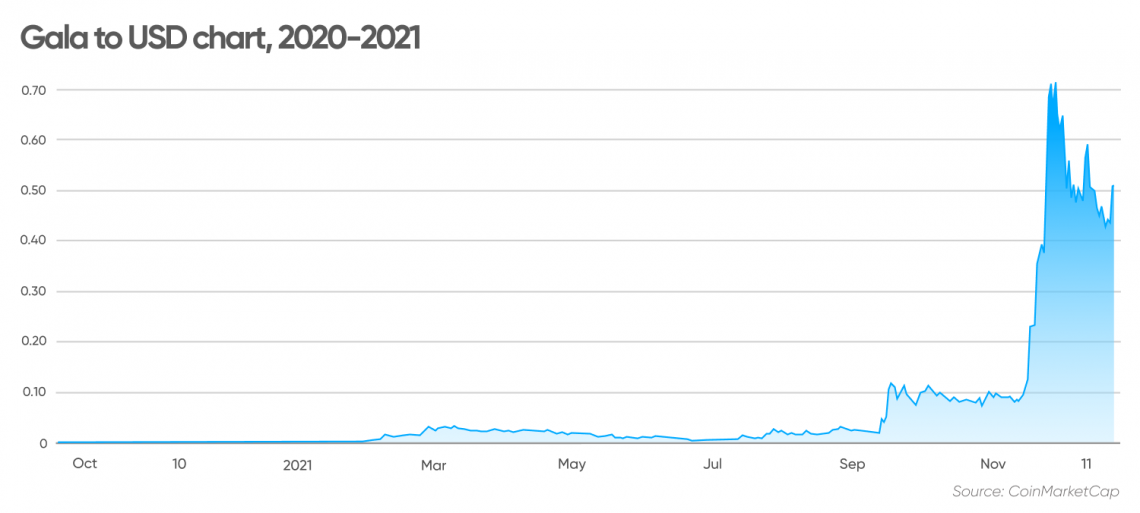 CEEK VR (CEEK)
CEEK VR is a leading developer of hardware and software products that facilitate the omnichannel distribution of virtual reality (VR) experiences for the purpose of connecting music artists, athletes and other digital content creators directly to their fans in virtual worlds. The company is known for providing several channels of VR content (both originally created and professionally licensed) using patented headsets.
CEEK VR has secured high-profile partnerships with the likes of Universal Music, Apple and T-Mobile, with CEEK VR's bundles being sold through major US retailers such as Best Buy and Target.
One possible reason for CEEK's growth – a utility token used for transactions throughout the fully immersive CEEK VR network – is that the company claims to unlock new revenue streams for music artists and creators by offering them opportunities to directly reach their fanbases.
The promising cryptocurrency jumped to an all-time high of $1.20 on 29 November this year. It pleased investors with a 27,419% year-to-date performance. It currently (23 December) ranks 135th in the list of cryptocurrencies by market capitalisation at $522m.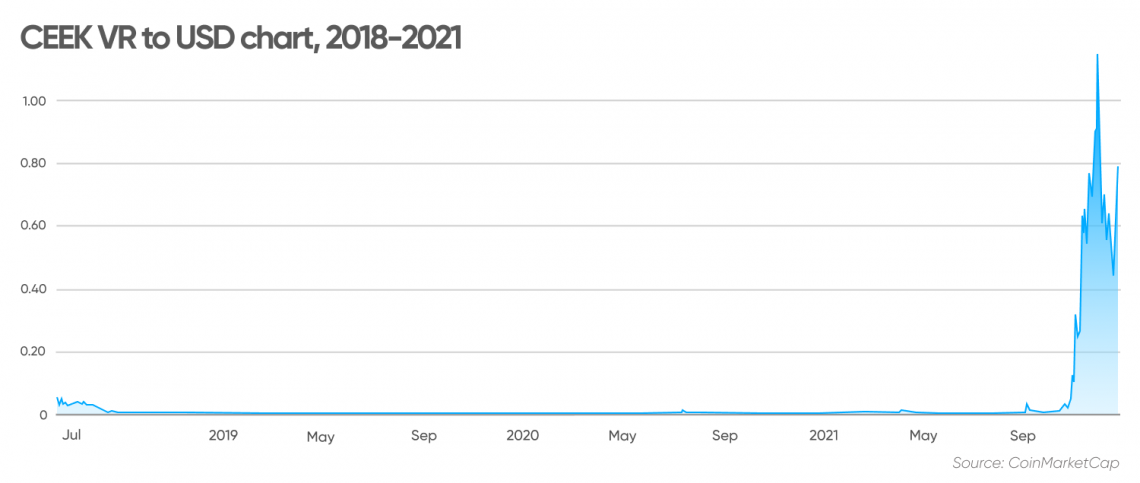 Axie Infinity (AXS)
Axie Infinity is a popular Pokemon-inspired digital pet gaming metaverse that rewards users with play-to-earn opportunities such as collecting, breeding and raising creatures known as Axies.
The project, which entered the scene just four years ago, hit a milestone in October this year when Axie Infinity reached two million daily active users.
Axie Infinity boasts an annualised total revenue of $1.41bn and an all-time NFT sales volume of $3.81bn, with more than a million traders having bought or sold Axie Infinity NFTs in upwards of 11m transactions since launch. Given these metrics, it's understandable that AXS has returned 17,391% year-to-date.
With meta-related coins up 37,000% this year, Axie Infinity has possibly benefited from the virtual land acquisition phenomenon within user-owned internet economies that saw a Axie Genesis Plot sell for 550 ETH last month, highlighting the real-world utility of play-to-earn gaming. This made Axie one of the most profitable cryptocurrencies this year.
16 merchants worldwide accept AXS as a payment. It currently (23 December) ranks 28th in the list of cryptocurrencies by market capitalisation at $6.1bn.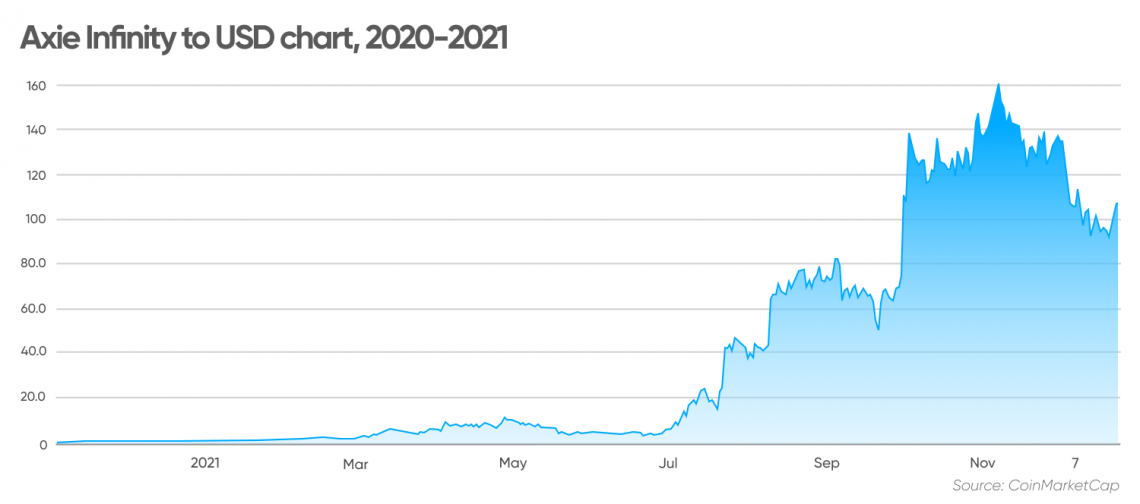 Anyswap (ANY)
Anyswap (rebranded to Multichain) is a fully decentralised cross-chain swap protocol founded in July 2020 that was originally positioned as a cross-chain decentralised exchange (DEX).
It provides interconnect infrastructure for 25 different mainstream public blockchains, including Ethereum, Binance Smart Chain and Polygon. The company has amassed more than 300,000 users and claims to be market-leading in terms of speed, security and decentralisation.
The project's infrastructure has been developed for the seamless flow of on-chain asset interoperability, meanwhile the company is most well-known for providing a real-time cross-chain router protocol (CRP) system that allows assets on all networks to interoperate with each other.
ANY has been one of the most volatile cryptos this year. The token achieved an all-time high of $27.61 on 21 December this year, and has delivered a year-to-date performance of 14,560%. It currently (23 December) ranks 246th in the list of cryptocurrencies by market capitalisation at $376m.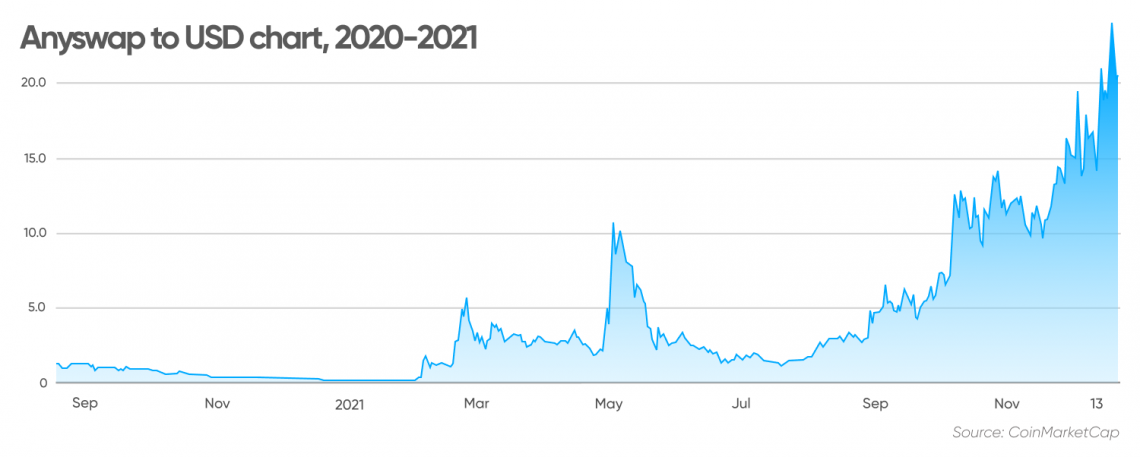 FAQs
What are the most stable cryptocurrencies?

SHIB ranks the highest-performing crypto year-to-date, followed by GALA, CEEK, AXS and ANY. Whether these tokens are a good investment for you depends on your personal circumstances and risk appetite. Cryptocurrencies are high-risk assets. You should do your own research, evaluate the level of risk you are prepared to accept before investing. And never invest money you cannot afford to lose.
Which cryptocurrency is the best for long-term investment?

Cryptocurrency is still a nascent industry. Forecasts for future trends shouldn't be used as a substitute for your own research. Always conduct your own due diligence before investing, and never invest or trade money you cannot afford to lose.
Read more: Internet Computer price prediction: Will the ICP price rocket after bitcoin integration?