Cryptocurrencies saw major success in 2021, grabbing the attention of many novice investors, and it looks like the world of decentralised digital money is here for good.
Yet with more than 19,000 coins available for sale on CoinMarketCap (as of 28 April) and over 500 exchanges, beginners could be left wondering what are the top crypto for beginners in 2022.
Here we take a look at how to choose cryptocurrencies to start crypto trading or investing.
Choosing cryptocurrency by market capitalisation
Market capitalisation, or market cap for short, is by far the most vital aspect that helps traders and investors analyse how big an asset is.
In crypto terms, market cap refers to the total value of all the coins that have been mined so far since the cryptocurrency's launch date. It is calculated by multiplying the number of tokens in circulation by the current market value of one single coin.
Market capitalisation is often used as a guide to determine how relatively stable a token is. However, even bitcoin (BTC), the biggest coin by market capitalisation, experiences high volatility due to the nature of cryptocurrency markets.
Market capitalisation is split into three categories which investors often use to identify how "safe" an asset is for investing: small-cap, mid-cap and large-cap.
Large-cap coins are considered to be of lower risk, and therefore could be the safest cryptocurrency to invest for beginners, yet it usually does take them some time to grow. Meanwhile, mid-cap tokens are more volatile but have a better growth potential. Small-cap tokens are considered to be higher risk assets that are prone to swings and could crash in seconds.

Before novices start investing in cryptocurrency based on market capitalisation, it is important for them to calculate their risk threshold, Paul Rogash, founder of Earnu.io, told Capital.com.
"Every cryptocurrency is a risk, but... so is living. If you are risk averse, stick to the blue-chip top ten or top 20 projects," he said.
Nayeem Syed, the chief vision officer at Exponentials.tv, agreed with Rogash, adding that blue-chip projects often have a proven record of building momentum as well as a strong team, great partnerships, strong market volume (not to be confused with market cap) and a cohesive roadmap.
"A good time to get in is usually when the market is dumping hard as everything is on a discount," Syed added.
It is important to note that choosing a token based on market capitalisation alone could be risky. Cryptocurrency markets are extremely volatile. Always conduct your own research and never invest or trade money you cannot afford to lose.
Choosing crypto by price gains
Analysing an asset's past price action and gains could be another way of choosing crypto for starters, whether you are looking for holding long-term or trading for a short-term gain.
Novice investors can choose crypto to start with based on its past performance. This can be done by looking at the coin that achieved the highest gains over a given period – this can be from six months to a few years.
However, this strategy can work only if there is a reasonable belief that the upward trend will continue, as past performance does not necessarily guarantee future returns. Investors should look at the coin's fundamentals to assess whether there is a likelihood that the coin's price will continue rising.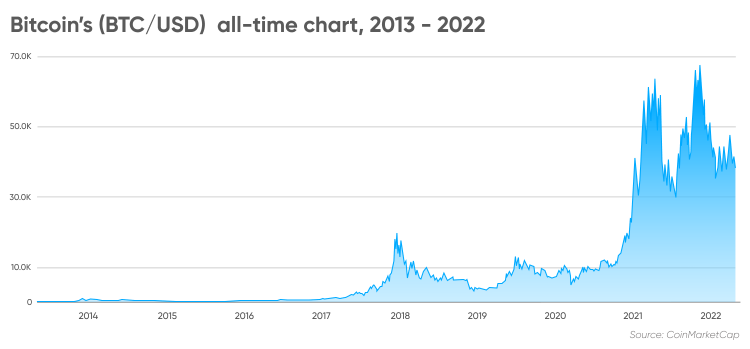 "The best crypto for you is the one you have researched most and feel comfortable with and with which you have confidence. Make sure there's a strong team behind the crypto project you are investing in," said Dr. Raullen Chai, CEO and founder of IoTeX.
Past performance can also be handy for short-term cryptocurrency trading, in which traders speculate on token prices for a short-term gain. Using past performance in trading is known as price action trading. This strategy makes use of technical analysis, a form of analysis used to evaluate future price movement by using historical data and statistics, and is an important tool in crypto trading for beginners.
"Read as much as you can about crypto trading. Learn how to read the charts and the moving averages and read the news because all markets are significantly affected by world economic news and other relevant current affairs," Dr. Chai added.
Please note that past performance does not guarantee future results. Always conduct your own research and due diligence and never invest or trade money you cannot afford to lose.
Choosing crypto by analyst comments
"I'm always iffy about analysts. I think we're biassed in our own views about what moves the market and what could happen to an asset."
by
Mark Basa, HOKK Finance
The growing hype around cryptocurrencies has also pushed for the emergence of crypto influencers and YouTubers who have been avid sources for novice crypto enthusiasts, creating content on topics such as the top cryptocurrency for beginners, price analysis and so on.
Comments on cryptocurrencies from various analysts can be easily found online; this is definitely something people can look into before choosing a crypto to buy for beginners.
However, according to Mark Basa, global brand and business manager at HOKK Finance, analyst prediction can often be leaning to a particular belief.
"I'm always iffy about analysts. I think we're biassed in our own views about what moves the market and what could happen to an asset," he told Capital.com.
"Now that doesn't mean you should rip on analysts for spending hours trying to predict the next move. It's better to take it all in, and buy, and wait. Investing is a long-term game," he added.
Meanwhile, Exponentials.tv's Syed stressed that beginner investors must exercise caution when looking into analyst views because if there are too many positive predictions, it is likely to raise the value of a certain cryptocurrency making it a bad time to buy, but great to hold.
What is your sentiment on BTC/USD?
Vote to see Traders sentiment!
Please note that analysts' price predictions can be wrong and shouldn't be used as a substitute for your own research. Always conduct your own due diligence before investing or trading, and don't risk money you cannot afford to lose.
Choosing your crypto niche
Like any other market, cryptocurrencies have different niches: from decentralised finance (DeFi) to metaverse and stablecoins.
Therefore, another way of choosing entry level cryptocurrency could be exploring different sub-sectors of the market and basing your decision on whether you believe it has a potential for growth.
DeFi coins
Decentralised finance (DeFi) tokens transfer value in a financial transaction. They are built on a blockchain of a DeFi application they belong to.
These DeFi projects aim to disrupt the traditional world of finance by removing the control of banks and legacy institutions by using distributed ledger technology.
As of 28 April 2022, the biggest DeFi tokens by market capitalisation were Terra (LUNA), Avalanche (AVAX) and Wrapped Bitcoin (WBTC).
Play-to-earn
Play to earn cryptocurrencies, gaming or metaverse coins are used as cash within an online game but have real asset value.
Some of the biggest coins by market capitalisation at the time of writing include ApeCoin (APE), Decentraland (MANA), and Sandbox (SAND), among many others.
NFTs
Non fungible tokens (NFT) are crypto-based collectibles, not to be confused with coins. They are linked to the Ethereum blockchain and built on the ERC-721 protocol and represent the ownership of digital or physical assets such as a piece of digital art or even music.
NFTs can be purchased on online marketplaces that can be compared to what Amazon (AMZN) and eBay (EBAY) are for physical goods.
Stablecoins
Stablecoins are cryptocurrencies whose value is linked to a reserved asset such as fiat or a commodity price. This is done in order to reduce a cryptocurrency's volatility. Although stablecoins' prices can fluctuate slightly, they are considered the safe haven asset of the crypto world.
Some of the biggest stablecoins at the time of writing were Tether (USDT), USD Coin (USDC) and TerraUSD (UST).
Store of value
These are cryptocurrencies with a limited supply, which makes them store and increase in value similarly to gold.
Although some of these tokens were originally built to replace fiat money, their volatile nature made it hard to do so. Bitcoin (BTC) and litecoin (LTC) are the biggest examples of digital gold.
Software platforms
These are native cryptocurrencies of the platforms that provide software to build other decentralised applications (dApps). These projects are crucial to the overall cryptocurrency and blockchain ecosystems.
The biggest platforms include Ethereum (ETH), Cardano (MANA) and Polkadot (DOT).
Decentralised exchanges
Used for peer-to-peer online cryptocurrency transactions, many decentralised exchanges (DEX) have native cryptocurrencies of their own such as Uniswap (UNI), dYdX and PancakeSwap (CAKE).
Centralised exchanges
These are online platforms used to buy and sell cryptocurrencies. Some of these exchanges have cryptocurrencies of their own, which may be given to users as rewards.
The biggest centralised exchange tokens include Binance's native token BNB (BNB), Crypto.com's Cronos (CRO) and FTX Token (FTT).
Memecoins
Often created as a joke, memecoins are associated with internet culture. The first ever memecoin created was dogecoin (DOGE) inspired by the meme of a Shiba Inu dog named Kabosu.
Since its creation, the token has inspired the adoption of many more memecoins such as Shiba Inu (SHIB) and Dogelon Mars (ELON).
Move-to-earn tokens
A new category in the crypto universe, move-to-earn tokens are exactly what they sound like. Inspired by play-to-earn platforms, move-to-earn cryptocurrencies reward users for walking, running, dancing or simply moving around.
The bottom line
Note that cryptocurrency markets are volatile, and your decision to trade or invest in cryptocurrency should depend on your risk tolerance, expertise in the market and the spread of your portfolio.
We encourage always conducting your own due diligence, looking into technicals and fundamentals, and never investing or trading money you cannot afford to lose.
FAQs
How to invest in cryptocurrency for beginners

There are several ways starter crypto traders can begin investing in digital assets. It is important to choose your niche, whether that is a play-to-earn game of investing in an NFT . Note that investing in crypto is different to choosing a crypto to mine. Make sure to conduct thorough research before investing in a cryptocurrency and never invest or trade money you cannot afford to lose.
What is the safest cryptocurrency?

All crypto tokens are volatile and carry a risk factor. Always conduct your own due diligence such as looking at the project's fundamentals, and never invest or trade money you cannot afford to lose.