Aavegotchi (GHST) price prediction: What's next for the DeFi-NFT token?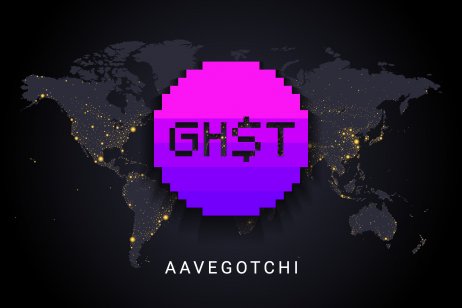 Aavegotchi is a non-fungible token (NFT) collectible game with decentralised finance (DeFi) features such as cryptocurrency lending. In its white paper, Aavegotchi refers to itself as a "DeFi-staked NFT collectibles."
Aavegotchi game's native token, GHST, rode on the NFT boom of 2021 to see its value more than triple within a year, rising by over 200% as of 31 January 2022.
But what is Aavegotchi coin? Let's look at the project and the latest Aavegotchi price predictions for 2022 and beyond.
Aavegotchi outlook: Combination of DeFi and NFTs
Aavegotchis are pixelated ghosts that were initially designed on the Ethereum mainnet. The game has now migrated to the Polygon side chain to take advantage of the latter's faster and low-cost transactions.
"Aavegotchis are digital pet ghosts on the Polygon network. Bridging the gap between NFTs and DeFi, they will happily help you collect income based on their rarity and other factors, but expect you to take good care of them in return. The GHST token drives the in-game economy and governance,"
said
Berlin-based cryptocurrency reviewers Cryptotesters.
Each Aavegotchi NFT is backed by a cryptocurrency token. Cryptocurrency assets backing an Aavegotchi are called "aTokens." Only ERC-20 tokens such as ETH, UNI and MANA, among others, and stablecoins listed on the Aave platform, are available for staking as collaterals.
The white paper states that "aTokens generate yield via Aave's LendingPool, which increases the quantity of aTokens held in the wallet."
The valuation of an Aavegotchi comes from its intrinsic value and its rarity value. The intrinsic value is the value of an Aavegotchi's staked collateral, while its rarity value is based on traits and equipped wearables. Aavegotchis possess multiple traits that determine their rarity and that in turn influence the value of the Aavegotchi NFTs. For example, one of the traits is called "kinship", which increases or decreases depending on the interactions with owners.
"Unlike other NFT games, rarity is not a fixed value in Aavegotchi – it can change over time as Aavegotchis level up and equip different wearables. Thus, a rare Aavegotchi one week could become less rare, and vice versa, depending on the overall distribution of traits and wearables within the Aavegotchi universe. This enables a novel concept known as rarity farming," said its white paper.
AavegotchiDAO is the governing body behind the game. It manages the Aavegotchi's treasury funds.
Singapore-based Pixelcraft Studios, creators of the Aavegotchi game, is developing an action role-playing game called The Gotchiverse REALM where players will be able to farm new game tokens and craft NFTs.
What is aavegotchi (GHST) coin?
GHST coin is the native token of the Aavegotchi game. The GHST coin is used by players to do the following functions within the game:
To buy portals to summon Aavegotchis. Players can buy a portal that is used to summon an Aavegotchi to the game. After opening a portal, players will see 10 different Aavegotchis to choose from. In order to claim an Aavegotchi from the portal, one will need to stake the required amount of the collateral token.

To buy wearables for Aavegotchis. Wearables are used to boost an Aavegotchi's traits and rarity score.

To buy "REALM parcels" or land parcels. The parcels exist in a virtual world called The Gotchiverse REALM.

To earn points. GHST coins can also be staked to earn reward points that can be used to win wearables, portals and REALM parcels.
Players can earn GHST coins by engaging in rarity farming, where the rarest of Aavegotchis will receive a distribution of GHST rewards that can be claimed by owners. GHST can also be earned by voting in the AavegotchiDAO and by playing mini-games.
According to its white paper, the GHST token was distributed in three stages. Five million GHST tokens were distributed in a private sale at the rate of 0.05 DAI/GHST in August 2020.
The funds raised were used by Singapore-based Pixelcraft Studios, the company behind Aavegotchi, for game development. While 500,000 GHST tokens were sold at 0.1 DAI/GHST in September 2020.
Furthermore, there is an ongoing public-bonding-curve sale where there is no limit on the supply of GHST and no limit on the timeframe for the sale. The price for the sale opens at 0.2 DAI/GHST, after which anyone whitelisted by the Aavegotchi team is able to purchase straight from the curve.
"The bonding curve has been mathematically programmed to increase the price of GHST as the circulating supply of GHST increases," according to Aavegotchi wiki.
Currently, the circulating supply of GHST coin stands at over 62 million, while its total supply exceeds 64 million, according to data from CoinMarketCap.
GHST coin price analysis
According to the Aavegotchi coin price chart, its native token GHST was shown trading at around $2 on 31 January 2022. GHST coin is ranked as the 330th largest cryptocurrency and holds a market capitalisation of $125.94 bn, according to CoinMarketCap.
GHST coin value has been on a downturn recently along with the entire cryptocurrency market, and is down 0.61% in the past 24 hours.
According to Coin Codex, Aavegotchi is currently ranked at #53 in the DeFi coins sector, 138 in the Ethereum sector, 24 in the NFT Tokens sector, 23 in the Gaming sector and 29 in the Metaverse sector.
In the past year, the GHST token price has surged by over 200%, hitting an all-time high of $3.23 in late November 2021. Its lowest price was $1.98 in a low cycle, with $2.07 as the highest price since the last low cycle.
As of 31 January, the three- to 10-day simple moving averages (SMAs) and exponential moving averages (EMAs) were bullish, as well as the 200-day SMAs and EMAs. Meanwhile, the 21- to 100-day moving averages were bearish, indicating a 'sell'. The moving average convergence divergence (MACD) was neutral while the relative strength index (RSI) indicated a 'buy'.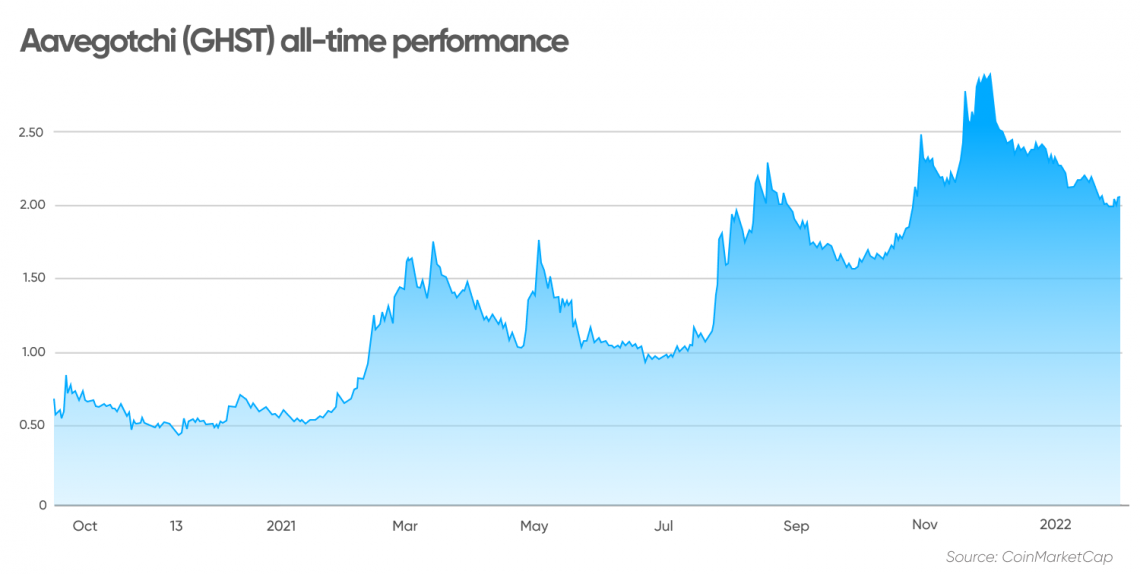 Aavegotchi crypto news: Ethereum to Polygon
In early 2021, the Aavegotchi team decided to delay their game as extremely high gas fees on the Ethereum network became a major concern for the team and its community.
"An impromptu Discord reaction vote revealed the truth: 75% of our users supported delaying the launch and aborting our previous "Launch, then Pivot" plan. Instead, they supported launching directly onto L2," said Aavegotchi in a blog post.
The Aavegotchi game launched on Polygon, a layer-2 scaling solution, instead.
"Just to put it into perspective: Buying a single portal, opening it and summoning a Gotchi, would have cost at least $300. It was clear that a launch on the Ethereum Mainnet was impossible," Aavegotchi explained.
Almost a year later, the NFT-based game described its Aavegotchi Baazaar as the most active NFT marketplace on Polygon.
.@aavegotchi's P2P NFT marketplace the "Baazaar" launched a little over a week ago...

It's already done 5.5M $GHST in volume (around 8M USD)

Who knew that gas-free trading on @0xPolygon would be such a hit?? ????

Watch this space folks…the story is just beginning. #NFT #L2 pic.twitter.com/OtnccdJ0Yd

— coderdan.eth | aavegotchi ???????? ???? (@coderdannn) March 11, 2021
In December 2021, Aavegotchi kicked off its second land sale for its virtual world, Gotchiverse. The auction saw over $40m in total sales volume, the company said.
A number of other gaming guilds – including YGG SEA, Metaguild, FlamingoDAO and MaoDao – have become REALM partners (or 'paartners', as the company describes them).
In October 2021, Aavegotchi was included in the Polygon Ecosystem Index (PECO) token which is designed to gain exposure to Polygon-native projects via a single token.
Aavegotchi (GHST) price prediction: Targets for 2022, 2025 and 2030
According to a short-term GHST price prediction from Coin Codex (as of 1 February 2022), the value of the token could rise by 9.75% to $2.23 by 6 February 2022.
CoinCodex added that technical indicators showed the current sentiment for GHST as "neutral", while its Fear & Greed index indicated 'fear' among GHST investors."Based on our Aavegotchi forecast, it's now a good time to buy Aavegotchi," the site concluded.
The GHST crypto price prediction from Wallet Investor (as of 1 February) said the token can be a profitable investment option. Wallet Investor expected the price to reach $3.517 by the first of February 2023 and $9.495 by the end of January 2027.
According to Price Prediction's GHST prediction, the token could hit an average price of $2.89 in 2022. GHST/USD was expected to reach $8.79 in 2025 and $57.48 in 2030.
Digital Coin expects the GHST token price to trade at $2.83 in 2022. Its aavegotchi crypto price prediction expected the token to hit $4.38 in 2025 and $8.58 in 2029.
When looking for aavegotchi coin price predictions, bear in mind that projections or forecasts from both analysts and algorithms can be wrong. The aavegotchi predictions are based on fundamental and technical studies of the cryptocurrency's past performance, which offer no guarantee of future results.
It's essential to do your own research. Always remember that your decision to trade depends on your attitude to risk, your expertise in the market and your investment portfolio spread. You should never invest money you cannot afford to lose.
FAQs
Is aavegotchi (GHST) coin a good investment ?

Aavegotchi game's native token, GHST, rode on the NFT boom of 2021 to see its value more than triple (over 200%) in a year, as of 31 January. Wallet Investor $3.517 by the first of February 2023 and $9.495 by the end of January 2027.
How high can aavegotchi coin go?

Price Prediction's GHST coin price prediction expected the aavegotchi price to reach $57.48 in 2030. However, note that algorithm-based predictions estimate historical price actions to deliver their targets, and past performance never guarantees future results. Therefore, any price targets may prove to be wrong.
Can Aavegotchi (GHST) hit $5?

Digital Coin expected the GHST token price to hit $2.83 in 2022. Its longer-term GHST crypto price prediction suggests the token could hit an average price of $8.58 in 2029.