Walmart (WMT) signals plans to develop crypto, NFTs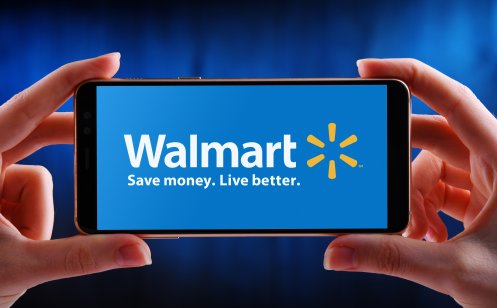 American retail giant Walmart has signalled plans to develop its own cryptocurrency and non-fungible tokens (NFTs) by applying for several US trademarks.
Wayne Logan, an intellectual property lawyer who specialises in blockchain, cryptocurrency, and smart contracts, said the move shows Walmart is serious about developing its own digital currency and NFTs.
"They would be stupid if they were not doing that," Logan, a partner with Miller Thomson in Calgary, Canada, told Capital.com in an interview.
"All the big fashion designers have already been working in the metaverse," he added, pointing to Gucci and Louis Vuitton as examples.
Walmart innovation
In response to a request for comment from Capital.com, Walmart declined to discuss how the trademark applications might relate to the company's crypto and NFT development plans.

"Walmart is continuously exploring how emerging technologies may shape future shopping experiences," said the company in a statement to Capital.com. "We don't have anything further to share today, but it's worth noting we routinely file trademark applications as part of the innovation process."
What is your sentiment on WMT?
Vote to see Traders sentiment!
Metaverse online 3D world
According to Binance, the metaverse refers to an online 3D universe that combines multiple different virtual spaces. Considered the future of the Internet, it already exists in part and will allow people to work, meet, play games, and socialise in the 3D spaces.
Walmart filed the applications with the US Patent and Trademark Office (USPTO) on 30 December 2021. The filings indicate Walmart intends to sell electronics, home decorations, toys, sporting goods and personal care products via the metaverse.
Logan noted that large companies like Coca-Cola are already working in the metaverse, and builders are using it to design and construct buildings.
"Most of my people work in the metaverse right now," said Logan, adding Walmart's move "completely makes sense."
Online product samples
By developing its own cryptocurrency and NFTs, according to Logan, Walmart will enable customers to try on clothing and test products virtually and then sell and deliver the actual items to customers. He said the company stands to generate billions of dollars in revenue through the moves.
Logan said trademark applications represent an early stage of crypto development, but also indicate that a lot of work has been done behind the scenes because considerable efforts are necessary in terms of branding. He suspects that Walmart's plans to produce a cryptocurrency and NFTs are already well-advanced.
Retailers working on NFTs
In the future, he added, the global giant will be one of many big-box retail store operators offering their own crypto coins and NFTs.
"I'd be very surprised if (Walmart isn't) leading the way," said Logan.
The trademark filings relate to the provision of:
A Walmart virtual currency

Crypto exchange services using blockchain technology

Downloadable software tied to include e-commerce, augmented reality, and cryptocurrency management offerings

A virtual-reality game or online retail services featuring an online marketplace for digital items linked to NFTs
"(The applications) are super intense," Josh Gerben, a US-based trademark attorney, told CNBC. "There's a lot of language in these, which shows that there's a lot of planning going on behind the scenes about how they're going to address cryptocurrency, how they're going to address the metaverse and the virtual world that appears to be coming or that's already here."
Logan said Walmart's crypto-related efforts are part of Facebook's new parent company Meta Platform's aggregation of all social media and crypto assets into the metaverse. And there is "a tonne" of demand for crypto-related trademarks.
Ever since Facebook announced it was changing its company name to Meta, signalling its ambitions beyond social media, Gerben told CNBC, businesses have been rushing to figure out how they will fit into a virtual world.
"All of a sudden, everyone is like: This is becoming super real and we need to make sure our IP is protected in the space," said Gerben.
Gap selling digital tokens
Another American retailer, Gap, began selling NFTs of its sweatshirts in December, in a move announced in a press release. Under Armour and Adidas also debuted NFTs that, according to CNBC, sold out in December.
Frank Chaparro, director at crypto information services firm The Block, told CNBC that many retailers are still reeling from being late to e-commerce, so they do not want to miss out on any opportunities in the metaverse.
"I think it's a win-win for any company in retail," Chaparro said. "And even if it just turns out to be a fad there's not a lot of reputation damage in just trying something weird out like giving some customers an NFT in a sweepstake, for instance."
Read more: Four metaverse tokens with the highest leverage