MyNeighborAlice coin price prediction: Will the play-to-earn phenomenon climb higher?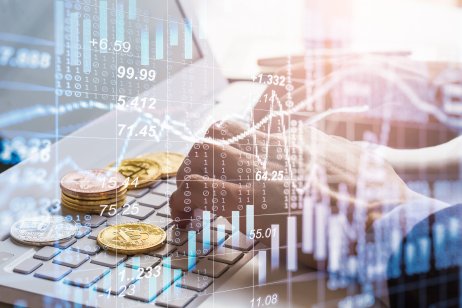 ALICE is the native cryptocurrency token of the multiplayer blockchain builder game My Neighbour Alice. It allows token holders to play, invest and be a part of the game. Players can buy and own virtual islands and receive rewards for activities such as farming, fishing and beekeeping, which all contribute to the creation of an Alice World.
Beyond the competitive virtual quests, the game's utility token (ALICE) is used for several functions, like in-game purchases and participation in the game's governance operations through voting.
Here we take a look at the recent token news and what factors are shaping MyNeighborAlice price prediction.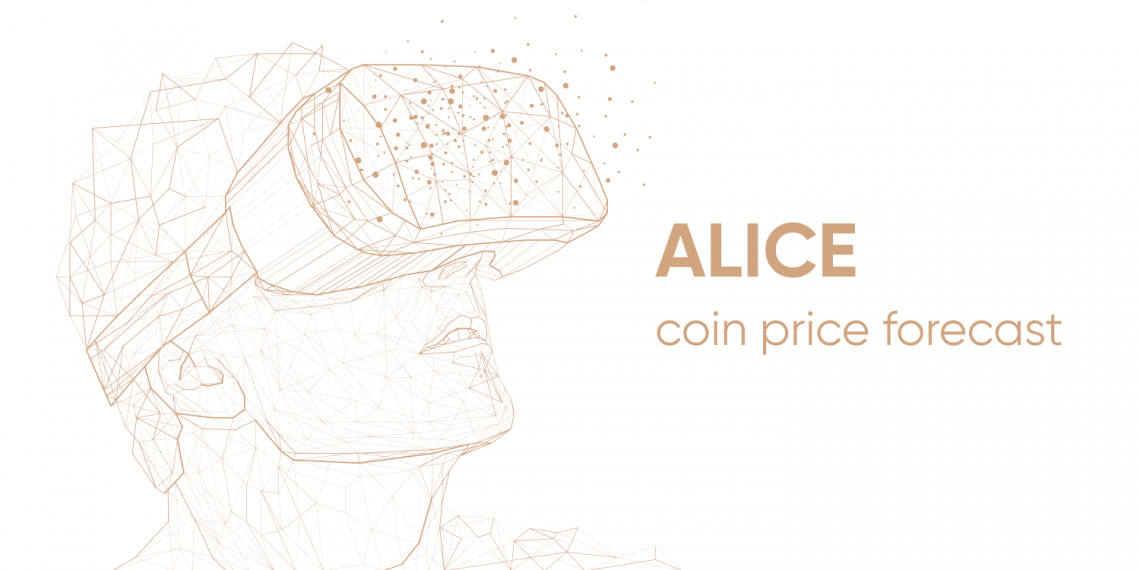 Created and developed by game development company Antler Interactive, My Neighbour Alice launched on Stream in January 2021 and conducted its first playable test on 31 August.
The pre-alpha version of the game was available to ALICE token holders with limited functionalities for playtesting, with the full game set to be released in spring 2022. Although the final release will be free-to-play, My Neighbour Alice is monetised through various in-game assets.
The company has stated that its vision for My Neighbour Alice is to introduce the blockchain to millions of players by combining the best of the two worlds – a fun narrative for regular players who want to enjoy gameplay experience and an ecosystem for players who want to collect and trade non-fungible tokens (NFTs).
As a multipurpose platform that incorporates features of decentralised finance (DeFi), My Neighbour Alice is transforming the open-world gaming experience through a blockchain-based system that enables interaction between users.
This, as well as the ability to add value to in-game assets, is a critical component of the game's popularisation. The network is set to develop further with new functionalities in 2022.
In other ALICE crypto news, Antler Interactive raised $2.1m for My Neighbour Alice at the start of this year. Among the investors is Neo Global Capital (NGC), one of the largest institutional investors of blockchain distributed ledger technologies, according to NGC's website.
NGC's Founding Partner, Roger Lim told Capital.com:
"We were excited to back My Neighbor Alice for many reasons. Blockchain gaming is in an early stage compared to its traditional counterparts but it is still a great angle to bridge gamers with cryptocurrency users. Considering My Neighbor Alice's previous expertise in game development, the project brings a lot of fun to the NFT community."
What is ALICE token?
ALICE is an in-game currency. It acts as the main method of payment on the network and can be rewarded to users during virtual competitive quests. ALICE is designed to give users control of game development through a decentralised autonomous organisation (DAO) called the Community Council where users can stake their ALICE tokens in order to participate in governance voting processes.
Within the in-game marketplace, players can earn ALICE tokens by:
completing certain quests

collecting and trading various items such as houses, fences, plants and animals

using an avatar to buy and build Plots

buying an avatar clothes or cosmetic items
Aside from playing the game, users can also lend, borrow or purchase NFTs, unique tokenised representations of digital files, within the in-game marketplace. This is a particularly unique feature because every item in the My Neighbour Alice game is an NFT, while Plots are the gameplay environments which players inhabit.
Since Plots are in finite supply, their value is determined by the scarcity of the assets they represent. Plots may also be used as collateral in the sense that players can earn a monthly interest from them through an integrated lending system that's powered by smart contracts.
For example, when a user buys an NFT, a percentage of the purchase might go into a collateral pool associated with that particular NFT. A user then has the option to sell it back to the system for the price equivalent to the locked collateral, guaranteeing that all NFTs have a minimum value and cannot drop below a certain threshold.
ALICE coin analysis: Technical view
The ALICE token started strong at $16.66 on 15 March 2021 and achieved all-time high at $42.55 following its listing on Binance that same day. Despite further price peaks on 18 March 2021 to $19.89 and on 28 March to $18.21, the price then consolidated and began trading in the $12 to $16 range.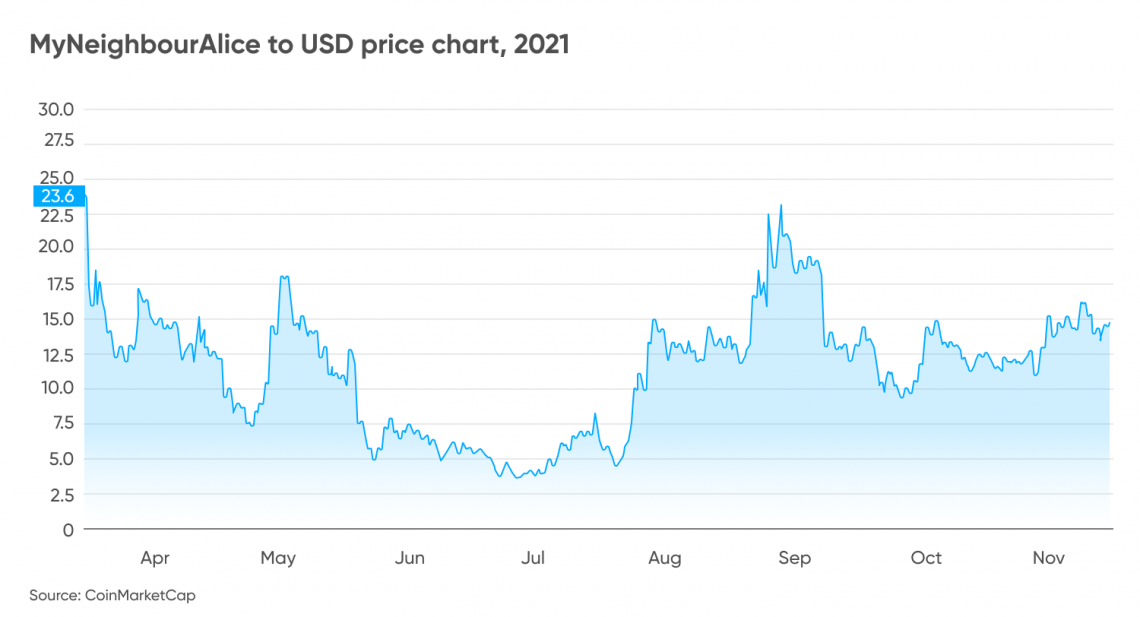 Demand for the ALICE token jumped slightly on 1 May 2021 when the crypto was trading at $19.11, but this strong rally was short-lived and the trend reversed when the price dropped to $4.36 on 23 May 2021.
From this point onwards (23 May 2021) ALICE was trading in the $3.0 to $8.0 range, until 25 July that same year when the price rose to $12.
ALICE's price picked up steam on 31 August this year when its first playable test version was launched, leading the token to reach $19.38 that same day.
More recently, ALICE crypto price hit a high of $16.29 on 31 October 2021. As of 15 November, it's trading at around $14.92, giving it a market capitalisation of $343m, according to CoinMarketCap.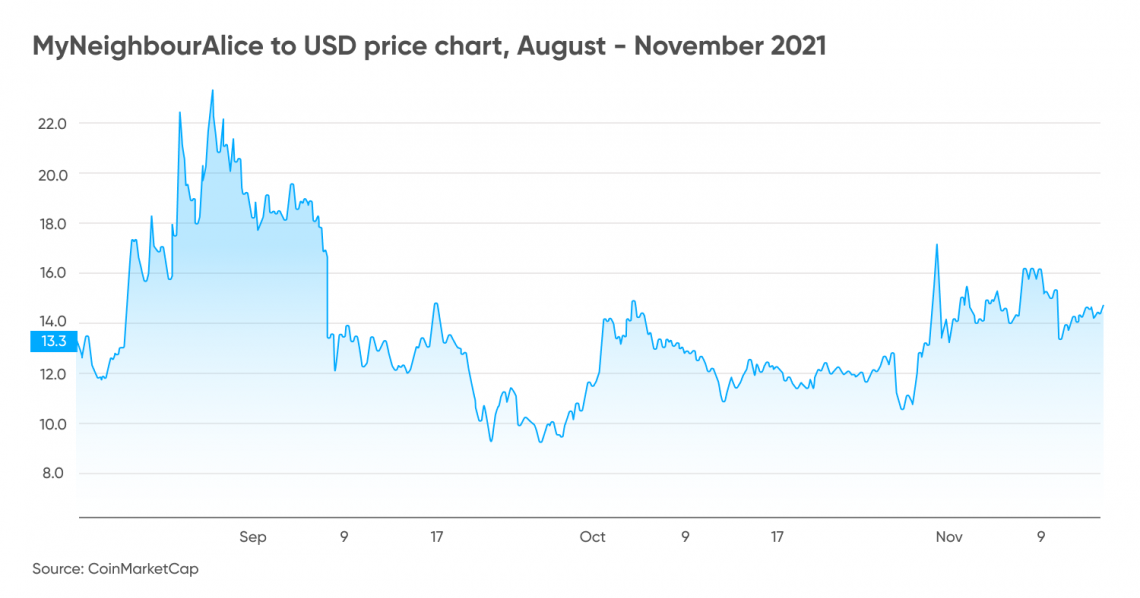 Technical analysis provided by CoinCodex shows that short-term sentiment on ALICE is bullish, with 23 indicators displaying bullish signals compared with one bearish.
The daily simple and exponential moving averages are giving strong buy signals, according to data from TradingView, while the relative strength index (RSI) is at 55.51, as of 15 November 2021. An RSI reading of 30 or below indicates an oversold or undervalued condition.
Unique open-world gaming experience
ALICE's ascent has coincided with the rise of NFTs more generally, but the project is also unique in that it combines DeFi features with an original open-world gaming experience for users across the world.
As the long-term utility of NFTs becomes more apparent through increasing momentum, deeper and more dynamic forms of user engagement are slowly becoming the norm, which could lay the groundwork for a builder-game token like ALICE to thrive.
According to a report by DappRadar, the first quarter of 2021 saw $1.5bn in NFTs transaction volume, up 2,627% on the last quarter.
In many ways, My Neighbour Alice popularises blockchain gaming because it adds value to in-game assets. ALICE isn't just a medium of exchange - tokens can be staked within the game to be used as collateral or used to buy and build Plots. What's even more exciting for players is that they can utilise My Neighbour Alice's lending and borrowing scheme to earn monthly interest on NFTs - all while interacting and communicating with each other through a blockchain-based system that prioritises governance voting.
Further to this, ALICE's market price could be affected by the final release of My Neighbour Alice in spring 2022, and new added functionalities could give the project a boost. The ALICE crypto coin gains value as its adoption and usage rate increase, and because the project targets a broad swathe of DeFi and blockchain gamers alike, its potential to become more mainstream is enhanced.
Asked about the ALICE's potential, Milko Trajcevski, a financial analyst at Invezz, told Capital.com that the multiplayer My Neighbour Alice game has mass appeal because of how well it combines engagement gameplay with blockchain technology.
"There are many complex islands within My Neighbour Alice and anyone can buy or develop Plots of land and fill it with their own creations. ALICE incentivises players to participate as the token can be staked to allow users to earn more over time," Trajcevski told Capital.com.
"If the ALICE token continues to bring improvements to the gameplay ecosystem, it could reach $18 by the end of the year."
What are the risks for the ALICE token?
Despite the exponential growth of NFTs, there are many factors to take into account with the ALICE token, as it's operating within a new space.
While the founders of My Neighbour Alice do state that their game has wide appeal, the project is limited in the sense that it isn't too different from other blockchain-based games.
My Neighbour Alice enables users to create, lend or purchase NFTs using a farming aesthetic, but clearer differentiation factors will be crucial for the token to achieve broader adoption.
What's more, cryptocurrencies are subject to frequent changes. This is apparent as various upward and downward price movements have taken place in the markets over the last few years.
MyNeighborAlice coin price prediction: buy, sell or hold?
In terms of an ALICE coin price prediction, algorithm-based forecasting service Wallet Investor gives a positive ALICE coin forecast. Based on historical data, Wallet Investor sees the price rising to $18.364 by November 2022, $24.341 in November 2024 and hitting $27.674 by November 2025.
Digital Coin Price supports the bullish MyNeighborAlice token price prediction, expecting the token to grow to $23.62 by November 2022, 208.82% to $44.7 by November 2025. Although the long-term 2030 ALICE crypto price prediction is not available yet, the site suggested the coin could eventually hit $62.8 in November 2028.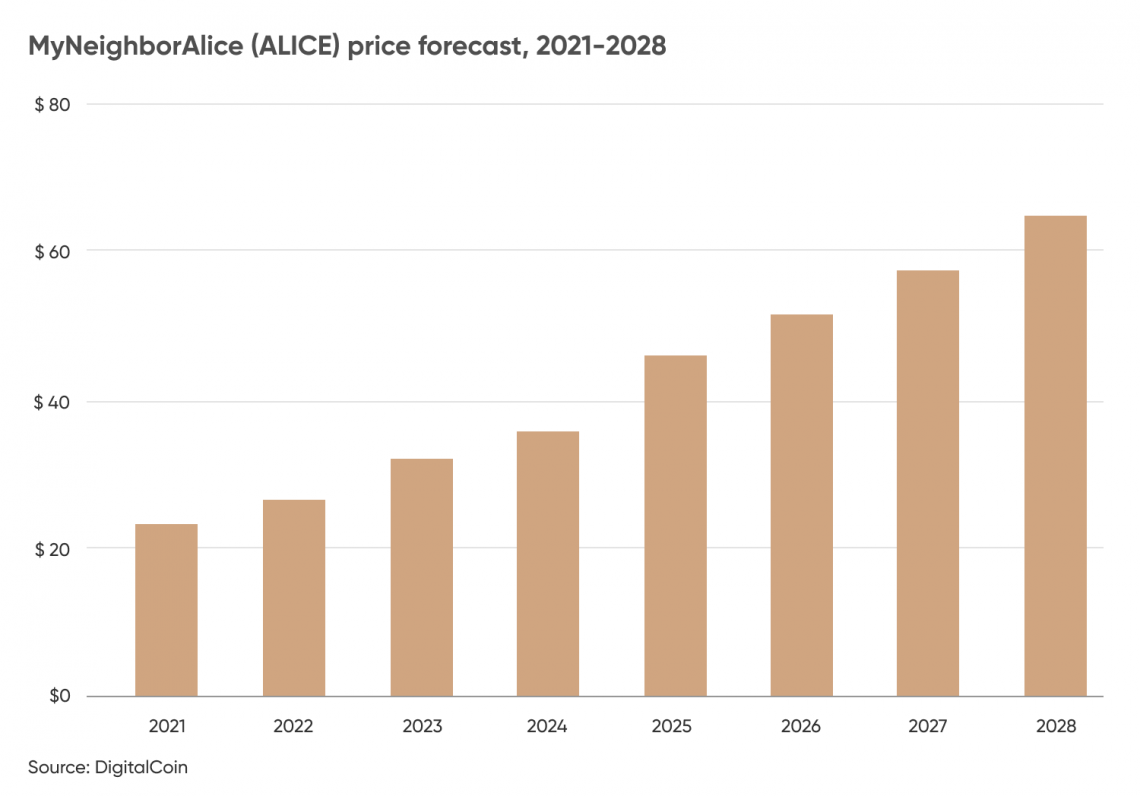 Note that Alice price predictions can be wrong. Forecasts shouldn't be used as a substitute for your own research. Always conduct your own due diligence before investing, and never invest or trade money you cannot afford to lose.
FAQs
Is the ALICE token a good investment?

Whether ALICE is a good investment for you depends on your personal circumstances and risk appetite. Cryptocurrencies are high-risk, highly volatile assets and algorithm-based Alice price predictions shouldn't be used as a substitue for your own research. Always conduct your own due diligence before investing, and never invest or trade money you cannot afford to lose.
Will the ALICE price go up?

The algorithm-based forecasting service Wallet Investor gave a positive ALICE prediction predicts, forecasting that the price could reach $27.674 by November 2025.

Digital Coin Price supported the bullish MyNeighborAlice crypto price prediction, expecting the token to grow to $23.62 by November 2022, 208.82% to $44.7 by November 2025 and eventually hit $62.8 in November 2028.

You should note that price predictions can be wrong. Forecasts shouldn't be used as a substitute for your own research. Always conduct your own due diligence before investing. And never invest or trade money you cannot afford to lose.
How many ALICE coins are there?

There are currently 23mn ALICE coins in circulation, out of a total supply of 100m, according to CoinMarketCap.
Read more: Wink coin price prediction: prolonged site outage could be a bad sign