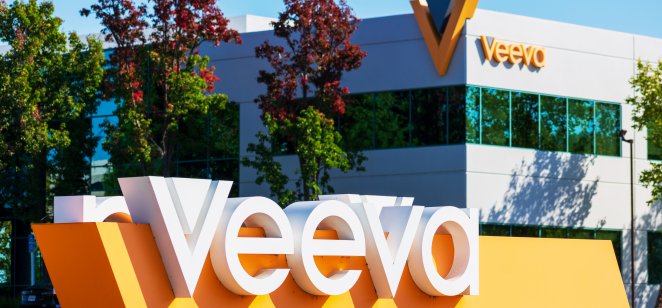 Veeva's shares plummeted in after-hours trading on Wednesday, 1 September – even though the life sciences industry cloud-computing provider's profit increased 38.29% in the latest fiscal quarter.
The share price was down 8.54%, or $28.52, at $305.8.82 in New York after closing up a modest 0.55%, or $1.84, as the bell sounded.
The share decline coincided with the release of the company's latest earnings report after markets closed. Pleasanton Calif.-based Veeva boosted its net income to $124.6m from $90.1m a year earlier.
"It was another strong quarter with results ahead of guidance and continued strength across the business," said Veeva founder and CEO Peter Gassner in a conference call with analysts.
Revenue rises 29%
The company's revenue rose 29% to $455.6m from $353.7m.
"From a macro perspective, the life sciences industry is doing well," said Gassner during the earnings call. "Innovations in medical science and an industry-wide move to digital are creating healthy demand for our offerings that we expect to continue for the foreseeable future."
According to Zacks Equity Research, the company's second-quarter 2022 adjusted per-share earnings of $0.94 surpassed analysts' expectation of $0.86 per share. The revenue increase slightly exceeded the $452m expected among analysts polled by FactSet.
For accounting purposes, the period ending 31 July was Veeva's second quarter of 2022.
Most employees get 5% pay boost
Gassner said the company is dealing with labour pressures amid increasing demand for talent across the life sciences industry. Starting Wednesday, the company is giving most employees a 5% salary increase.
But the pay boost does not apply to the company's leadership team and employees earning more than $300,000 per year.
What is your sentiment on BTC/USD?
Vote to see Traders sentiment!
CFO Brent Bowman said on the earnings call that the company anticipates calculated billings of $315m in the third quarter of 2022 and $1.94bn for all of fiscal-year 2022. If achieved, the full-year level would mark a 21% year-over-year increase.
In the second quarter of fiscal-year 2022, calculated billings were $11m above the company's guidance and up 33% year-over-year.
In the third quarter of fiscal-year 2022, Veeva expects to generate $464m to $466m in revenue. The company's financial outlook calls for full fiscal-year 2022 revenue of $1.83bn to $1.835bn.
Trade Veeva Systems - VEEV CFD