US SEC approves landmark bitcoin ETF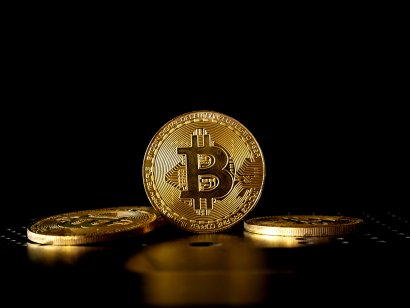 The US Securities and Exchange Commission (SEC) approved bitcoin futures exchange-traded funds (ETFs) on Friday 15 October, opening investing to the masses.
But some groups worry that small investors will lose out to Wall Street.
On Monday morning bitcoin continued its current surge, trading at $61.775.31 (£44,991.32).
Under the ruling investors can now receive protections that put it on par with other ETF products under the purview of SEC or Commodity Futures Trading Commission (CFTC), which both commissions have some regulatory control now. An example, the CFTC will oversee the underlying Chicago Mercantile Exchange futures market as the underlying asset class for the ETF, and the SEC will manage the actual ETF filings.
For years, the SEC has held off giving its blessing to bitcoin futures ETFs, but by unanimous agreement the five commissioners decided approval was warranted. No statement was released by the SEC and an email by Capital.com went unreturned Monday morning.
Benefits of ETF
Bitcoin ETF supporters said the move would make bitcoin more accessible to individuals versus other cryptocurrency by giving investors a regulated forum to trade digital assets. Investing in an ETF is not a direct investment in bitcoin
Howard Greenberg, president of the American Blockchain and Cryptocurrency Association explain SEC ruling clarifies and allows for more institutional investment for cryptocurrencies as a cash-settled derivative of bitcoin futures and a pathway for businesses to hold bitcoin on a balance sheet.
"This ruling also creates another investment avenue for those who don't want to open a crypto exchange account but can now trade from their preferred stock trading platform," he told Capital.com
The initial product will track bitcoin futures, rather than the price of bitcoin directly, however, Gensler said he believes ETF gives investors a cushion. This may have been a compromise, as Gensler has previously said investors protection is the commission's main goal.
Greenberg said he'd an ETF, that gives direct "access to Bitcoin holdings without the issues involved for self-custody. However, this will lead to more BTC purchasing in some form as a hedge versus a short futures position."
The SEC had rejected all bitcoin ETF applications since 2013 until this move. The commission can allow an application to simply become effective, rather than follow the announcement process.
What is your sentiment on BTC/USD?
Vote to see Traders sentiment!
Warnings
While the cryptocurrency and chainblock industry is encouraged by the progress, not everyone is popping champagne.
The SEC and others recommend investors understand the risk before buying bitcoin or cryptocurrency. The day before the approval, the SEC's Investor Education section tweeted, "Before investing in a fund that holds Bitcoin futures contracts, make sure you carefully weigh the potential risks and benefits."
In June, the section issued a press release stating all investments involve financial loss. "This risk may be increased for positions in bitcoin futures contracts because of the high volatility of bitcoin and bitcoin futures (meaning prices can fluctuate widely)," the release stated.
More costly
Investing in futures-based bitcoin ERG could be pricier than a direct investment due to additional costs, warned a number of cryptocurrency groups. Some bitcoin followers said ETFs will make Wall Street and middlemen more money than retail investors, especially if it trades at a high during bull markets.
"This is the old financial market trick – you now have to add multiple new intermediaries who all make profits – the ETF provider, clearing house, futures broker, administrator, auditor, law firm, CME and hedge fund arbs. Wall Street gets richer. Retail investors lose. Again," tweeted Raoul Pal, founder and CEO of Global Macro Investor.