US mid-day: Stocks fall as traders pause on economic reports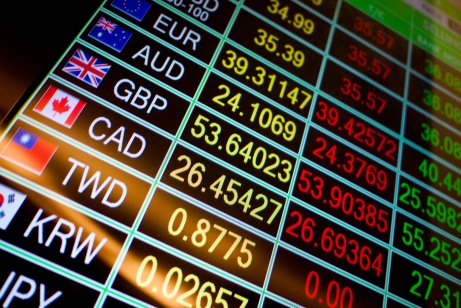 After three straight session gains, US benchmarks are lower on Thursday as Wall Street eyes economic data.
Halfway through the session, the Dow Jones Industrial Average is around 32 points lower, or 0.09%, the S&P 500 is near 0.2% down, while the Nasdaq Composite is off around 0.5%.
Despite the negative start to Thursday's trading, all the major averages were still on pace to post weekly gains.
At the close of yesterday's session, the Dow added 34.6 points, or 0.1%, to reach 35,754.09, the S&P 500 tacked on 0.3% to 4,701.21, settling just 0.9% from its record, while the Nasdaq Composite improved 0.6% to 15,786.99.
Jobless claims plummet to 50-year low
American applicants for unemployment benefits hit their lowest mark in five decades, following a report from the US Labor Department on Thursday.
Data compiled by the federal government shows for the week ending on 4 December, seasonally adjusted initial claims peaked at 184,000, a dip of 43,000 from the previous week's revised level.
Scott Bair, professor and department chair at Clemson University's John E Walker Department of Economics, told Capital.com, "Initial claims have averaged just under 220,000 over the last month, which are close to pre-pandemic levels."
"While the last jobs report may have been disappointing with only 210,000, this report is a bit more encouraging," he said. "I would suspect that next month, November's net job creation will likely be revised upward."
What is your sentiment on USD/JPY?
Vote to see Traders sentiment!
Winners and losers: Travel stocks drop
Following yesterday's big rise, travel stocks are lower on Thursday with shares of American Airlines are around 1.8% lower after the company announced a reduction in its schedule because of a backup in Boeing Dreamliner deliveries.
Meanwhile, shares of Boeing slid more than 2%.
In other travel stock, shares of Royal Caribbean and Carnival are down around 1%, while shares for United Airlines are near 2% lower.
Shares for Expedia and Booking Holdings are also around 1% lower.
Oil: Crude falls away from recent high point
Oil futures are lower on Thursday, following their recent two week high.
West Texas Intermediate crude for January delivery sank 67 cents, or 0.9%, to trade at $71.69 on the New York Mercantile Exchange, while February Brent crude dropped by 73 cents, or 1%, to reach $75.09 a barrel on ICE Futures Europe.
Gold: Metals take a breather
Gold futures are also down on Thursday after two straight days of gains.
February gold was trading $9.80, or 0.6%, down at $1,775.70 an ounce, following a gain of less than 0.1% on Wednesday, while March silver was off 50 cents, or 2.2%, lower at around $21.94 an ounce, following a 0.4% decline on Wednesday.
Forex: Yields tip lower as US buck outworks Yen
On Thursday, one US dollar equals 113.55 Japanese yen, 1.27 of the Canadian dollar, and 0.89 of the euro.
The yield on the benchmark 10-year Treasury note edged down to 1.485% Thursday from 1.508% Wednesday.
Read more: Mastercard (MA) adds five start-ups to crypto programme