US mid-day: Gauges lower as Wall Street takes in Fed move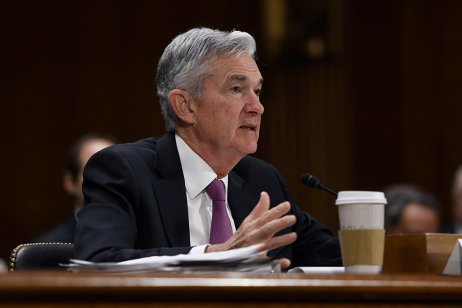 Traders are more cautious on Thursday after yesterday's US Federal Reserve announcement to speed up its "tapering" process to stall inflation.
Halfway through the session, the Dow Jones Industrial Average is up near 0.40%, the S&P 500 is wobbling between small gains and losses, while the Nasdaq Composite is around 1.09% in the red.
After Wednesday's trading, the Dow Jones Industrial Average was up 382 points, the S&P 500 was 1.6% higher, while the tech-heavy Nasdaq Composite spiked over 2%.
Fed decision stews on Wall Street
Yesterday, the US Federal Reserve announced plans to double the pace at which it removes the accommodative policies it put in place last year amid the pandemic in order to combat the recent rise of inflation.
The Federal Open Market Committee ended its two-day meeting on Wednesday by accelerating its reduction of Treasury and mortgage security purchases and putting it on a path to zero out new purchases by March.
What is your sentiment on US30?
Vote to see Traders sentiment!
Winners and losers: Banking shares find gains
In banking stock, shares of JPMorgan are up over 2%, shares of Goldman Sachs are also over 2% in the green, while shares of Bank of America are surging over 2.8% after analysts at JPMorgan named the stock a top pick for 2022.
Shares of Adobe are off near 9.48% after showing an underwhelming quarterly report.
In other tech stock, shares of Apple dropped near 2.33%, shares of Meta Platforms are down around 1.12%, and shares of Microsoft and Amazon are trading lower at 1.85% and 1.91% respectively.
In the aviation industry, shares of American Airlines are down 0.96%, shares of Delta Airlines are off near 0.46%, while shares of Southwest Airlines are around 0.92 lower and shares of United Airlines are hovering around a 1.16% loss.
Oil: Rising crude prices spur energy
Oil futures are up again on Thursday after ending yesterday in the green.
West Texas Intermediate crude for January delivery jumped 89 cents, or 1.3%, to $71.76 a barrel on the New York Mercantile Exchange, while February Brent crude, the global benchmark, spiked 66 cents, or 0.9%, at $74.54 a barrel on ICE Futures Europe.
In energy stock, shares of Exxon Mobil are up around 1.75% and shares of Chevron are near 2.08% in the positive.
Gold: Precious metal skyrockets
Gold futures are up big on Thursday as the US dollar weakens on the latest Fed decision.
February gold surged $28.40, or 1.6%, to trade at $1,792.90 an ounce, while March silver improved 79 cents, or 3.7%, to reach $22.335 an ounce.
Forex: US dollar backpedals on Fed move
On Thursday, one US dollar equals 0.88 of the euro, after making up 0.89 of the currency yesterday. The US dollar also lost ground on the Canadian dollar, going from 1.29 on Wednesday to 1.28 on Thursday.
Yields on 10-year Treasury notes fell to 1.436% on Thursday, after being up 1.460% during yesterday's session.
Read more: Stem stock rises on aquisition of solar power control maker