US mid-day: Big gauges near winning week, inflation heats up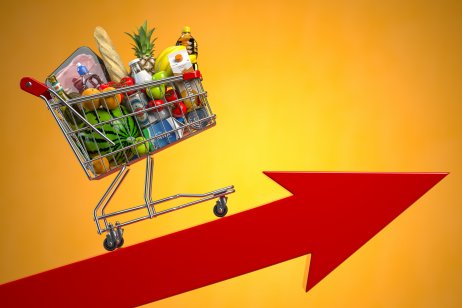 All three US benchmark indices are trading slightly higher on Friday despite inflation reaching a 40-year high.
Halfway through the session, the S&P 500 was up 0.5%, the Dow Jones Industrial Average was near 60 points higher, while the Nasdaq Composite was 0.3% in the green.
All three are on track for weekly gains.
After Thursday's trading, the Dow Jones Industrial Average was unchanged at 35,755.28, the S&P 500 was down 0.72% to 4,667.47, while the Nasdaq Composite was 1.7% lower to 15,517.37.
Inflation hits highest mark in four decades
US consumer prices rose in November at the fastest pace since the early 1980s, putting pressure on the US Federal Reserve to taper its asset purchase programme down more quickly and revisit the timing of future interest rate hikes.
On a 12-month basis, the Consumer Price Index (CPI) was up 6.8% in November from 6.2% in the prior month, the Bureau of Labor Statistics said in a release.
This rate is more than three times the US Federal Reserve's 2% target and the highest rate since 1982. The index rose 0.8% last month against October's CPI reading of a 0.9% gain.
What is your sentiment on ORCL?
Vote to see Traders sentiment!
Winners and losers: Costco up, toy supply down
Shares for Costco are up 6.03%, beating Wall Street's predictions for their fiscal first-quarter revenue while easing supply-chain issues and price increases.
The retail store also warned of toy shortages this Christmas.
Travel stocks are continuing to fall on Friday as shares of Southwest Airlines are around 3.5% lower, shares of United Airlines are down 2%, while shares of Delta Airlines are off near 2.5%
Shares of Oracle are up around 15% after the database company reported second-quarter results that beat estimates, while shares for Broadcom jumped near 7% after posting better than expected results.
Meanwhile, shares of Tesla are up almost 1% after Elon Musk sold more of his company stock, totalling near $1bn, and tweeting that he was "thinking of quitting his jobs."
Oil: Crude ends best week in almost four months
Oil futures are higher on Friday and on pace for their largest weekly bump since September.
West Texas Intermediate crude for January delivery is up 68 cents, or 1% higher, to reach $71.62 a barrel on the New York Mercantile Exchange. WTI lost 2% on Thursday.
February Brent crude spiked 53 cents, or 0.7%, higher at $74.95 a barrel on ICE Futures Europe. The global benchmark sank 1.9% yesterday.
Gold: Precious metal tracking flat week
Gold futures for February delivery jumped 0.2% to $1,780.10 an ounce and is headed for a flat finish on the week.
Forex: US dollar stays in place, yields lower
On Friday one US dollar equals 0.88 of the euro, 1.39 of the Australian dollar and is holding steady at 1.27 of the Canadian dollar.
The yield on the 10-year Treasury note went down 1.2 basis points to 1.47%, while the ICE US Dollar Index was little changed at 96.268 and down less than 0.1% for the week.
Read more: Elon Musk sells Read more: Elon Musk sells $1bn in Tesla stock, thinks of quitting jobs bn in Tesla stock, thinks of quitting jobs