US market close: Stocks pick up steam before Christmas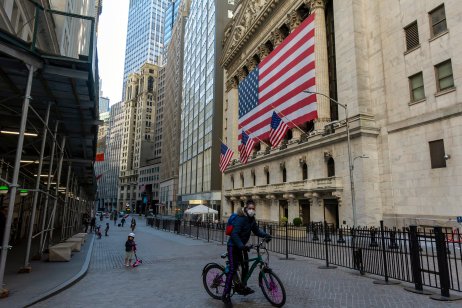 Wall Street has now posted two consecutive winning days after starting the week against the ropes.
The Dow Jones Industrial Average went up 261 points, or 0.74%, the S&P 500 improved 1.02%, while the Nasdaq Composite added 1.18%.
Halfway through the session, the Dow Jones Industrial Average was up around 120 points, the S&P 500 was approximately 0.5% better, while the Nasdaq Composite was enjoying a slight edge near 0.1%
Winners and losers: Pfizer stock pulling away
Following US President Joe Biden's Tuesday announcement to strengthen White House resolve against rising American cases of Omicron, shares of Pfizer are 1.02% higher, while shares of Johnson & Johnson are 0.43% better. However, shares of Moderna are stuck in reverse, closing Wednesday 6.26% in the red.
Shares of Tesla shares are over 7% in positive territory after Elon Musk said he had reached his goal of selling 10% of his ownership the electric-vehicle maker for tax reasons.
As US consumers prepare for holiday travel, shares of American Airlines are up 0.77%, shares of Delta Airlines are better by 1.61%, while shares of Southwest Airlines and United Airlines are 0.61% and 1.46% higher respectively.
In the tech industry, shares of Apple are up 1.53%, shares of Meta Platforms are down 1.12%, as shares of Microsoft and Amazon are 1.18% and 0.06% higher respectively.
In banking, shares of JPMorgan are 0.39% better, shares of Goldman Sachs are up 0.53%, shares of Bank of America are 0.20% in the green, and shares of Wells Fargo are better by 0.46%.
What is your sentiment on XOM?
Vote to see Traders sentiment!
Oil: Crude spikes again
Oil futures remained in the green on Wednesday as West Texas Intermediate crude for February delivery spiked $1.64, or 2.3%, to close at $72.76 a barrel on the New York Mercantile Exchange, while February Brent crude, the global benchmark, jumped $1.31, or 1.8%, to settle at $75.29 a barrel on ICE Futures Europe.
In energy stock, shares of Exxon Mobil are 0.81% better, while shares of ConocoPhillips are 0.58% in positive area.
Gold: Precious metal ends above $1,800
Gold futures are up midweek, shooting past the $1,800 mark again.
February gold went up $13.50, or 0.8%, to settle at $1,802.20 an ounce Wednesday.
Forex: US dollar pushed back by euro
On Wednesday, one US dollar equals 0.75 of the Pound sterling, and 0.88 of the euro, losing a small step from its 0.89 position yesterday.
The yield on the benchmark 10-year US Treasury note fell to 1.457% from 1.487% Tuesday.
Read more: Caterpillar (CAT) stock rises 2.5% leading the Dow