US market close: S&P winning streak snapped, Dow closes flat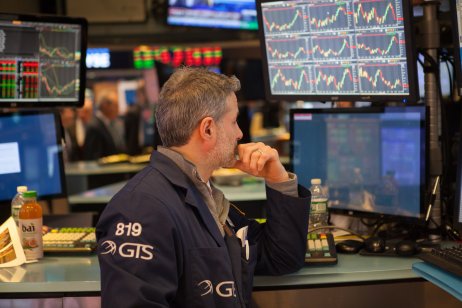 The afternoon session was no better for the major US gauges as all three closed Thursday well below their weekly highs.
Following three consecutive days with gains, the Dow Jones Industrial Average ended the day unchanged at 35,755.28, the S&P 500 sank 0.72% to 4,667.47, while the Nasdaq Composite went down1.7% to 15,517.37.
All three benchmarks remain on pace for a positive week, with the Dow near its largest weekly jump since March and the S&P just 1% from its record high.
Halfway through the session, the Dow Jones Industrial Average was around 32 points lower, or 0.09%, the S&P 500 was around 0.2% down, while the Nasdaq Composite was off around 0.5%.
Jobless claims lowest since 1969
American applicants for unemployment benefits hit their lowest mark in five decades, following a report from the US Labor Department on Thursday.
Data compiled by the federal government showed, for the week ending on 4 December, seasonally adjusted initial claims peaked at 184,000, a dip of 43,000 from the previous week's revised level.
According to the report, initial claims are at their lowest level since 6 September 1969, when it was at 182,000.
What is your sentiment on Oil - Crude?
Vote to see Traders sentiment!
Winners and losers: Travel shares fall
Shares of GameStop are down 10% following the company's earnings report showing a widening loss, while shares for Amazon dipped over 1% after the Italian government fined the company $1.3bn for abuse of market dominance.
Following yesterday's big rise, travel stocks are down considerably on Thursday.
Shares of American Airlines are down 0.4% after the company announced a reduction in its schedule due to delays in Boeing Dreamliner deliveries.
Shares of Boeing are also lower, falling 1.6%.
In other travel stocks, shares of United Airlines are off by 1.7%, while the cruise line industry is seeing shares of both Royal Caribbean and Carnival sink around 1.6% each.
Oil: Crude prices hit weekly low
Oil futures settled lower on Thursday, snapping a three-day winning streak.
West Texas Intermediate crude for January delivery dropped $1.42, or 2%, to settle at $70.94 on the New York Mercantile Exchange.
Yesterday, WTI went up 0.4% to end at the highest level since late November.
On Thursday, February Brent crude sank by $1.40, or around 1.9%, to end at $74.42 a barrel on ICE Futures Europe.
The global benchmark jumped 0.5% during Wednesday trading to post its fifth consecutive winning session.
Gold: Precious metal loses on Thursday
For the first time in three days, Gold futures closed in the red.
February gold dropped by $8.80, or 0.5%, to settle at $1,776.70 an ounce, following a gain of less than 0.1% on Wednesday, while March silver shed 42 cents, or 1.9%, to end at $22.013 an ounce, following a 0.4% dip yesterday.
Forex: US dollar holds position versus Euro
The yield on the benchmark 10-year Treasury note fell to 1.489% from 1.508% Wednesday.
On Thursday, one US dollar equals 113.55 Japanese yen, 1.27 of the Canadian dollar, and 0.89 of the Euro.
Read more: Analyst: Crypto's energy problem is hindering its adoption