US market close: Major indexes drop before Fed meeting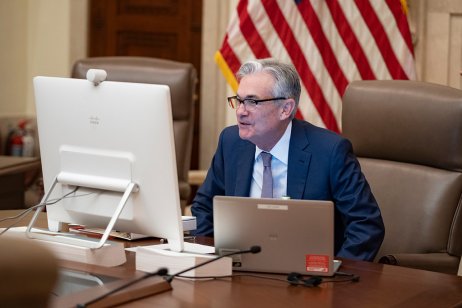 Wall Street paused on Monday as investors await the US central bank's meeting later in the week.
The Dow Jones Industrial Average lost 319 points, or 0.9%, the S&P 500 dipped 0.9%, while the Nasdaq Composite went 1.4% lower.
Halfway through the session, the Dow Jones Industrial Average was down around 298 points, or 0.8%, to 35,672, the S&P 500 was off by 0.6%, or 28 points, to 4,683, while the Nasdaq Composite was 0.7% in the red, or 100 points, lower at 15,530.
Fed will speed up 'tapering' to fight inflation
On Wednesday, the US Federal Reserve is expected to slow its bond buying programme and raise interest rates in 2022 to cool down record inflation.
The reduction in purchases – a process known as tapering – is already under way after the FOMC agreed in November to begin paring back its purchases by $15bn (£11.3bn) a month. Its $120bn of purchases would decline to zero by June.
In an interview with Capitol.com, Clemson University economist Bruce Yandle said, "Given the amount of money that has been printed and shipped into consumer bank accounts, record levels of inflation are to be expected."
"Stock values reflect earnings and expected inflation," he continued. "We then see higher stock market indexes and higher inflation."
What is your sentiment on US30?
Vote to see Traders sentiment!
Winners and losers: Vaccine stocks spike on Monday
On Sunday, Dr. Anthony Fauci, chief medical adviser to President Joe Biden, urged Americans to get their Covid-19 boosters. On Monday, shares of Moderna spiked 5.8%, while shares for Pfizer leapt 0.27% after the vaccine maker announced the acquisition of Arena Pharmaceuticals in a deal worth $6.7bn.
Shares of Arena surged as high as 90% following the deal's announcement.
In travel stock, shares of American Airlines went down 4.9%, shares of Delta Airlines lost 3.4%, while shares of Carnival sank 4.9%.
Oil: Crude bottoms out to start week
Oil futures are down on Monday.
The global benchmark, Brent crude fell 1% to settle at $74.39 a barrel, while West Texas Intermediate crude, the US benchmark, was down 0.5%, to $71.34 a barrel.
Gold: Futures find small gains
Gold futures are up slightly to start the new week, rising 0.15% to $1,787.40.
Forex: US buck starts week stronger
On Monday, one US dollar equals $1.28 of the Canadian dollar, and 89 cents of the Euro, gaining small ground on both from Friday.
In the bond market, the yield on benchmark 10-year Treasury notes ticked down to 1.426% Monday from 1.487% Friday.
Read more: ExxonMobile (XOM) stock forecast: Where next for the oil major?