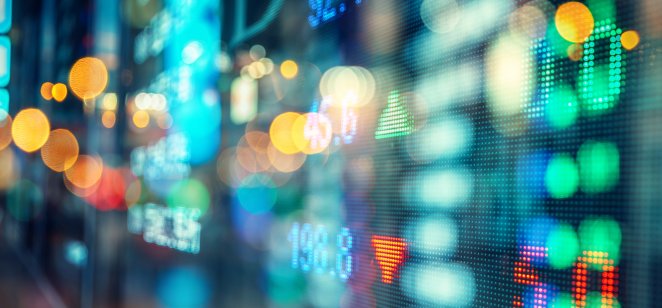 The big US financial gauges stayed in the green Wednesday afternoon following a US Federal Reserve report detailing 12 regional economies.
During trading on Wednesday, the Dow Jones Industrial Average went 0.11% higher, the S&P 500 went up 0.28%, while the Nasdaq Composite popped 0.23%.
Fed book reviews US economies
On Wednesday, the US Federal Reserve released its first of eight Beige Book reports of 2022.
According to the report, economic activity improved at a modest pace across all regions, while ongoing Omicron and Covid-19 cases remained an issue throughout the US as supply chain blockages, employee shortages, and rising inflation continued.
Despite the modest economic improvements, the demand for workers and materials remained high for all businesses.
Winners & losers: Tech stocks wobble
Shares of Advanced Micro Devices (AMD) are up 0.12%, while Nvidia spiked 0.65% and Intel slipped 0.30%.
In other tech stock, shares of Apple held 0.26% in the green, Meta Platforms is down 0.33%, as Microsoft is 1.04% higher and Amazon went down 0.094%.
With the Fed Beige Book on the mind of traders, banking shares are mixed as Bank of America fell 0.75%, Wells Fargo went 0.61% higher, while JPMorgan increased 0.60% and Goldman Sachs slipped 3.18% in negative territory.
Crude at two-month high
Oil futures went up on Wednesday as West Texas Intermediate crude for February delivery spiked $1.42, or nearly 1.8%, to settle at $82.64 a barrel on the New York Mercantile Exchange, while March Brent crude the global benchmark, added 95 cents, or 1.1%, to $84.67 a barrel on ICE Futures Europe.
In energy stock, shares of Hess are up 1.71% and Chevron is 0.50% lower.
Gold hits highest mark of 2022
Gold futures went higher with February gold jumping $8.80, or 0.5%, to settle at $1,827.30 an ounce, following a 1.1% gain on Tuesday, while March silver tacked on 39 cents, or 1.7%, to settle at $23.207 an ounce.
US dollar loses more ground
On Wednesday, US$1 equals $1.25 of the Canadian dollar and $0.88 of the euro.
The yield on the benchmark 10-year Treasury note slipped to 1.736% Wednesday from 1.745% Tuesday.