US market close: Biden's Omicron plan spurs Tuesday trading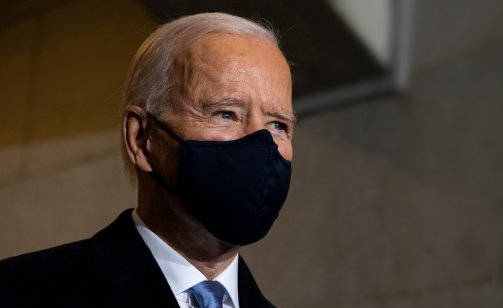 The major American gauges are up big on Tuesday after President Joe Biden announced new actions to combat rising Omicron cases in the US.
The Dow Jones Industrial Average added 560.54 points, or 1.6%, to 35,492.70, the S&P 500 went up 1.8% to 4,649.23, while the Nasdaq Composite popped 3% to 15,341.09.
The small-cap benchmark Russell 2000 improved 2.4%, notching its best day since July.
Biden steps up fight against Omicron
On Tuesday, President Biden outlined a plan to help protect Americans, communities, and US hospitals fight Omicron this winter.
According to a White House press release, the Biden Administration will begin deploying additional medical personnel, expanding hospital capacities, and providing resources like supplies and free ventilators to states.
The president's outline includes robust access to free testing through new federal testing sites, the distribution of free, rapid tests to Americans, while also using the Defence Production Act to speed up test manufacturing.
To raise support for local hospitals, the federal government can deploy troops to Covid-burdened facilities and expand hospital capacity by activating Federal Emergency Management Agency response teams.
What is your sentiment on JNJ?
Vote to see Traders sentiment!
Winners and losers: Vaccine stocks dip on Biden's plan
Shares of Pfizer are 2.25% in the red, shares of Johnson & Johnson are down 0.32%, and shares of Moderna are 2.98% lower.
In the aviation industry, shares of American Airlines are higher by 4.74%, shares of Delta Airlines are up 5.91%, while shares of Southwest Airlines are 3.84% in positive territory and shares of United Airlines are 6.89% better.
The Dow Jones Industrial Average grew on its mid-day lead as blue-chip shares like Boeing went up 5.8% and shares of Nike traded 6.20% higher.
Oil: Crude climbs higher
Oil futures were higher on Tuesday with West Texas Intermediate crude for February delivery spiking $2.51, or 3.7%, to close at $71.12 a barrel on the New York Mercantile Exchange.
February Brent crude, the global benchmark, closed $2.46 higher, up 3.4%, at $73.98 a barrel on ICE Futures Europe.
In energy stock, shares of Exxon Mobil are up 2.25%, while shares of Chevron are 1.60% better.
Gold: Yellow metal runs red
Gold futures are lower after ending yesterday's session in decline as February gold closed lower by $5.90, or 0.3%, to $1,788.70 an ounce.
Forex: US buck holds firm against yen, euro
On Tuesday, one US dollar equals 1.29 of the Canadian dollar, 114.17 of the Japanese yen, and 0.89 of the euro.
The yield on the benchmark 10-year Treasury note went up to 1.487% Tuesday from 1.418% Monday.
Read more: US oil prices bounce back, but worries over Omicron remain