Business news: US awaits retail sales data; Tesla suffers loss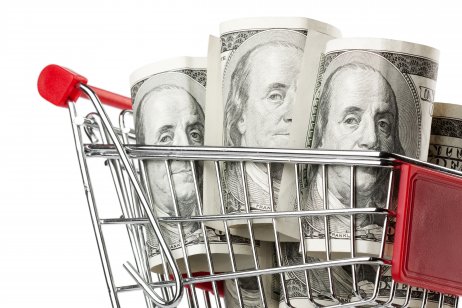 Key points
This week, retail sales data is expected on Tuesday from the US following Friday's consumer confidence data, which showed an unexpected decline to a decade-low in November as a result of the high US inflation data released last week.
Hungarian airline Wizz Air (WIZZ) and US airline Frontier (ULCC) have joined forces with two other airlines, announcing yesterday (14 November) they have placed an order for 255 additional A321neo Family aircrafts, according to an Airbus (AIR) report released today.
Slowdown effects: China's economic slowdown is creating a ripple effect that could threaten emerging markets already struggling with the economic impact of low vaccination rates.
Top business and economic news
Hoarding and storing: Data from Investec, an international banking and wealth management group, has shown that most British corporates and large small- and medium-sized enterprises (SMEs) are squirrelling away funds to defend themselves against future crises. The study was conducted among 100 senior executives at corporates with total cash deposits of more than £6.17bn ($8.28m, €7.23m).
The drinks are on us: Beer giant Heineken (HEIA) has announced its intention to acquire control of African brewers Distell and purchase Namibia Breweries Limited's (NBL) holding in Heineken South Africa.
Markets today
Stocks: US stock index futures rose today as technology stocks advanced and investors awaited crucial retail detail, due to be released tomorrow. The Dow Jones was up by 0.31%, while S&P was up 0.15% and Nasdaq rose by 0.88%.
Oil: Brent crude-oil futures eased to $81.36 per barrel (bbl) for the near term. West Texas Intermediate fell 0.89% to $80.02/bbl as concerns continued over the US releasing its oil reserves to cool domestic gasoline rates.
Gold: China's economic slowdown has caused gold prices to stabilise today as investors looked at what would happen next with inflation and monetary policy.
Forex: The dollar eased back on Monday from an almost 16-month high as investors awaited clues on whether the Federal Reserve would raise interest rates.
Crypto: Bitcoin (BTC) rose 0.11% today and Ethereum (ETH) was up 1.54%.
Things to watch
Expected today: Trade tensions raise their ugly head again between the US and China. President Joe Biden and Chinese leader Xi Jinping are expected to meet virtually to discuss trade and military activities.
Tesla (TSLA) slowdown: After Tesla (TSLA) CEO Elon Musk offloaded almost $7bn worth of shares in the electric-car company, its shares slipped on Monday by almost 3%.
Read more: Stock market predictions for 2022: What can we expect from the markets next year?