Top 10 female CEOs: Women who have shattered the corporate glass ceiling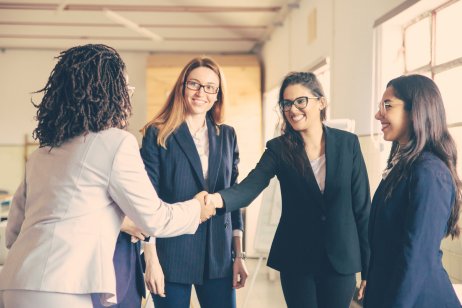 The number of women in CEO positions heading Fortune 500 companies rose to a record 74 in 2022, or 15% of the entire list. This was the fourth year in a row when the number of female corporate leaders expanded, and various records were hit.
Pharma giant CVS Health, for example, became the biggest Fortunte 500 firm to be led by a woman when it was headed by Karen Lynch. Citigroup's Jane Fraser was the first woman to head a major US bank.
Even though women in leadership roles continue to lag behind their male counterparts, there has been significant progress made in the last 20 years, according to WeForum.
Data showed that the number of female bosses grew tenfold between 2002 and 2022, inspiring a generation of successful business woman names to come. Who are these female high-achievers breaking through the glass ceiling and 'leaning in'?
Who are the top 10 female CEOs?
The number of top women business leaders is growing, spanning industries from software, banking, aerospace and defence to chipmakers, pharma and shipping. Here we take a look at the top 10 female CEOs of the biggest companies by market cap as of 7 October 2022.
Safra Catz: Oracle
Safra Catz is the first on our top 10 female CEOs list. She leads the Oracle Corporation (ORCL).
Originally from Israel, Cratz holds a law degree from the University of Pennsylvania. Prior to joining US-based Oracle she worked on Wall Street for more than a decade covering the software industry.
Cratz joined Oracle in 1999 and held a number of positions before becoming the CEO in 2014. Over the years, Cratz has helped Oracle sign over 130 acquisitions.
Julie Sweet: Accenture
Julie Sweet has been the CEO of Accenture (ACN), an Irish-American professional services firm, since September 2019.
Sweet holds a bachelor's degree in international relations and a Juris Doctor from Columbia University. Prior to joining Accenture in 2010, Sweet has worked as a partner for the law firm Cravath, Swaine & Moore LLP.
Sweet is also part of the World Economic Forum Board of Trustees and is board chair of Catalyst, a non-profit organisation focusing on workplace inclusion for women.
In 2021, Forbes added Sweet on their Power Women list. The female leader is a big advocate for diversity believing that "a culture of equality helps everyone."
Carol B. Tomé: United Parcel Service (UPS)
Carol B. Tomé is third leader on our top business women list heading the American multinational shipping firm United Parcel Service (UPS).
Tomé was appointed as the CEO in 2020 and was the first female to run the firm in the UPS's history that lasted over a century.
Prior to UPS, Tomé spent over 20 years at Home Depot, an American home improvement retailer, where she served as the executive vice president and CFO.
She joined UPS in 1995 where she first worked as the vice president and treasurer and in 2003 became part of the UPS board. Tomé retired in 2019, but decided to enter the work scene once again a year later believing she could help UPS "make money."
Karen Lynch: CVS Health
Perhaps one of the most popular successful female business leaders, Karen Lynch, is scooping the fourth place on our top 10 female CEOs list.
Lynch is the president and CEO of CVS Health (CVS), an American pharma giant, and has been in the position since February 2021. Prior to joining CVS, Lynch worked as a certified public accountant at Ernst & Young and was president of Aetna, a healthcare insurance company under CVS Health.
Lynch was included in Forbes' 2021 Power Women list and named the No.1 Most Powerful Woman in Business by Fortune two years in a row.
In addition to heading CVS Health, Lynch is a trustee of the Bushnell Performing Arts Centre and a member of the Business Roundtable.
Lisa Su: Advanced Micro Devices (AMD)
Lisa Su has been the CEO of the American semiconductor maker Advanced Micro Devices (AMD) since October 2014.
Originally from Taiwan, Dr Su has a background in electrical engineering. She earned a PhD from MIT and has published over 40 technical articles. Before joining AMD in 2012, Dr Su worked as senior vice president and general manager of networking and multimedia at Freescale Semiconductor.
Dr Su has received a number of awards, including the Grace Hopper Technical Leadership Abie Award (2020) and the Robert N. Noyce Medal in 2021. That same year she was also appointed by US President Joe Biden as a member of the President's Council of Advisors on Science and Technology.
She is featured on Forbes' list of America's Self-Made Women 2022.
Gail Koziara Boudreax: Elevance Health
Gail Koziara Boudreax was appointed the head of Elevance Health, an American health insurance firm, in 2017, having served as the CEO of UnitedHealthcare (UNH) between 2011 and 2014.
Bourdreaux holds a degree in psychology from Dartmouth College and a Master's in business administration with distinction from Columbia University.
In 2018, she received the Billie Jean King Leadership Award and was featured on Forbes' 2021 Power Women list.
Boudreaux is also on the board of directors for Target (TGT), the Central Indiana Corporate Partnership Inc, the Blue Cross Blue Shield Association (BCBSA) and more.
Jane Fraser: Citigroup
Another powerful figure on our list of great female business leaders is Jane Fraser, who has been the CEO of the American investment bank Citigroup (C) since March 2021. She joined Citigroup in 2004 and has led a number of teams within the company.
Fraser holds a Master's degree in economics from the University of Cambridge and an MBA from Harvard Business School. Prior to joining Citigroup she worked for Goldman Sachs (GS), McKinsey & Co and the Touch Foundation.
Fraser is known not only for being Citigroup's first ever female CEO but also the first woman to run a major Wall Street bank.
Reshma Kewalramani: Vertex Pharmaceuticals
Reshma Kewalramani joined Vertex Pharmaceuticals (VRTX) in 2017 as the chief medical officer and executive vice president of global medicines development and medical affairs. In April 2020, Dr Kewalramani was appointed to the role of CEO and President at Vertex.
Dr Kewalramani holds a medical degree with honours from the Boston University School of Medicine and completed a degree in general management at Harvard Business School.
She is serving as a member of the Biomedical Science Careers Program, an organisation that supports underrepresented students in the STEM field.
Kathy Warden: Northrop Grumman Corporation
Kathy Warden is the chair, CEO and president of Northrop Grumman (NOC), an American aerospace and defence company. She joined the firm in 2008, and was appointed as the CEO in January 2019, having been elected as the board's chair in August 2019.
Warden has a background in business development in government and commercial firms, having worked at General Dynamics and the Veridian Corporation before joining Northrop Grumman.
In addition to her roles at Northrop, Warden is also the chair of the Board of Directors of the Federal Reserve Bank of Richmond and a member of the Catalyst Board of Directors.
Kristin Peck: Zoetis Inc
Last but not least on our top female CEO list is the head of Zoetis (ZTS), an American pharmaceutical company for medicine and vaccinations for pets and livestock.
Peck joined the company in 2012 as the executive vice president and group president, helping the firm to undergo the initial public offering (IPO) in 2013. Peck is also a member of the company's board of directors.
Before joining Zoetis, Peck worked as the executive vice president focusing on worldwide business development and innovation at Pfizer (PFE). She is also a member of the board of directors at Thomson Reuters.
Peck also serves on the board of Catalyst, the non-profit organisation that supports women and other underrepresented groups in the work field.
What is your sentiment on AMD?
Vote to see Traders sentiment!
FAQs
Who are the Top 10 CEOs in the world?

According to CEO magazine, the world's top 10 CEOs are Miscorosft's (MSFT) Satya Nadella, Apple's (AAPL) Tim Cook, Great Wall Motor's (2333) Jianjun Wi, Tencent's (0700) Huateng Ma, Alphabet's (GOOGL) Sundar Pichai, Adobe's (ADBE) Shantanu Narayen, Netflix's (NFLX) Reed Hastings, Nvidia's (NVDA) Janese Huang, Salesforce's (CRM) Marc Beioff and AMD's (AMD) Lisa Su.
Who was the first ever woman CEO?

It is believed that Anna Bissell was the first woman CEO. Together with her husband Melville, Anna opened the crockery shop Bissell in Michigan, USA, in 1876 and took over the business in 1889.
How many female CEOs are there in the world?

Research conducted by Catalyst in 2021 found that 26% of all CEOs and managing directors in companies were women – a rise from 15% in 2019. Fortune 500 companies have reported a fourth positive year in a row in 2022, with the number of female CEOs increasing to 72 in 2022, from 41 a year prior.