THOR price prediction: What is THOR?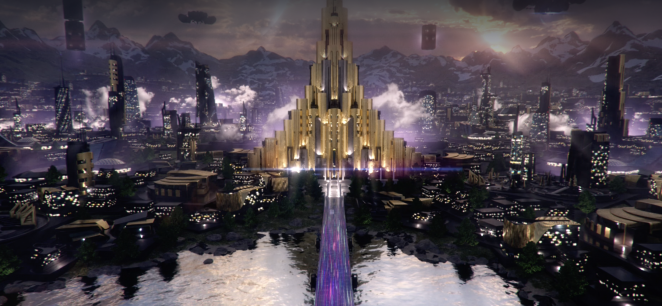 Thor Finance is a protocol designed to help protect people from the worst of the cryptocurrency market, but what is THOR? Let's see what we can find out, and also take a look at some of the THOR price predictions that were being made as of 7 September 2022.
Thor explained
One of the most important concepts when it comes to both cryptocurrency and blockchain technology is that of decentralised finance (DeFi). DeFi is the idea that financial transactions and services can exist without banks.
A World Bank report from 2017 said there were 1.7 billion people who did not have a bank account, but roughly 66% of them owned a mobile phone. Advocates of decentralised finance aim to reach these people, which will, it's hoped, promote financial inclusion.
The goal is for a fairer version of traditional financial services which are accessible online. Decentralised finance has the goal of providing a modern, fairer alternative to all of these services that can be accessed over the internet. These tools are often available in the form of decentralised apps, or DApps for short.
Now, as it stands, DeFi is a pretty big deal when it comes to the various sectors that make up the world of crypto currency. One of the things that a lot of DeFi systems offer is the ability to earn yield, or interest, on their investments. This gives people the opportunity to make a passive income from their crypto assets.
Anyway, one such blockchain-based protocol that aims to help people get yield and protect them from any potential downside is Thor Financial. To quote the system's whitepaper: "Thor Financial is a diverse ecosystem of protocols and products hosted on the Avalanche (AVAX) blockchain. We aim to be the premier hybrid DeFi-as-a-Service (DaaS) and Nodes-as-a-Service (NaaS) protocol. We are a community-driven organisation focused on providing value through utility, transparency, and sustainability. As pioneers in the market, our goal is to add an ever-expanding ecosystem, leading to widespread adoption and healthy, long-term returns for our community."
Every blockchain-based system needs to have its own cryptocurrency, and Thor Financial has the conveniently named THOR. It should be noted that, at the time of writing (7 September 2022), there was nothing on the Thor Financial website about what THOR would be used for, although we should also mention that the platform's website did say that both a non-fungible token (NFT) marketplace, as well as staking and a THOR lottery are "coming soon", with staking set to arrive on the network by the end of September 2022.
Thor Financial was founded in 2021 by someone calling themselves Heimdall, who claims to be an "8+ year software engineer with an ample background working as a consultant for Fortune 500 companies, and someone who uses the name Preacher. While pseudonymous founders and leaders are not that uncommon in the world of crypto – after all, Satoshi Nakamoto, the founder of bitcoin (BTC) almost certainly uses a made up name – it might be something that could, potentially, detract people from investing in the system and its native token.
It is also worth pointing out that, because THOR is based on the Avalanche blockchain, it is a token, rather than a coin. You might see references to such things as a THOR coin price prediction, but these things are wrong, strictly speaking.
What is your sentiment on BTC/USD?
Vote to see Traders sentiment!
THOR price history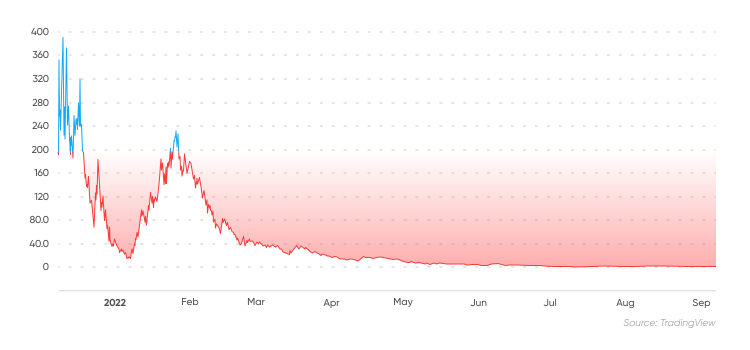 THOR price history from launch to present. Credit: Capital.com
Let's now take a quick look at the THOR price history. While past performance should never be taken as an indicator of future results, knowing what the token has done in the past can give us some very useful context when it comes to either making a THOR price prediction or making one of our own.
THOR first came onto the open market in late 2021 and, on 10 December, it reached an all-time high of $481.97. The price then crumbled after this and the token closed the year at $45.48. While January saw something of an upturn in the token's fortunes, with it rushing to peak at $240.33 on 26 January, things have gone significantly downhill since then. The token dropped below $100 on 10 February and below $10 on 2 May. On May 12, as the market was in turmoil following the depegging of the UST stablecoin and the collapse of the associated LUNA cryptocurrency, it sank to a low of $3.94. In June, the cancellation of withdrawals on the Celsius (CEL) crypto lending platform confirmed the bear market and it reached a low of $1.72 on 30 June. Things got even worse, though, when it dropped to an all-time low of $0.8537 on 31 August. Since then, though, there has been a little bit of a recovery and, on 7 September 2022, it was trading at about $1.
It is worth pointing out that CoinMarketCap, which is usually a very reliable source for data about cryptocurrencies, did not have a circulation figure listed, which meant that there was no data available in terms of its current market cap. It did, however, say that there was a total supply of 20,456,743 THOR, which would give it a fully diluted – that, is, if all those were in circulation – market cap of a little over $20m.
THOR price predictions
With that all said and done, let's take a look at some of the THOR price predictions that were being made as of 7 September 2022. It is important to understand that price forecasts, especially for something as potentially volatile as cryptocurrency, are very often wrong. You should also note that long-term crypto price predictions are often made using an algorithm, which means that they can change at any time.
First, CoinArbitrageBot had a THOR price prediction for 2022 which suggested that the token could rise considerably between the time of writing and the end of the year, reaching a potential $8.86. In 2023, the site said THOR could reach a little below $15.78, while 2024 could see the token trade at just under $25.53. By 2025, the forecast argued that THOR could be worth a fraction of a cent below $41.30. How much you trust this forecast will depend on whether you think, after doing careful research, that THOR can rise by something like 800% over the course of less than four months.
Next, CryptoPredictions.com made a THOR crypto price prediction that said the token could close 2022 at about $3.20, before it potentially reached $4.90 in September 2023. A year from then, the site said that the crypto could be worth a little under $6.31. It then went on to make a THOR price prediction for 2025 that suggested it could start the year at about $6.61 before moving to $7.11 in September and closing the year at $7.27. By September 2026, the site argued that THOR could be worth somewhere between $7.69 and $7.70, before it could close the year at a fraction of a cent under $7.82.
Meanwhile, PricePrediction.net had a THOR token price prediction which argued the token could be worth $2.12 this year, $3.08 next year and $4.31 the year after that. By 2025, the site said, the token could potentially trade at $6.20, before possibly reaching $8.67 and then potentially breaking through the $10 barrier to trade at $12.71 in 2027. In 2028, the site said, THOR could reach $17.26 before it could close the decade at $26.84. The site then went on to make a THOR price prediction for 2030 of $39.37, before arguing that it could be worth $57.21 in 2031.
Finally, WalletInvestor was far more bullish in terms of its THOR price forecast. The site said that the token could face a challenging 12 months, dropping to just $0.0642 by early September 2023.
When considering a THOR token price prediction, it's important to keep in mind that cryptocurrency markets remain extremely volatile, making it difficult to accurately predict what a coin or token's price will be in a few hours, and even harder to give long-term estimates. As such, analysts and algorithm-based forecasters can and do get their predictions wrong.
If you are considering investing in cryptocurrency tokens, we recommend that you always do your own research. Look at the latest market trends, news, technical and fundamental analysis, and expert opinion before making any investment decision. Keep in mind that past performance is no guarantee of future returns. And never trade with money that you cannot afford to lose.
FAQs
Is THOR a good investment?

It is difficult to tell. A lot will depend on how Thor Finance develops new features, whether it can stand out in an increasingly competitive market, and how cryptocurrency as a whole performs over the coming days, weeks, months and years.

Remember, you should always carry out your own thorough research before making an investment. Even high market cap cryptocurrencies have proved vulnerable to the current bear markets. So investors should be prepared to make losses and never purchase more than they can afford to lose.
Will THOR go up or down?

It is hard to say. While sites such as CoinArbitrageBot are very optimistic in terms of their THOR price forecasts, the likes of WalletInvestor are rather more bearish and downbeat. It is important, to, to remember that predictions are very often wrong, and that with crypto being potentially very volatile, prices can go down as well as up.

In volatile cryptocurrency markets, it is important to do your own research on a coin or token to determine if it is a good fit for your investment portfolio. Whether THOR is a suitable investment for you depends on your risk tolerance and how much you intend to invest, among other factors. Keep in mind that past performance is no guarantee of future returns. And never invest money that you cannot afford to lose.
Should I invest in THOR?

This is a question that you will have to answer for yourself. Before you do so, however, you will need to conduct your own research and never invest more money than you can afford to lose because prices can go down as well as up.