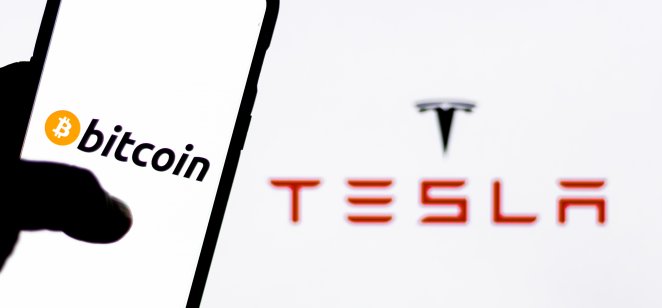 Once again, Elon Musk has disrupted the cryptocurrency market. On Wednesday 13 May 2021 he announced that Tesla (TSLA) was to suspend bitcoin payments. According to Tesla's CEO: "Cryptocurrency is a good idea … but this cannot come at great cost to the environment".
The news triggered a massive bitcoin (BTC) plunge, with the currency's share value falling 20% in the 24 hours following the comments. Investors will remember that Tesla bought $1.5bn-worth of bitcoin in February 2021. In fact, the coin's adoption by Tesla greatly contributed to BTC's rally to an all-time high of $64,800 on 14 April 2021.
The cryptocurrency market has become extremely sensitive to what Elon Musk says on Twitter. So how have Bitcoin's and Tesla's shares reacted to the latest BTC news, and what does this mean for potential trading opportunities?
Bitcoin analysis: BTC plunged 20%
Why is bitcoin dropping? Tesla's U-turn on bitcoin payments triggered a massive BTC freefall from $58,000 on 12 May 2021 to as low as $46,000 on 13 May 2021, although it rebounded by more than $5,000 the same day. Bitcoin clambered back to around $50,000 and is now struggling to stay above the ascending trend line from February 2021.
During this movement, bitcoin lost an important 100-day moving average (MA) of $53,700 and we could see solid resistance moving forward. The latest bitcoin technical analysis suggests that BTC has formed a large head and shoulders pattern dated from March 2021. If the BTC price breaks beneath its neckline – around $48,500 – the price could decline further, landing at $32,000.
But if bull traders take the lead and move the price above $51,000, bitcoin could rally to the next resistance point of $52,659, then ascend to $53,700 where it could encounter stiff pressure.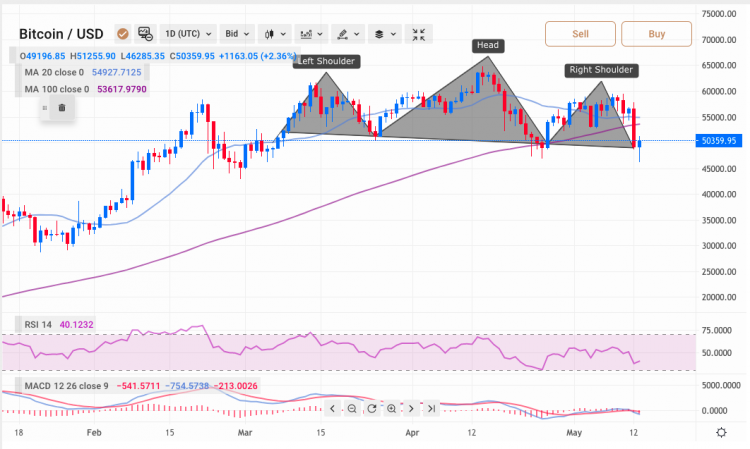 Key BTC price support and resistance levels to watch
Bitcoin support levels: $50,000, $48,450, $47,000, $46,000, $44,750
Bitcoin resistance levels: $51,000, $52,659, $53,700, $54,725, $56,660.
Bitcoin energy consumption concerns
Elon Musk is a strong supporter of cryptocurrencies, including bitcoin and dogecoin. Indeed, he has made it clear that Tesla won't get rid of its bitcoin holdings and that it intends to accept bitcoin payments again as soon as the currency's "mining transitions to more sustainable energy". For now, however, investors have reasons for considering Musk's intervention as negative news in terms of bitcoin's price.



Why has the energy issue come under scrutiny lately?
According to Cambridge's Centre for Alternative Finance, bitcoin's energy consumption has skyrocketed by 80% since the start of 2020.
Ars Technica reported that a private equity firm, Atlas Holdings, bought a defunct coal-fired power plant and dedicated it mainly to bitcoin mining. As coal produces worse emissions than any other fuel, the news prompted concern from environmental groups. At the beginning of the year, the Iranian government blamed bitcoin mining for the smog and massive blackouts that hit cities in Iran, according to The Washington Post.
While some claim that miners increasingly use renewable energy, the more bitcoin soars, the more energy it will consume.
Twitter CEO Jack Dorsey said last year that cryptocurrency "will eventually be powered completely by clean power, eliminating its carbon footprint and driving adoption of renewables globally ... Published estimates indicate bitcoin already consumes a significant amount of clean energy." Still, more than half of bitcoin mining comes from China, with Xinjiang a major mining centre, where most operations use coal.
Will TSLA stock be affected by the bitcoin price news?
Tesla stock price fell 1.3% following Musk's comments. However, Tesla's price is affected by other factors.
In April, sales of Tesla electric vehicles plunged in China and Tesla suspended an expansion of its Shanghai plant following growing tensions with Beijing. According to Wedbush analyst Daniel Ives, Tesla "faced a handful of negative PR issues in China stemming from well-discussed safety issues, military spy noise and the protest at the Shanghai Auto Expo".
What is your sentiment on TSLA?
Vote to see Traders sentiment!
According to the China Passenger Car Association (CPCA), Tesla sold 25,845 vehicles in April, 27% down from the 35,478 cars sold in March 2021. But in truth, the downturn in sales was far worse – the CPCA excluded Tesla exports from its prior reports, but it seems they were included in the April figures. Tesla shipped 14,174 cars to Europe in April, which means sales in China accounted for just 11,671 vehicles – a 67% monthly drop.
This means that Tesla is losing its market share to domestic competitors in China, including Xpeng (XPEV) and Nio (NIO).
Tesla price analysis: is it time to buy the dip?
After hitting an all-time high of $900.40 on 25 January 2021, Tesla stock has fallen by 35% to its current level of around $580.00. If the stock continues going down, the next level to watch is its 200-day moving average at $579.00, followed by the low at $539.00 from 5 March 2021. If these levels are broken, Tesla stock could move below $500.00, its support zone from September-October 2020.
The stock has been down since Tesla's last earnings report. Although the earnings per share beat analysts' expectations, investors seemed displeased because the company was making money from bitcoin trading and environmental credits rather than by selling vehicles.
To turn the trend bullish again, Tesla shares will have to break the resistance point at $667.00, then continue moving up towards $780.00.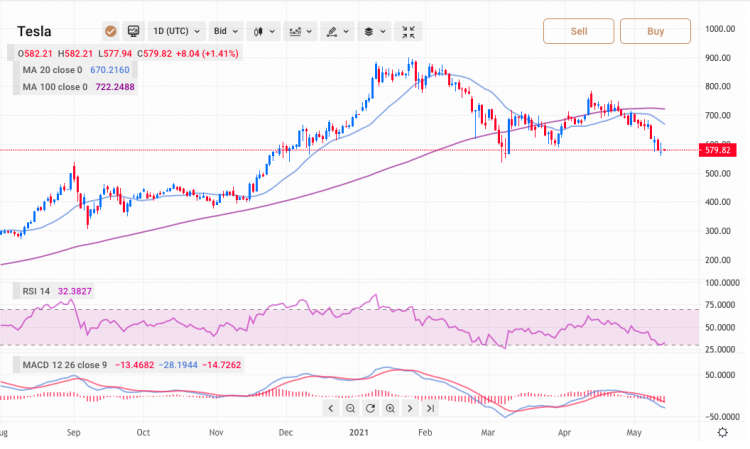 Key Tesla support and resistance levels to watch
Tesla support levels: $595.00, $579.00, $539.00, $464.00
Tesla resistance levels: $627.00, $661.00, $667.00, $715.00, $780.00.
Bitcoin and Tesla trading: are you a bull or a bear?
Although the current Tesla price trend is bearish, analysts from CNN Money are positive about TSLA stock, rating it as a Buy. According to their Tesla stock prediction, the median price should be $768.00 over the next 12 months. The highest analysts' target for TSLA stock forecast is $1,471.00 and the lowest $67.00.
Bitcoin investors seem not to be disappointed by the recent price drop either. Analysts from WalletInvestor still consider bitcoin as an "awesome" long-term investment. They give it a $84,733 median price target for the next 12 months. According to their bitcoin price forecast 2026, the cryptocurrency's price will rise to $188,691 over a five-year period.