Tesla Q4 2022 Earnings Preview: Is Too Much Negative News Baked in the Price?
Subscribe to Weekly Highlights
The major market events for the week ahead right in your inbox.
Subscribe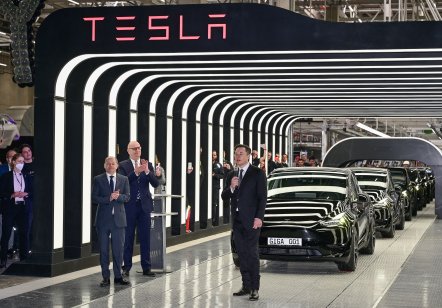 Estimated Earning Figures
EPS $1.13
Revenue $24.16bln
Tesla (TSLA) will deliver its Q4 2022 results on January 25th, after the Wall Street close. The estimates are for an EPS of $1.13 with a revenue of $24.16bln. A reminder that earlier in the month, Tesla had announced their Q4 deliveries, which were up 31.5% y/y and 18.5% q/q at 405k, however, missed expectations of 420k. Consequently, this marked the second consecutive quarter that Tesla deliveries underwhelmed estimates highlighting that demand for cars has been slowing given the backdrop of supply chain issues and economic uncertainty.
In another sign that demand for cars has softened, the EV company has announced a number of price cuts globally on its vehicles by as much as 20% in a bid to boost market share. Now while traders didn't react to positively to the recent announcements made by the company, I suspect heading into its financial results sentiment is perhaps a little too bearish. To me, this would suggest that a lot of the negative news has already been reflected in the price and thus bar to surprise on the upside is low.
Broker Recommendations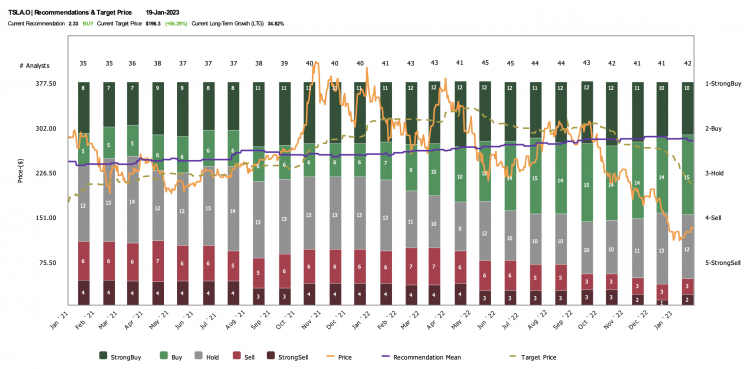 Tesla Broker Recommendations - Photo: Capital.com. Source: Refinitiv
Tesla Technical Analysis
As can be seen in the chart, Tesla shares have bounced from deeply oversold levels. In fact, the RSI had fallen to a record low of 16 in December and thus the recovery appears to be more corrective at this stage. What is somewhat encouraging for dip buyers is the break above resistance at 123.00-124.50, which will need to hold in order to suggest that there is a window for a more persistent recovery in Tesla. Should we see a hold of prior resistance, now support, there is room for a move towards 150.
Tesla Chart: Daily Time Frame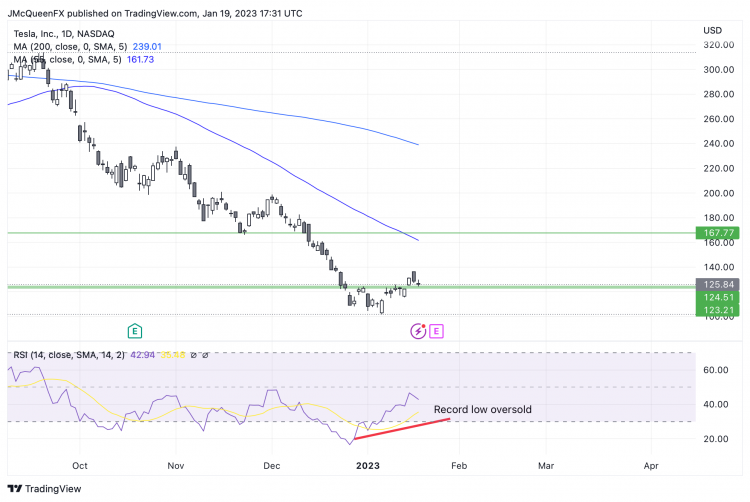 Tesla Chart - Photo: Capital.com. Source: Tradingview