Tesco share price forecast: Time to put it in the trading cart?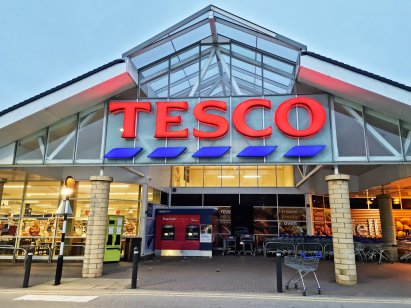 With humble beginnings dating back to 1919, Tesco (TSCO) started off as a single market stall in Hackney, London, run by Jack Cohen. Since then, it has grown into a leading multinational retailer and in February 2022 had a market capitalisation of $30.49bn (£22.4bn). The company is predominant in the UK but has also expanded to Central Europe and Asian markets.
While Tesco's core product portfolio remains food and beverages, since the 1960s, it has diversified its product offerings to clothes, home appliances and financial services. Additionally, Tesco share value is indicative of its portfolio of brands such as F&F, Jack's (a discount chain named after the founder), Booker and Makro.
With almost 5,000 stores globally and serving a customer portfolio of 80 million people, Tesco is one of the most popular supermarket chains. In the UK, as of Q4 2021, Tesco ranked fourth in an online popularity survey. As of January 2022, according to Statista, Tesco commanded the highest market share of grocery stores in Great Britain with 27.9%.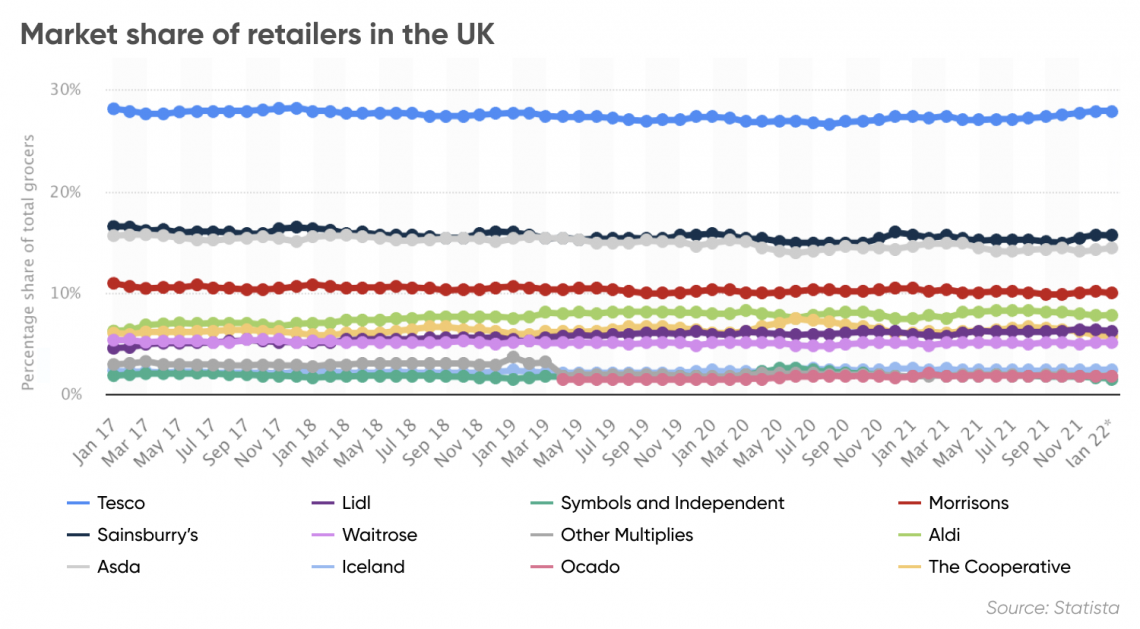 Even while grappling with global supply chain issues and uncertain markets due to the novel coronavirus, Tesco did fairly well last year. In 2021, its stock price rallied by nearly 22.32%, from trading at 237p on 4 January 2021 to a close price of 289.90p on 31 December 2021.
However, in recent Tesco share price news, chair John Allan stated that the worst of food prices was yet to come. With inflation anticipated to reach 7% by April 2022 according to the Bank of England's governor, food prices are anticipated to be on the rise too. In a highly competitive price game in the retailing space, what's the Tesco share price outlook? As Tesco navigates the current markets, join us as we dig deeper into its financials and latest news, and outline a plausible Tesco stock price prediction.
Q3 2021 and Christmas season trading results
In its press release on 13 January 2022, Tesco announced its financial results for the 19 weeks ended 8 January 2022. On a year-on-year basis, there has been an overall increase of 2.6% in the retail sales of the company.
Tesco's offline convenience stores performed strongly, and the company's online sales also significantly improved. In its trading update, Tesco announced that its current online sales, of nearly 1.2 million orders per week, have been the highest ever since the pandemic began.
To keep up with the momentum of growing online orders, Tesco's super-fast home delivery service, Tesco Whoosh, is now available in more than 100 stores. Furthering its expansion plans, pending approval of the Competition and Consumer Protection Commission (CCPC), the company announced its intention to acquire 10 Joyce's Supermarkets in Galway.
Top line from both retail and catering fronts of Tesco's subsidiary and grocery wholesaler, Booker, were reported to be ahead of the pre-Covid levels. Despite the impact of Omicron during the holiday season, as a result of its strong market presence, retail sales continued to grow through brands such as Londis, Budgens and Premier.
The banking arm of this supermarket giant, Tesco Bank, reported a dip of nearly 6% in its sales. As a result of reduced income driven by lower unsecured lending balances, the revenues of the bank seem to have suffered. However, as of 4 May 2021, Tesco completed its takeover of Ageas's 50.1% stake in Tesco Underwriting. By combining Tesco Underwriting results with Tesco Bank, the overall sales seem to have increased by 33.6%.
As a result of Tesco's strong retail performance, the company has raised the operating profit guidance to £2.6bn from its previous £2.5bn. As a result of favourable economic forecasts on its provisions for expected credit losses, it also anticipates Tesco Bank's operating profit to lie within the £160m to £200m range.
Jubilant about Tesco's performance, Ken Murphy, CEO said:
"Despite growing cost pressures and supply chain challenges in the industry, we continued to invest to protect availability, doubled down on our commitment to deliver great value, and offered our strongest ever festive range. This put us in a strong position to meet customers' needs as, once again, Covid-19 led to a greater focus on celebrating at home. As a result, we outperformed the market, growing market share and strengthening our value position."
Of inflationary pressures and recent stock price movements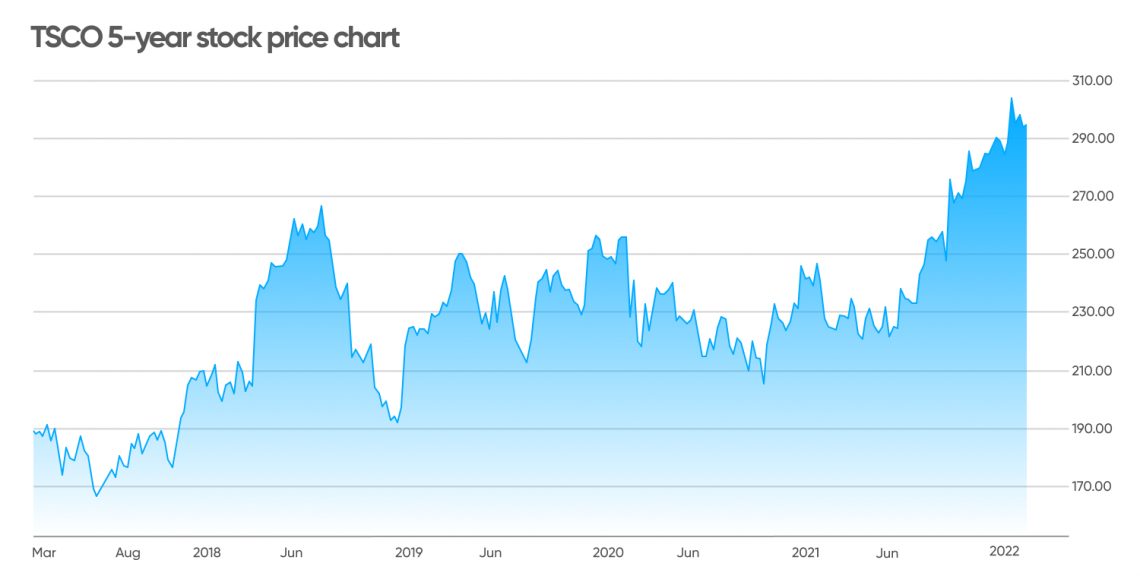 At the time of writing on 21 February 2022, the TSCO stock stood at 294.60p. As compared to its close price of 300p, as of 1 February 2022, the stock has fallen by 1.79%. The company has been struggling with ongoing supply chain issues and inflationary pressures.
With inflation at an all-time high, food prices – the core product offering of the company – are rising as well. However, the company has positioned itself to offer value for money through its different deals. In its Q3 and Christmas period trading update, Tesco specified that over 95% of its promotional sales are rolled out on Clubcard prices.
The Tesco Clubcard is a loyalty card for its regular customers that is instrumental in getting the money-off purchases. As of January 2022, nearly 8.5 million Tesco customers are accessing Clubcard through its mobile application.
Tesco's clean energy distribution channels
Pursuant to making sustainable business choices and lowering its carbon emissions, Tesco has partnered with FSEW. Tesco plans to transport its product offerings in the UK by two 37-tonne DAF electric vehicles, developed by FSEW.
This initiative, as announced in Tesco's 29 December 2021 press release, would replace around 65,000 diesel-fuelled road miles with clean green energy and remove 87.4 tonnes of CO2e annually.
Share price prediction and analyst views
At least nine analyst predictions, as compiled by TipRanks, suggested a consensus Tesco future share price for the 12-month share price of 329.81p. As of 21 February 2022, all nine Wall Street analysts suggested Tesco shares as a buy.
The Tesco predicted share price varied from the low of 300p to the high of 350p. The average price target represented a 11.95% upside change from the last trading price of 294.60p.
According to the algorithmic forecasting of Wallet Investor as of 21 February 2022, the Tesco stock market price could increase to a high of 353.872p by December 2025. Additionally, in its Tesco stock forecast, it was mentioned that the price could also potentially be in the range of 317.789p to 323.773p by December 2023.
Sharing a technical perspective on Tesco stock analysis, Milan Vaishnav, CMT, MSTA, a consulting technical analyst at Gemstone Equity Research & Advisory Services, said:
"After a good move from 240 to 304, the stock has shown some signs of taking a breather. Few signs have emerged that indicate that the level of 304 may lead to the formation of a temporary top as the stock may take a breather at current levels. The weekly MACD has shown a negative crossover; it is now bearish and stays below the signal line. The Relative Strength Index (RSI) has crossed below 70 from an overbought condition. The stock may see some corrective retracement from current levels and may test the immediate support area of 280, possibly lower if this point is violated. Fresh sustainable up move shall occur only above 305 levels."
When looking for Tesco shares buy, sell or hold recommendations, it's important to bear in mind that analysts' forecasts and price targets can be wrong. Analysts' Tesco share forecasts are based on making fundamental and technical studies of the stock's performance. Past performance is no guarantee of future results.
FAQs
Do Tesco shares pay dividends?

Yes, Tesco currently has an annual dividend yield of 3.10%. In 2021, the company paid half-year and final dividends of 3.20p and 5.95p in November and July, respectively.
Will Tesco share price go up or down?

According to the algorithm-based forecaster Wallet Investor, the TSCO share price could rally and close at 309.342 by December 2022.

Note that predictions can be wrong. Forecasts shouldn't be used as a substitute for your own research. Always conduct your own due diligence before investing. And never invest or trade money you cannot afford to lose.