Steem price prediction: What is steem?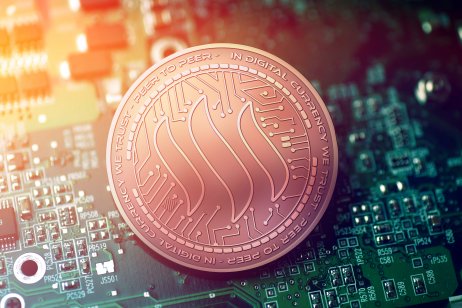 It aims to link the blockchain to social media, but what is steem (STEEM)? Let's see what we can find out, and see about some of the steem price predictions that were being made as of 5 October 2022, too.
Steem explained
One of the biggest developments of what has been dubbed Web 2.0 is social media. Pretty much every internet user is aware of sites like Facebook, Twitter and Instagram, online spaces where people can, in effect, create their own content and share it with others. There are, however, some potential drawbacks. This includes concerns about how online social media giants treat people's data, with privacy worries a pretty large issue.
The much-heralded, and possibly already happening, Web 3.0 aims to change things. Since this next stage of the internet is based around the blockchain, then it can, at least in theory, mean that people will become able to share content and create their own social spaces online without having to worry about who exactly holds or could access their information. Since Web 3.0 appears to be largely about giving people back control over their data, it might well mean there is the potential for a social media platform that can give people more control over how their personal information is used.
Steem is one such Web 3.0 social media network, based on its own blockchain. One key way in which Steem differs from regular social media giants is that people are able to use the system to build and share decentralised applications (DApps). Whereas traditional social media apps, ultimately, have a centralised authority they share information with, DApps are decentralised and, at least in theory more private.
Perhaps the biggest difference for those who use the Steem blockchain social network is that they are, in theory, able to make money from it. Since Steem is, at its very core, a blockchain, then it is, perhaps, inevitable that it would have its own native cryptocurrency. The steem coin is used to reward people on the network. As the whitepaper says: "Steem is designed from the ground up to address the major barriers to adoption and monetisation of a social media based economy.
"Our thesis is that the same techniques used to grow major social media platforms can be used to bootstrap a successful cryptocurrency. Economic incentives enabled by cryptocurrency can dramatically facilitate the growth of a new social media platform. It is the synergy between cryptocurrency and social media that we believe may give Steem a powerful advantage in the market."
In terms of the basic Steem economy, people can upvote posts on the Steemit social network and DApps and, when a certain amount of approval is reached, the creators are paid rewards in STEEM. Users can then turn STEEM into Steem Power (SP), where one SP is one vote. So, in much the same way that a traditional governance token allocates votes on a platform's future based on how much of that token a voter holds, people with a lot of STEEM have a lot more power behind their votes.
Steem was founded in 2016 by two Americans, business operation and financial analyst Ned Scott and blockchain developer Dan Larimer.
STEEM price history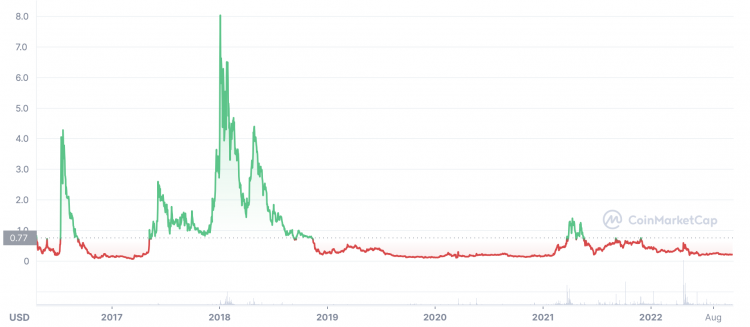 STEEM price history from launch to present - Credit: CoinMarketCap
Let's now cast our eyes over the steem price history. While past performance should never be taken as an indicator of future results, knowing what the coin has done in the past can help give us some very important context when it comes to making a steem price prediction.
Steem first came onto the open market in April 2016, trading at about $0.65 before a growing interest in the coin saw it rise to above $4 in July. The coin then fell to an all-time low of $0.06919 on 10 March 2017. At the end of that year, though, the crypto market entered a bubble, with STEEM reaching an all-time high of $8.57 on 3 January 2018. The bubble burst and the market entered a so-called crypto winter, with the coin trading at below $0.50 for much of the next three years. The boom period of early 2021 saw the coin break past the dollar in April before the market took a downturn, with STEEM closing the year at $0.4258.
So far, 2022 has been a poor year for crypto in general and, ultimately, STEEM has suffered along with the market. While there were initial peaks and troughs and a high of $0.6224 on 21 April in the wake of Binance (BNB) announcing support for a STEEM/USDT pairing, things went downhill in May. The depegging of the UST stablecoin and the collapse of the associated LUNA cryptocurrency saw steem fall to $0.1802 on 12 May, while June's news that the Celsius (CEL) crypto lending platform had cancelled withdrawals saw it drop to $0.1727 on 15 June.
Since then, there has been something of a recovery, with it reaching $0.3028 on 11 August before dropping back down again to trade at around $0.2265 on 5 October. At that time, there were 394,951,699 STEEM in circulation out of a total supply of 409,190,981, which gave it a market cap of around $89m, making it the 200th largest crypto by that metric.
Steem price predictions
With that all said and done, let's take a look at some of the steem price predictions that were being made as of 5 October 2022. It is important to note that price forecasts, especially for something as potentially volatile as a cryptocurrency, very often turn out to be wrong. Also, it is useful to remember that long-term crypto price predictions are often made using an algorithm, which means that they can change at a moment's notice.
First, CryptoPredictions.com had a steem coin price prediction that suggested the crypto could have closed 2022 at $0.262. It could have reached $0.2869965 in October 2023 and $0.372 a year from then. The site then made a steem price prediction for 2025 that said it could have started the year at $0.3228 and have reached $0.3782 in October. It said it could have closed the year at $0.3896. By October 2026, the site suggested STEEM could have been worth $0.44177 and $0.4514 at the end of the year.
Next, CoinCodex made a short-term steem price prediction for 2022 that said the coin could have reached $0.247102 on 10 October and $0.318972 on 4 November. The site's technical analysis was bearish on 5 October, with 16 indicators sending out bearish signals as opposed to 12 signalling bullish ones.
Meanwhile, PricePrediction.net had a steem crypto price prediction that claimed the coin could reach $0.24 this year, $0.37 next year and $0.54 the year after that. By 2025, the site said, STEEM could have been worth $0.78, breaking through the dollar to $1.14 in 2026. By 2027, the forecast argued that the crypto could have been worth $1.74, $2.52 in 2028 and $3.66 at the end of the decade. The site then made a steem price prediction for 2030 of $5.27 and of $7.37 for 2031.
Finally, Gov Capital was rather more bearish in terms of its steem price forecast. The site said that the coin could have lost value over the coming months, having reached the end of 2022 at $0.0885. It predicted worse to come, having dropped to a level not worth mentioning by 12 June 2023. That is not to say the site thought STEEM would necessarily become a dead coin, as it predicted it could make a recovery to $0.1882 by 5 October 2023.
When considering a STEEM token price prediction, it's important to keep in mind that cryptocurrency markets remain extremely volatile, making it difficult to accurately predict what a coin or token's price will be in a few hours, and even harder to give long-term estimates. As such, analysts and algorithm-based forecasters can and do get their predictions wrong.
If you are considering investing in cryptocurrency coins or tokens, we recommend that you always do your own research. Look at the latest market trends, news, technical and fundamental analysis, and expert opinion before making any investment decision. Keep in mind that past performance is no guarantee of future returns. And never trade with money that you cannot afford to lose.
FAQs
Is steem a good investment?

It is hard to say. Although steem is a pretty long-running coin, there are newer cryptos which have eclipsed it in terms of its performance.

Remember, you should always carry out your own thorough research before making an investment. Even high market cap cryptocurrencies have proved vulnerable to the current bear markets. So investors should be prepared to make losses and never purchase more than they can afford to lose.
Will steem go up or down?

It is difficult to tell. While sites like PricePrediction.net are upbeat in their assessments, the likes of Gov Capital are far more cautious, not to say gloomy, in terms of how they think STEEM can do in the future. It is important to remember that price predictions often end up being wrong, and that prices can go down as well as up.

In volatile cryptocurrency markets, it is important to do your own research on a coin or token to determine if it is a good fit for your investment portfolio. Whether STEEM is a suitable investment for you depends on your risk tolerance and how much you intend to invest, among other factors. Keep in mind that past performance is no guarantee of future returns. And never invest money that you cannot afford to lose.
Should I invest in steem?

Steem exists on the borders of Web 2.0 and Web 3.0, so those particular sectors performances will have an impact on the coin's future, not to mention the overall performance of the crypto market as a whole.

Ultimately, though, it is a question that you will have to answer for yourself. Before you do so, however, you will need to conduct your own research and never invest more money than you can afford to lose because prices can go down as well as up.