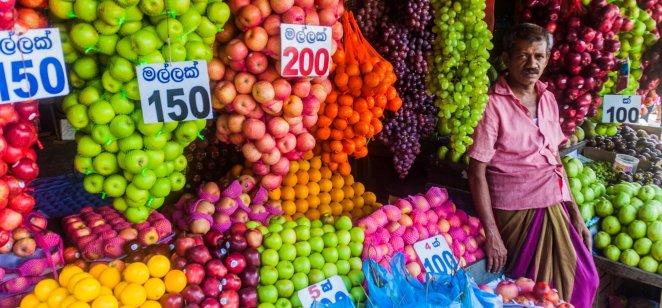 Sri Lanka's President Gotabaya Rajapaksa has brought in a state of emergency with extraordinary powers to manage the prices of staple foods after a precipitous drop in foreign exchange reserves affects the country's ability to fund imports.
Sri Lanka's tourism centred economy has suffered from the collapse in tourism due to COVID travel restrictions and as a result the country's foreign exchange reserves have run down to dangerously low levels.
As of July 2021, Sri Lanka's foreign exchange reserves stood at USD2.4bn, down from USD3.6bn the previous month, and roughly a quarter of their all-time high of USD9bn in April 2018, according to figures from data provider CEIC.
Officials to seize foods supplies
As of midnight Tuesday (31 August), Rajapaksa has imposed a state of emergency which will enable government officials to seize food supplies held by traders and sell them to the public at reduced prices.
"The authorised officers will be able to take steps to provide essential food items at a concessionary rate to the public by purchasing stocks of essential food items including paddy, rice and sugar, at government guaranteed prices or based on the Customs value on imported goods," said the president's statement.
"[This will] prevent market irregularities which are causing inconvenience to consumers due to concealing of stocks of essential food items including paddy, rice and sugar and to prevent selling them at higher price," the statement added.
Sri Lanka rate rise in vain
The Sri Lankan president has appointed a senior military officer to coordinate the supply of essential items including rice and sugar.
Two weeks ago the Central Bank of Sri Lanka (CBSL) became the first Asian lender of last resort to raise interest rates since the start of the pandemic, when it increased the standing deposit facility rate and the standing lending facility rate by 50 basis points each to 5% and 6%, respectively.
What is your sentiment on BTC/USD?
Vote to see Traders sentiment!
"These decisions were made with a view to address the imbalances on the external sector of the economy and to pre-empt the build-up of any excessive inflationary pressures over the medium term, amid improved growth prospects," the CBSL said in its statement announcing the move.
According to Al Jazeera, the president's move comes after sharp price rises for sugar, rice, onions and potatoes, and shortages of essentials such as milk powder, kerosene oil and cooking gas.
Rupee down against the dollar
The balance of payments issue is worsened by a weakening currency, with the Sri Lankan rupee (LKR) losing about 8% versus the US dollar so far in 2021. The LKR is currently trading at a touch over 200 to the USD according to Morning Star.
Trade UK Sugar No 5 Spot CFD