Sothebys Banksy auction to be bid in ETH cryptocurrency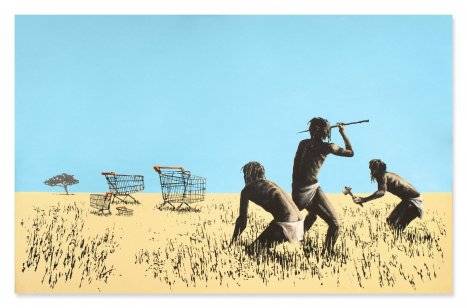 Sotheby's will be fielding bids on a pair of artworks in Ethereum cryptocurrency, the first time a live auction will be bid in any crypto asset, the auction house confirmed.
The Banksy works are part of a larger 23 lot offering called The Evening Auction scheduled for 6:00 p.m. EST at the auction house's New York City headquarters. This is the first time these particular Banksy works have been put up for bid. The seller will remain anonymous, Sotheby's senior press officer said.
The Banksy paintings, "Love is in the Air" and "Trolly Hunters" (pictured), were both created in 2006 and are tagged (signed) by the artist and come with a certificate of authenticity. "Love is in the Air," in oil and spray paint on canvas measuring 36 3/8 x 36 3/8 inches, is currently estimated at $4m to $6m (841.7 ETH to 2,262.6 ETH). "Trolly Hunters," in oil and emulsion on canvas measuring 53 7/8 x 84 ¼ inches, is currently estimated at $5m to $7m (1,052.2 ETH to 1473.1 ETH).
(Reference estimated Ethereum prices based on $4752 Ethereum price at 5:00 Thursday, as quoted by Coinbase.)
Milestone offerings
"These milestone offerings not only spotlight the artist's position as the leading disruptor of the art world whose work resonates with the boundary-pushing ethos of the crypto community, but they demonstrate the innovative spirit in which Sotheby's continues to experiment with and expand the possibilities of the auction format," Sotheby's said in a release.
Currencies for payment
While the bidding increments will be taking place in Ethereum, other cryptocurrencies, Bitcoin and USD Coin, as well as fiat currency, will be accepted as payment by Sotheby's.
"Ether is a preferred cryptocurrency for the digital art and NFT community, as the Ethereum blockchain is the primary network where NFTs are minted and transactions are registered," Sotheby's added in the release.
Last month, a Banksy painting titled "Girl With Balloon" but subsequently renamed "Love is in the Bin" after it was partially shredded during its debut auction in 2018, sold for 25.4m at Sotheby's London auction house.
Read more: Bored ape NFT lots sell at auction for 24.4m, 1.8 million