Shiba Inu analysis: Will the doge rival restart its rally?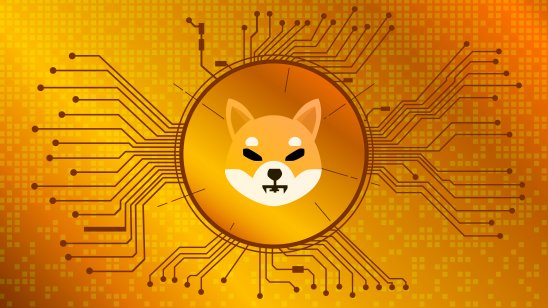 Shiba Inu (SHIB), launched in August 2020 by 'Ryoshi', has had quite a ride, especially over the last month. The digital token was promoted as the "dogecoin killer" - hinting at SHIB's ambitions to outperform the original dog-themed cryptocurrency, dogecoin (DOGE), which was created in 2013.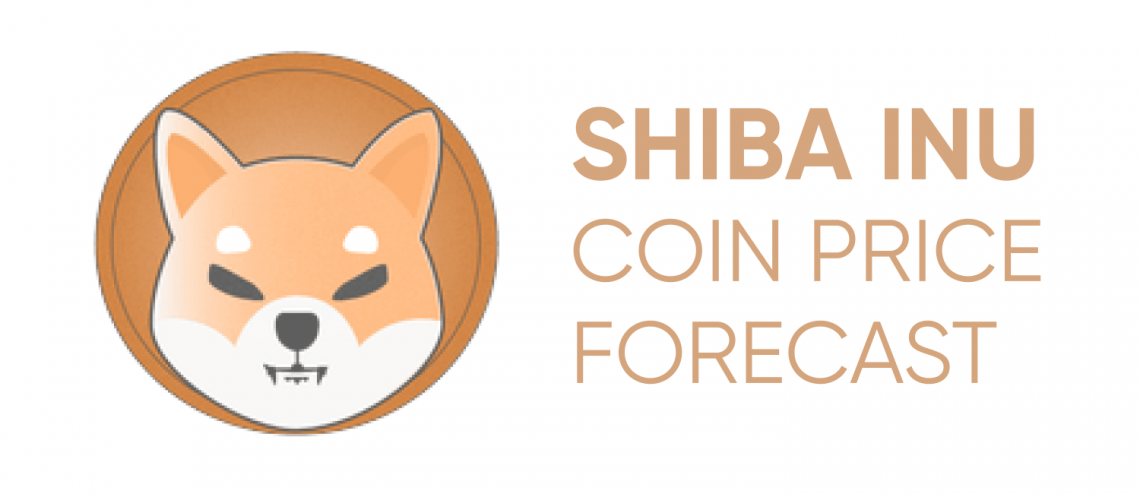 SHIB's goal was helped by entrepreneur Elon Musk, Tesla's CEO. During an appearance on US television show Saturday Night Live on 8 May, Musk told viewers that dogecoin was "a hustle". Doge, which Musk had previously endorsed, plummeted following his comments, while Shiba benefited, rising to become one of the 20 biggest cryptocurrencies.
But Shiba's biggest rally took off later in the year, despite Musk denouncing it.
When the entrepreneur was asked by a Twitter user how much money he has in Shiba, he said that he holds only bitcoin (BTC), ether (ETH) and dogecoin (DOGE). Shiba tumbled, but rallied soon after.
It usurped DOGE as the main dog-themed cryptocurrency, surpassing it in the list of the biggest cryptocurrencies by market capitalisation, briefly making it to number 8 on the list.
But, reports of major holdings and transactions as well as a couple of unrealised platform listings halted its rise. Keen market watchers noticed a mysterious wallet with Shibas worth billions of dollars in it at the end of October.
Amid rumours that the owner of the wallet containing $5bn in Shiba coins had moved $2.3bn of SHIB into different wallets, the price started to fall.
This wallet bought roughly $8,000 of $SHIB last August.

It's now worth $5.7 billion.

From $8,000 to $5.7 billion in roughly 400 days.

We may actually be looking at the greatest individual trade of all time. pic.twitter.com/LtdgQ83bKP

— Morning Brew ☕️ (@MorningBrew) October 27, 2021
Shiba is now trading at $0.00003873 (as of 24 November, 2021) - a 56% decrease from the all-time high of $0.00008845 recorded on 28 October.
Shiba is now the 13th biggest cryptocurrency, with a market cap of $21,226,268,732. It's been overtaken by AVAX and CRO, Crypto.com's coin, in 11th and 12th places, respectively. Is Shiba's rally over?
Exchange listings driving the Shiba Inu price up
Shiba's price has reacted positively to news that it could be listed on major platforms. Such news is an important factor to consider when conducting Shiba Inu chart analysis.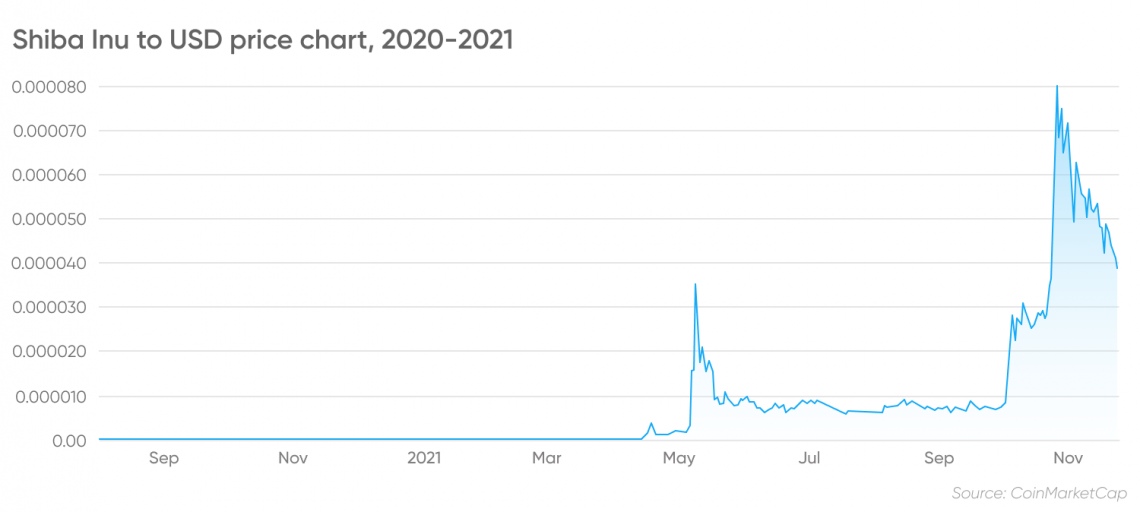 On 10 May, Binance, the biggest cryptocurrency exchange, said it would list SHIB. The news sent the coin's price higher.
Then in October, SHIB hit record highs, driven by rumours that it would be listed for trading on Robinhood, the US investment platform.
Christine Brown, COO of Robinhood Crypto, poured cold water on the rumour in conversation with Decrypt. A petition urging the trading platform to include SHIB attracted hundreds of thousands of supporters, fuelling the rally.
The most recent spike from the last week coincided with one of the biggest Indian platforms, CoinDCX, saying on 11 November, that it would list SHIB for trading on its app.
We heard you ????
We will be listing $SHIB by Friday on CoinDCX App ????????????#SHIBArmy help us spread the news.⁰⁰
???? ???? ????
⁰???? ???? ♥️

— CoinDCX: Making Crypto Accessible to Indians (@CoinDCX) November 11, 2021
But, on 3 November, when US cryptocurrency exchange Kraken failed to list SHIB on its platform, after having said that it would, SHIB's price tumbled. The coin dropped out of the top 10 biggest cryptocurrencies by total market value.
In other Shiba Inu coin latest news, on 12 November SHIB was listed on the Gemini platform, increasing its liquidity.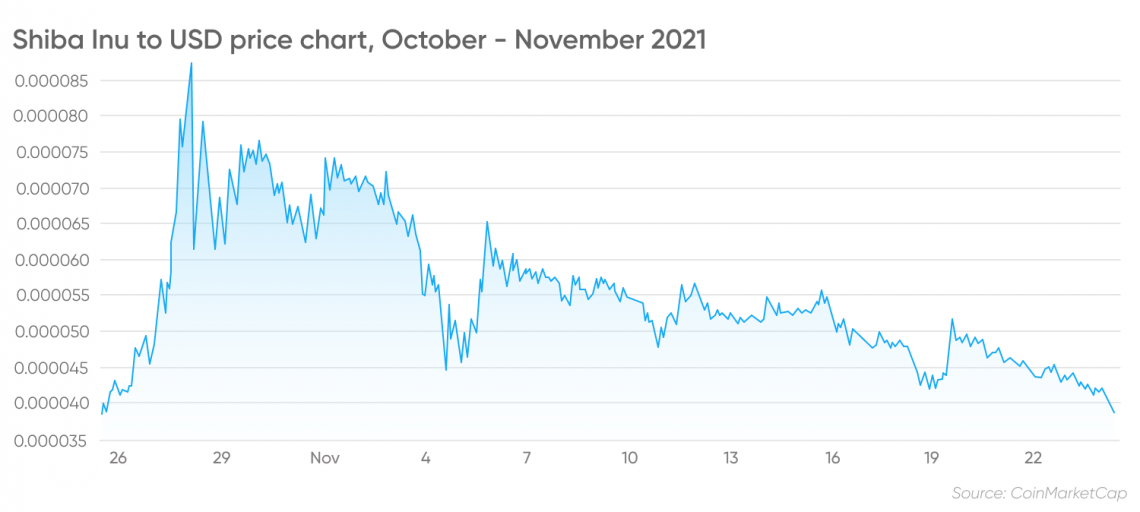 During the peak of last month's rally, SHIB reached its all-time high. On 28 October, the coin's daily trading volumes surpassed that of bitcoin ($42.4bn vs. $40.4bn). Now the coin is trading at over half of its record, $0.00003873
The one-week Shiba Inu technical analysis provided by TradingView shows that indicators are mixed. The Relative Strength Index (RSI) currently stands at 58, meaning the value of asset is neither overbought or oversold. Traders can use the RSI 50 level to see if a price trend is occurring. According to this strategy, a downward trend is confirmed when the RSI crosses from above 50 to below 50. Similarly, an upward trend is confirmed when the RSI crosses above 50.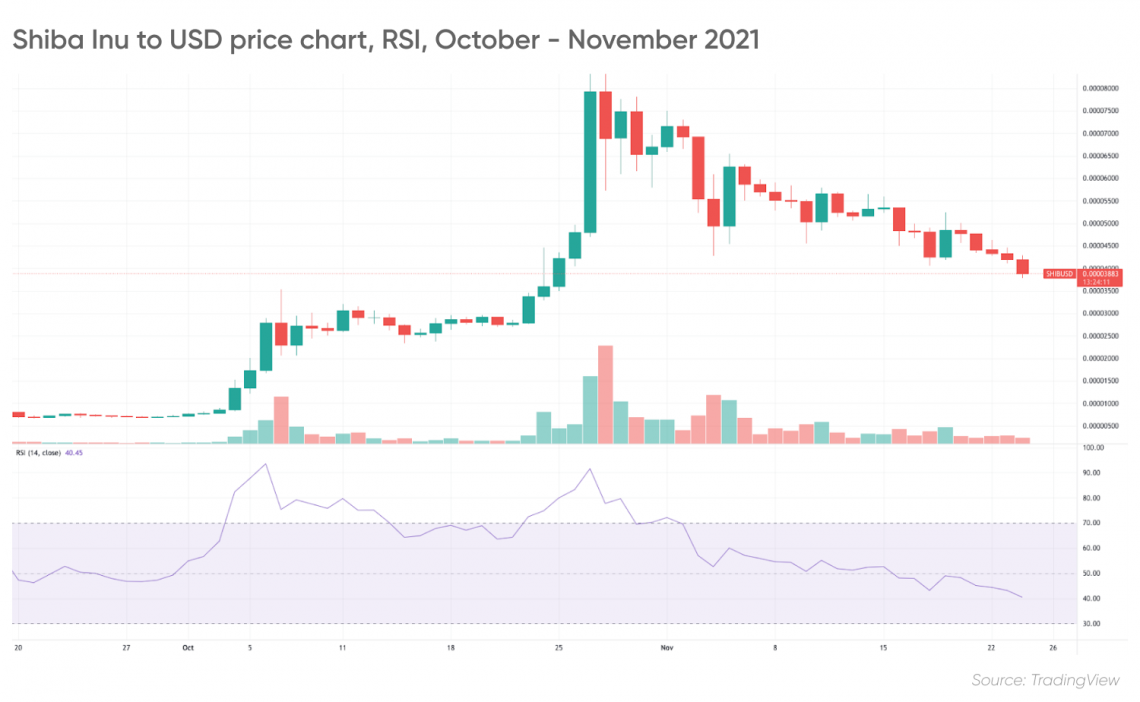 Can concentrated ownership pose risks?
In addition to the usual risks associated with putting money in highly volatile crypto assets, there may be a specific danger associated with shiba.
Shiba's ownership is highly concentrated - the ten biggest holders own 64.24% of Shiba's total value. Such concentration comes with a risk that if one or more major holders sells a significant stake, the coin's price could fall sharply.
Can the Shiba Inu price push higher?
When looking at the short-term Shiba Inu coin forecast, the Kraken listing may be a big factor in whether Shiba Inu coin goes up or down in the short-term.
If the Kraken lists Shiba, it could have a positive impact on the coin's price.
When the whole cryptocurrency market fell on 16 November, meme-coins seemed to be hit especially hard. Bloomberg Intelligence analyst Mike McGlone identified "purging of speculative excesses" as a crypto market theme in mid-November.
Most algorithm-based forecasts predict that the price of Shiba Inu will decrease gradually, however, it's worth noting that especially with the meme-coin, price movements are inherently unpredictable. McGlone called dogecoin and Shib "examples of speculative hype-coins better classified as fun for gamblers on an unprecedented 24/7 global scale".
The Wallet Investor website expects Shiba to be trading between $0.000036 and $0.0001066 next year. For 2023, these estimates are between $0.000078 and $0.0001054. In the following year, the site forecasts lows of $0.000116 and highs of $0.000214.
For 2025, Wallet Investor estimates Shiba trading at a minimum of $0.000148 and maximum of $0.000271. Its forecast for Shiba price in 2026 is between $0.000179 and $0.000325.
Note that algorithm-based predictions can be wrong. Forecasts shouldn't be used as a substitute for your own research. Always conduct your own due diligence before investing. And never invest or trade money you cannot afford to lose.
FAQs
Does Shiba coin have potential?

Shiba's fate could lie in its potential to go viral. As has been historically proven, favourable news can lead to big price increases. On the flipside, people with the influence to send the cryptocurrency's price up, can also send it down.
Is Shiba Inu worth investing in?

Shiba Inu is a highly volatile asset. Its price movements are not always based on fundamentals. External, highly unpredictable factors, like endorsements from people with a large following on social media, can have a big impact on the coin's price. As ever, only invest money you are prepared to lose.
Will Shiba Inu reach $1?

While Wallet Investor's algorithmic forecasts SHIB to gradually increase in value over the coming years, its predictions do not get close to $1 in the foreseeable future. For Shiba to reach one dollar, it would have to rise by 2,163,465.55%, based on the current value.

Note that algorithm-based predictions can be wrong. Forecasts shouldn't be used as a substitute for your own research. Always conduct your own due diligence before investing. And never invest or trade money you cannot afford to lose.
Read more: Ethereum price prediction: Can ETH sustain its latest rally?