SHIB token reaches all-time high after 40% rally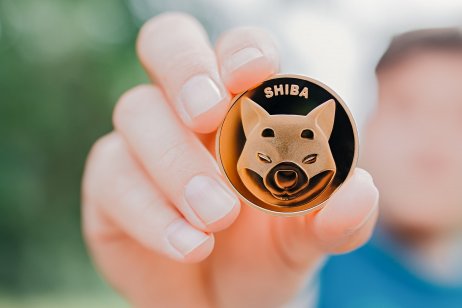 The parabolic rally of the Shiba Inu Token (SHIB) continued yesterday as the cryptocurrency hit an all-time high of $0.000065 before correcting lower.
Over the last 24 hours, the token has seen its market cap grow 43% to more than $25.9bn, according to trading data from Coin Market Cap. For comparison, Peloton has a market cap of $27bn.
Meanwhile, the trading volume for SHIB has increased 136% since yesterday and now accounts for more than $23bn. At this time last month, just $250m of SHIB was exchanged daily.
At press time, SHIB was trading at $0.00006797, representing a gain of more than 42.2% on the day.
Petition
One reason for SHIB's continued success, according to some analysts, is a petition circulating on Change.org seeking to convince retail trading platform Robinhood to list the asset.
The petition has more than 300,000 signatures so far.
"Dogecoin has been a huge success for Robinhood, and its investors," the petition reads in part. "We have all enjoyed the ride. Shiba Inu is a similar meme coin with genuine potential, up 2000% in the last weeks!"
During yesterday's earnings call, Robinhood CEO Vlad Tenev said the company plans to expand its crypto offerings, though he did not mention any assets by name.
Tenev also said the current "regulatory environment" makes it difficult to expand Robinhood's crypto offerings because regulations are "uncertain and evolving".
What is your sentiment on SHIB/USD?
Vote to see Traders sentiment!
Retail investors
Meanwhile, some analysts say the SHIB rally is driven by its popularity among retail investors. Yashu Gola, an analyst at Cointelegraph, noted that the low-dollar value of SHIB makes it very attractive to those investors.
But the asset offers more than just a low barrier to entry, Gola notes. It also offers a stable technology with advanced smart contract capabilities that may be taking cues from its recently launched Shiboshis Social Club non-fungible token (NFT) platform.
"This online community rewards exclusive perks to people who own exclusive Shiba Inu-generated non-fungible tokens, dubbed Shiboshis," Goya wrote. "As a result, retail appears to have been tailing Shiba Inu's speculative bull run, with a recent study by Bacancy Technology showing that it received 2.8 million Google searches on average in 2021, the third-highest after Bitcoin and Ethereum."
Rally's end?
However, other analysts say the rally may be coming to an end as the token reaps the rewards of gaining more than 570% so far in October.
Analysts at Delphi Digital, a New York-based cryptocurrency research firm, said in a note published yesterday that the SHIB rally is a sign of an "overheated market".
"The first time dog coins went wild was April to May this year, and quickly cratered as crypto markets cooled off. In early September, dog coins were all the rage again and the broader crypto market saw a fairly deep de-leveraging," the note reads.
Read more: Elon Musk sends meme coins soaring with cryptic tweet
The difference between stocks and CFDs
The main difference between CFD trading and stock trading is that you don't own the underlying stock when you trade on an individual stock CFD.
With CFDs, you never actually buy or sell the underlying asset that you've chosen to trade. You can still benefit if the market moves in your favour, or make a loss if it moves against you. However, with traditional stock trading you enter a contract to exchange the legal ownership of the individual shares for money, and you own this equity.
CFDs are leveraged products, which means that you only need to deposit a percentage of the full value of the CFD trade in order to open a position. But with traditional stock trading, you buy the shares for the full amount. In the UK, there is no stamp duty on CFD trading, but there is when you buy stocks.
CFDs attract overnight costs to hold the trades, (unless you use 1-1 leverage)
which makes them more suited to short-term trading opportunities. Stocks are more normally bought and held for longer. You might also pay a stockbroker commission or fees when buying and selling stocks.