Several crypto exchanges froze amid price drops overnight
Subscribe to Weekly Highlights
The major market events for the week ahead right in your inbox.
Subscribe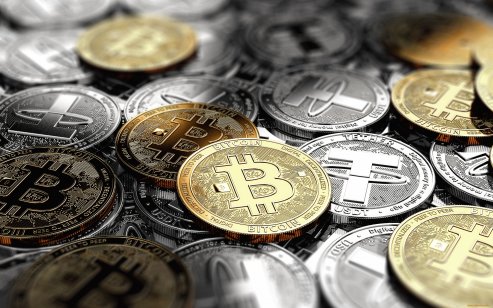 Content
Several crypto exchanges including Coinbase, Bitpanda, Kraken, Bitfinex, Gemini, and OKEx went offline overnight amid broad sell-off in digital currencies.
On Tuesday, Bitcoin reversed its bullish momentum and plunged by as much as 17% to below USD43,000, before recouping some lost grounds. On Wednesday, Bitcoin prices were down 11.6% at USD46,478.52, according to coinmarketcap.
Alt-coins Ethereum and Cardano were down over 12% on Wednesday. The overnight liquidation likely amounted to over USD3.5bn, according to CryptoDiffer.
System overload
"Because of all the people rushing to sell when Bitcoin crashes. It overloads their exchange and transactions get stuck. If y'all would stop panic selling, this wouldn't be an issue," Reddit poster Arkitakama wrote.
"More than 329,483 traders got liquidated over the past 24 hours. Such liquidations happen when a traders' account runs out of funds, and the balance is on the brink of turning negative. A rapid drop of such a huge scale puts a massive number of sell orders bringing the price even lower," Mudrex CEO and co-founder Edul Patel was quoted as saying by MSN.
"A sudden increase in network traffic and market activity led to a degradation in our services. We're seeing improvement with our app services, however transaction services are still degraded. Funds settlement will be delayed while we recover," Coinbase tweeted past midnight on Wednesday.
What is your sentiment on BCH/USD?
Vote to see Traders sentiment!
System back online
The exchanges have since reported that normal operations had resumed, though some traders lament the opportunity costs caused by system freeze.
"Been trying to deposit funds and buy these dips for 15 minutes on both Coinbase and Pro, keeps saying insufficient funds...then entire app crashed. Pro version on desktop doing same thing," wrote Reddit poster Mosley_Useless.
During the previous bout of sell-off in May, Binance, the biggest crypto exchange by volume, froze for around an hour. Last month, around 700 traders who lost their money announced they will seek compensation from the exchange, according to NBC.
Read more: Digital wallet crash day one of El Salvador's Bitcoin uptake