Renault EV spin-off: RNO to list electric vehicle unit next year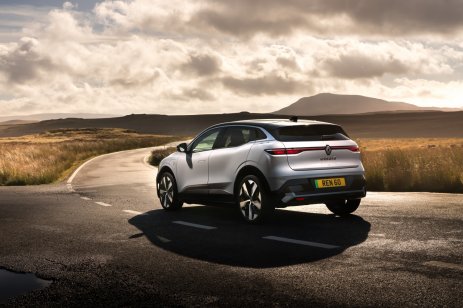 The "Renaulution" is coming, according to car maker Renault (RNO) and it appears that spinning off companies is the strategy for the time being, as the French-based car group embarks on a journey that will see it demerge from its electric vehicle (EV) division.
It has been a week of announcements for RNO and following in the footsteps of Volkswagen (VOW3), which spun-off Porsche (P911) in Sepetmber and GlaxoSmithKline (GSK), which demerged from its consumer business in the summer, Renault is entering a heavy phase of restructuring which it announced on Tuesday.
What is your sentiment on RNO?
Vote to see Traders sentiment!
Renault (RNO) share price chart
The RNO

"Renaulution" is coming
Despite what some would say are innovative plans, yesterday's announcement was far from needle moving and the RNO stock price has been down 25% this year.
So, could its spin off, and restructuring, which Renault has called "Renaulution", invigorate new life into its share price?
The company also announced it would solidify its ties with Chinese vehicle company Geely (GELYY), alongside US tech giant Google (GOOG).
Under the framework agreement, Geely and Renault Group will hold respective 50-50 equity stakes in the new company.
"By creating such leading powertrain technology company, Renault Group and Geely are combining their technological, manufacturing and R&D assets. Renault Group will own 50% of this company representing revenues of €15billion globally from Day 1," a Renault statement said.
Renault also said it will expand its partnership with software giant Google (GOOG), which will design and deliver onboard and offboard software components for its vehicles.
But it was the restructuring plan that has taken the attention of the markets and investors will be keenly watching Renault stock over the next few months to see how the stock progresses.
Renault will separate from its EV arm, Ampere, via a separate stock market listing in 2023 and is part of the group's wider plans to split into five teams.
Despite being one of the first carmakers on the EV scene in the 1930s, Renault has failed to advance against its rivals and has been outraced by the likes of Tesla (TSLA), Lucid (LCID) and VW (VOW3).
Geely (GELYY) share price chart
RNO will split into five businesses
Ampere, which is a French-based company, will produce one million EVs by 2031. By 2030, Ampere will offer six EVs: The Renault 5 Electric and Renault 4 Electric, the Megane E-Tech Electric, the Scénic Electric and two other models yet to be revealed.
To finance the spin-off and its strategic plan, RNO will launch an initial public offering (IPO) of Ampere on Euronext Paris in the second half of 2023. Renault will remain the majority shareholder but is keen to find other investors and rumour has it that Nissan (NSANY) and Mitsubishi Motors (7211) are considering investing.
"With Ampere, Renault Group is creating a standalone company that will be the 1st EV and software pure player born from an OEM disruption. Ampere will develop, manufacture, and sell full EV passenger cars, with cutting-edge software-defined vehicle (SDV) technology, under the Renault brand," the statement said.
"Ampere will bring the best of both worlds: know-how and assets from Renault Group with the focus and agility of an EV pure player. Based in France, Ampere will be a full-fledged OEM with around 10,000 employees. As a tech company, Ampere will drive innovation with around 3,500 engineers, half of them specialized in software."
VW (VOW3) share price chart
Will RNO new plan help its stock price?
Ampere is one of the five new businesses that Renault will create, added to this list will be Alpine, a high-end zero-emission company. Mobilize, "built around a leading financial services company to enter the market of new mobility, energy and data-based services." Then there will be the Future is NEUTRAL, which is the first 360° circular economy company in the automotive industry from closed loop in materials to battery recycling. Fiinally, Power, which RNO describes as the core business of Renault, continuing to develop low emissions and hybrid vehicles.
Renault's strategic plan will no doubt interest investors, but with inflation rising and discretionary spending falling, whether its new "Renaulution" will help its stock price in the near-term, remains to be seen.