Porsche stock listing: How to buy shares in Volkswagen luxury car spinoff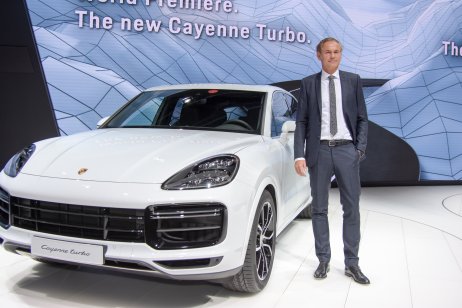 Volkswagen (VOW3) has officially demerged from its luxury car division, Porsche on Thursday, which is now trading under stock ticker P911 and shares are trading at €82.5 (£79.32) per share, which is the top end of the initial range given at the start of the month.
"Porsche Group (P911) has successfully crossed the finish line of its initial public offering (IPO). With the ringing of the bell at the Frankfurt Stock Exchange this morning, Porsche, one of the world's most successful sports car manufacturers, is entering a new era with increased entrepreneurial flexibility," Porsche said in a statement.
This spin-off of Porsche (P911) makes it one of Europe's largest stock market floats on record, according to data from Refinitiv.
Those looking to invest in Porsche (P911) may want to know how to buy shares in the luxury car group. Here is everything you need to know.
"In what could be one of Europe's largest initial public offerings (IPO), the IPO marks a further step in the occasionally fraught relationship the two auto leaders share." Analysts at Zacks Research wrote in a note.
What is your sentiment on VOW3?
Vote to see Traders sentiment!
Volkswagen (

VOW3) share price chart
IPO will help VW (VOW3) EV plans
The Volkswagen (VOW3) share price has suffered this year, down 20%, and the group is hoping this IPO will help it fund some of its electric vehicle (EV) projects.
"The IPO would thus be a significant step for Volkswagen (VOW3) to pump up funds to fuel its ambitious EV plans," Analysts at Zacks said.
The listing will compromise of 911m shares, this will be divided into 455.5m preferred shares and 455.5m ordinary shares. There will also be up to 113.8m of preferred shares, which carry no voting rights.
"We are on track - we believe Porsche AG, with its robust business model and compelling financial performance, is ready to launch its IPO", said Lutz Meschke, Deputy Chairman of the Executive Board and Board Member responsible for Finance and IT of Porsche AG.
It has also been reported that wealth fund, Qatar Investment Authority plans to acquire a 4.99% stake in Porsche preferred stock.
Porsche announced in a statement: "Qatar Investment Authority, Norges Bank Investment Management, T. Rowe Price and ADQ will subscribe preferred shares worth up to €3.68bn in total as cornerstone investors if the final offer price comes in at the top end of the range."
How to buy shares in Porsche?
Shares started trading at 9am local time, 8am UK time yesterday. To trade in Porsche IPO, you will need a brokerage account to invest.
If you are starting out, consider using a trading platform like Capital.com. Then you can simply open and fund your brokerage account by completing an application with your financial and personal details. Once this is done, you simply fund your account.
The next step will be to search for Porsche and find the stock ticker symbol, P911, then decide how many to buy. Once that is complete you have an investment in Porsche (P911), and can track how your stock is doing by looking at business performance and keeping an eye on developments within the car market. You may be entitled to dividends and shareholder voting rights on directors and management that can affect your stock.
Porsche (P911) share price chart
IPO may face some bumps in the road
Now that VW (VOW3) has spun-off Porsche (P911), investors will be hoping that Porsche (P911) shares do well on the stock market. However, it may not be as easy as everyone thinks.
For months rumours had been floating around about whether VW (VOW3) would allow for a Porsche IPO. The German carmaker was forced to announce the demerger, as VW's many stakeholders, which include unions, 12 independently managed motor brands and shareholders, pushed for an announcement to be made.
It is thought that geopolitical tensions, rising interest rates and inflation could still scupper the plans but VW (VOW3) has defyed the naysayers and the listing went ahead as planned on 29 Sepetmber.
"The IPO is crucial as it comes at a time when European stocks are staggering amid very high inflation rates and a spiralling energy crisis in the continent due to the Russia-Ukraine standoff. At such crossroads, the announced IPO is believed to test investors' confidence," Zacks analysts said.
Zacks has stressed that Porsche's status and reputation as a luxury brand may enable it to bump up prices, making it a cash-spinner for the Volkswagen Group (VOW3). Porsche's operating profit jumped 22% in the first half of this year while Volkswagen (VOW3) registered an 8% fall.