Phunware (PHUN) buys bitcoin: price spikes, shares fall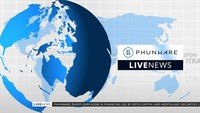 Phunware shares fell 10% Monday, while Bitcoin prices rose 4.47% after the mobile software and blockchain company announced it purchased an additional 398 Bitcoin for roughly $23.8m.
Shares of the Austin, Texas-based company fell as much as 10.5% to $3.31 per share from Friday's $3.70 closing share price. Phunware stock trades on the Nasdaq exchange under the ticker "PHUN".
Bitcoin prices, however, spiked $2,500 (£1,866.47), or 4.75% to $59,289.40 from $56,751.50 within 10 minutes following the 8:30 ET (UTC-5) release.
Bitcoin capitalisation
The recent purchase of 398 Bitcoin, totalling $23.8m for an average $59,917 per coin, brings Phunware's total Bitcoin holdings to 529 coin or $31.8m total with an average $60,191 purchase price, the company stated in its release announcing the purchase. Currently, roughly 10% of Phunware's market capitalisation is in Bitcoin.
This represents a significant increase in Bitcoin holdings for Phunware, which as of 30 September reported digital asset purchases, "comprised solely of Bitcoin," totalling $1,497, the company reported in its third quarter Form 10-Q filing with the US Securities & Exchange Commission. Phunware added it received $87 in both Bitcoin and Ether as payment for services during the same time frame.
What is your sentiment on PHUN?
Vote to see Traders sentiment!
Introducing PhunCoin
On Friday, Phunware announced it would begin issuing a new cryptocurrency token, dubbed PhunCoin. Following the distribution of 100 billion PhunCoin, of which Phunware reserves 72 billion, or 72%, with a current value of $0.008 per PhunCoin.
PhunnCoin is part of a duel-token economy, in tandem with its previously issued PhunToken, which aims to blockchain enable Phunware's consumer data platform.
"As we work to commercialise a truly decentralised data economy, we're thrilled to begin building a market for one of the world's first regulated cryptocurrencies designed for mainstream adoption," said Phunware CEO Alan Knitowski in a release announcing the PhunCoin. "PhunCoin is an important first step towards ensuring consumers not only control their data but also are compensated fairly when their data is purchased by brands."
Trump share boost
Phunware stock gained attention in relation to the announcement that a blank cheque company, SPAC Digital World Acquisition, was merging with Trump Media & Technology Group. Having previously coordinated the Trump-Pense 2020 Presidential re-election campaign, Phunware stock rose from $1.58 to $24.04 shortly after the merger announcement.
Read more: Trump connection lifting some obscure companies