MSG Sports (MSGS) NY Rangers offers first NFT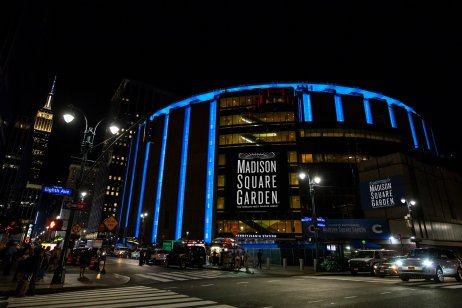 The New York Rangers National Hockey League (NHL) team is offering its first-ever non-fungible token (NFT) series in three separate tiers, the company announced Tuesday. The offering is in conjunction with the pre-game commemoration ceremony honouring former Rangers player Hendrik Lundqvist on 28 January.
Lundqvist was a Rangers' goaltender for the team for 15 seasons from 2005 until 2020. A Vezina Trophy winner for the NHL's best goaltender, Lundqvist holds the record for wins by a Rangers goaltender, as well as wins by a European-born goaltender with 459.
Three-tiered offerings
On sale today are 5,000 digital commemorative tickets in NFT form for the Rangers game on 28 January against the NHL's Minnesota Wild, during which the Rangers former goaltender will be honoured with a number retirement ceremony. Classified as a "Common," the NFTs are $20 each and owners do not gain entry into Madison Square Garden for the game.
Up for auction starting today are five NFT packages, classified as "Rare," which come with a merchandise bundle consisting of a Rangers jersey, shirt, cap, banner and commemorative pin, as well as a signed commemorative book. Bids for the "Rare" NFT offerings start at $200 and bidding closes at 10:00 a.m. EST (UTC -5) on 25 January.
A single one-of-one NFT, classified as "Legendary," includes two game tickets, an autographed goalie stick, as well as the commemorative game ticket. Bids for the "Legendary" tier NFT start at $1,000 and bidding closes at 10:00 a.m. on 25 January.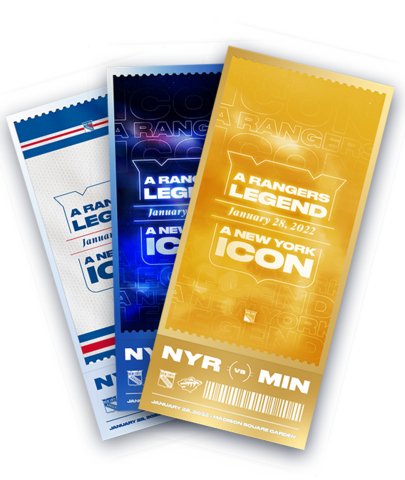 NY Rangers NFTs - Photo: New York Rangers
First-ever NFT for Rangers
"We are constantly looking for fresh and innovative ways to engage with our fans, and we see the emergence of digital collectables, which combine sports and technology, as a fun way for fans to connect with the team," said MSG Sports EVP David Hopkinson. "Tying in the first-ever Rangers NFT products with the Henrik Lundqvist Night game is the perfect way to celebrate this."
All three tiers of NFTs are available through the Rangers' digital platform partner DropShop.
The New York Rangers are wholly owned by MSG Sports, which also owns the National Basketball Association's New York Knicks. New York-based MSG Sports' other sports assets include the developmental Hartford Wolfpack of the AHL and Westchester Knicks of the NBA's G League. Additionally MSG Sports owns esports teams through Counter Logic Gaming and Knicks Gaming of the NBA 2K League esports league.
MSG Sports stock trades on the NYSE under the ticker MSGS.
Read more: As sports return to NYC, MSG Sports beats EPS estimates by 467.7%