Mid-day: US stocks rebound after Black Friday sell-off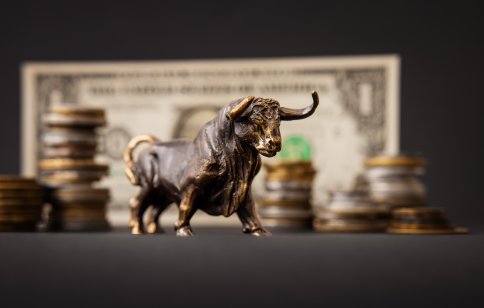 The major US gauges are recording gains in early trading on Monday, after the Covid-19 variant Omicron sent traders into a selling frenzy on Friday.
By intraday, the Dow Jones Industrial Average was up over 185 points or 0.53%, the S&P 500 was up 1.19%, while the Nasdaq Composite was 1.69% higher.
At the close of trading on Black Friday, the Dow Jones Industrial Average plummeted around 905 points, or 2.5%, to post its worst day of the year, while the S&P 500 went down 2.3% and the Nasdaq Composite was right behind with a 2.2% dip during session trading.
At its session low, the Blue-Chip Dow lost over 1,000 points.
Omicron: What can traders expect?
In an interview with Capital.com, Vinod Jain, Senior Analyst at the Aite-Novarica Group in New Jersey, said "international travel will take another hit, but the holiday's season low trading average would act as a barrier."
"If the new variant was discovered before October, the fall would have been greater," he said. "Alongside the government's response to Omicron, investors will be watching for the new infrastructure bill."
What is your sentiment on US30?
Vote to see Traders sentiment!
Winners and losers: Twitter CEO steps down; stock rises
Shares of Twitter are up 1.8% after company CEO Jack Dorsey announced he was resigning from his executive role with the company, effective immediately.
In other tech stocks, shares of Microsoft are 2.4% higher, while shares for both Amazon and Apple are up 1% each.
Shares of Tesla are up over 4% after Elon Musk emailed company employees to stop rushing quarterly deliveries.
Shares of Moderna are surging 9.7% as the new Covid-19 strain, Omicron, creates further disruptions in the global supply chain. The company's stock surged more than 20% Friday after Moderna said it was working to rapidly advance an Omicron-specific booster candidate.
In travel stocks, shares of both Delta Airlines and American Airlines were down 0.2% and 0.9%, respectively
Oil: Energy prices rebound after Black Friday
Crude oil futures are up on Monday, with benchmark US crude up 3.2% to $70.30 a barrel, while Brent crude, the international benchmark, is up 3% to $73.73 a barrel.
On Friday, West Texas Intermediate slumped 13.1%, to close at $68.15 a barrel on the New York Mercantile Exchange, notching the biggest one-day drop for a front-month contract since 2020.
Also on Friday, Brent tumbled 11% and both contracts saw their lowest close since 9 September.
Gold: Precious metal seesaws in early trading
Gold futures are between gains and losses on Monday, while prices for gold could settle below $1,800 an ounce for a fourth session in a row.
On Comex Monday, the most active February gold contract jumped 60 cents, or less than 0.1%, to $1,788.70 an ounce, while December gold improved by 70 cents, or less than 0.1%, at $1,786.20 an ounce.
Forex: Yields are up, US dollar lighter than Euro and Pound
On Monday, one US dollar equals 0.89 of the Euro, 0.75 of the Pound sterling, and 1.28 of the Canadian dollar.
The yield on the benchmark 10-year Treasury note rose to 1.517% from 1.484% Friday.
Read more: Omicron variant boosts vaccine maker stocks MRNA and BTNX