MetaJam Asia: Singapore looks to lead NFT sector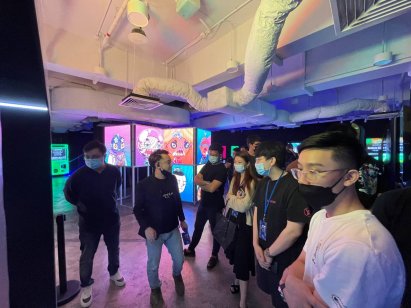 Singapore has launched a non-fungible token (NFT) festival as the city-state looks to take a lead role in a number digital markets including the metaverse and Web3.
While interest in the NFT sector has fallen since its 2021 peak there have still been a number of high profile launches in 2022, such as the Will Smith 'Slap' NFT as well as a number linked to the war in Ukraine.
Typically NFTs are launched on the Ethereum blockchain, whose ERC-721 standard was the first to support the instrument, although other chains including Avalanche (AVAX) and Solana (SOL) are also popular.
Ethereum/US dollar (ETH/USD)
Singapore's ambitions are not limited to NFTs but also include the metaverse and the growing world of Web3.
Kent Teo, CEO and founder of INVADE, a festival, event and pop-up store organizer, said: "The key objective of MetaJam is to build accessibility and explore the various possibilities of Web3 adoption in a physical space."
"The potential of the Web3 space is exciting, and we hope to inspire the greater Web2 communities".
What is your sentiment on MATIC/USD?
Vote to see Traders sentiment!
Combining art and technology
MetaJam Asia 2022, jointly organized by INVADE, Kult, and Chain Debrief, features multidisciplinary exhibits which are presented in seven experiential zones: FUNDA-METAs, META Of Facts, Token Jam, Jam Session, Metasphere, The Rad Jam and Meta of Time: Pitstop.
Chain Debrief is a digital asset analysis firm that covers a broad range of cryptos including FAN and MATIC.
MATIC/US dollar (MATIC/USD)
"We are excited to bring NFTs to life via the curation and execution of completely interactive learning experiences at MetaJam.Visitors will learn first-hand that art and technology seamlessly complement each other," said Raja V, founder of Kult Studio & Gallery, which is also an experiential marketing agency.
The event features several visual and video artists, musicians and workshops, enabling a new generation of art and crypto enthusiasts to understand the evolution.
Digital durian delights
The festival is also a social launchpad to enable and accelerate NFT projects such as Party Time Kex where @kextay will be releasing her first music NFT, and Golden Moments.
The latter brings lovers of the infamously pungent durian fruit together. Holders of the fetid fruit-linked NFT will be entitled to perks such as season opening VIP buys, durian eating sessions with celebrities and more.
Chain Debrief founder, Jacky Yap, said: "Singapore has become a bustling hub in the crypto space, with many communities sprouting up."
"As crypto adoption accelerates, events like these are essential in introducing new players to the Web3 space, while at the same time acting as launchpads for current communities to gather and share knowledge".
Mintable and Salad Ventures are the official tech for NFTs as a marketplace and GameFi partners of MetaJam respectively. They have also responded to Capital.com's questions on the metaverse and NFT, which are in the stories to come.