Loopring (LRC) price prediction: Why is LRC going up?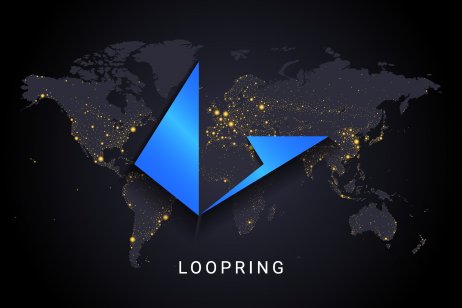 Loopring is an open protocol for building decentralised exchanges that offer a high level of security by using blockchains for disintermediation.
While the crypto community has been limited to trading tokens on traditional centralised exchanges for several years, the Loopring protocol aims to radically transform this paradigm by disassembling the components of a traditional exchange and offering a set of public smart contracts and decentralised actors in its place.
In a nutshell, Loopring is not a decentralised exchange (DEX) but rather a modular protocol for building DEXs on multiple blockchains.
Are the main benefits of decentralised assets lost if they must pass through gated, centralised exchanges? Loopring thinks so. The company believes that trading decentralised tokens on a centralised exchange is nonsensical from a theoretical perspective.
According to Loopring, centralised exchanges lack security, transparency and liquidity. But decentralised exchanges on the other hand, enable users to maintain control over their private-keys by performing trades directly on the underlying blockchain.
It's certainly the case that purely blockchain-based exchanges pose limitations such as scalability and delays in execution, but Loopring, which provides modular tools with its decentralised application (dApp) agnostic open protocol, extends a solution of on-chain settlement with off-chain order management.
These solutions revolve around open smart contracts and navigate scalability limitations by performing several functions off-chain and giving nodes flexibility in fulfilling critical roles for the network. As such, the traditional need for a trade-off between on-chain inherent trustlessness and centralised exchange speed and order flexibility is eliminated.
In recent Loopring news, the company made headlines when one of its alleged developers, Winda Tang, uploaded code to GitHub's public repository that sparked speculation of a potential merger with the US retailer GameStop. The code submitted under a GitHub commit titled NFT feature makes reference to gameStopMeta and an IPFS URL.
In the same month, GameStop also posted an NFT-related job advertisement on LinkedIn for a Head of Web3 Gaming, which fuelled the rumours further. Although these developments could hint at GameStop possibly licensing Loopring technology to create its own non-fungible token (NFT) marketplace, there is no definitive evidence to prove this as of yet.
Here we take a look at the project developments and what factors will shape Loopring price prediction going forward.
What is the Loopring coin?
Loopring acts as a payment app, or the world's first Ethereum smart wallet powered by zero knowledge rollups, as the company states. Users can send ETH and ERC-20 token transfers to any Ethereum address instantly on Layer-2 (L2) and ensure their assets' security by choosing their trusted third party as the guardian. With the Loopring Wallet, users only pay 1% of Ethereum Layer-1 fees.
The Loopring cryptocurrency (LRC) can be used to pay fees on L2 zero knowledge rollups (zkRollups) while maintaining complete Ethereum self-custody security. L2 refers to a secondary protocol that builds on top of an existing system.
Loopring's zkRollups exchange – which is capable of performing at a throughput 1000x greater (and with 600x cheaper settlement costs) than the current state of the art Layer-1 DEXs – validates transactions while sidestepping slow speeds and high gas fees that are commonly associated with decentralised exchanges.
The LRC Burn Rate mechanism ensures that wallets and ring miners who earn fees by fulfilling roles on the Loopring protocol will have a portion of their fees converted into LRC and burned.
Loopring's hybrid payment model works in this way:
users initiate trading by placing their order via a Loopring Wallet

users sign with their private wallet key, which is bound to one's wallet address

the placed order is communicated to the mart contracts and then forwarded to off-chain relay nodes

through the help of smart contracts, the funds are exchanged for the preferred currency while the order book's status is broadcasted to ring miners
Overall, zkRollups allow for faster settlements between traders as they enable Loopring exchanges to complete key computations outside of the Ethereum blockchain. They can also bundle hundreds of transfers into a single transaction, which is then settled on the blockchain where zkRollups are used to confirm that off-chain transactions are accurate.
As such LRC's key value proposition is the cutting-edge cryptography that it is based on.
LRC coin analysis: Technical view
The LRC token started slow at $0.07 on 9 January 2017 and achieved the all-time high of $3.72 on 10 November 2021. At the start of November 2021, it was trading as low as $0.66, but the coin has been making sizable and consistent leeps over the past few weeks, bringing LRC back onto the radar of traders.
The rally started at the end of October this year when rumours of a GameStop merger were circulating, leading the coin to climb from $0.41 on 27 October 2021 (prior to the speculation) to $1.57 on 2 November 2021. In just a matter of weeks, LRC's price more than doubled to $3.72 on 10 November 2021.
This means that from 27 October 2021 to 10 November 2021, the price of LRC spiked close to 1,000%.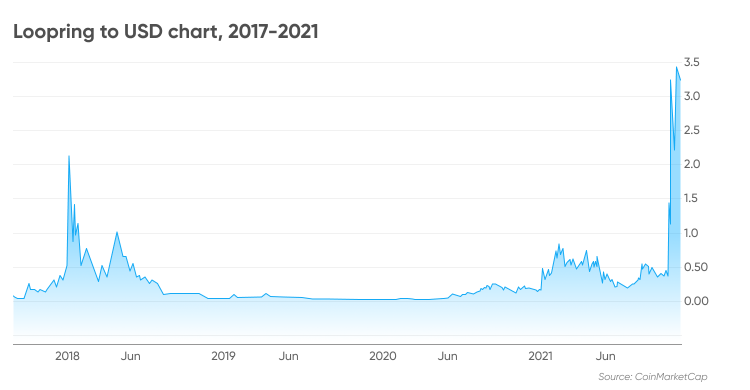 Loopring price chart 2016–2021 – Credit: Capital.com
However, in the week that followed 10 November 2021, LRC lost 40% of its value and the price consolidated, dropping to $2.21 on 18 November 2021 and began trading in the $2.1-$2.7 range shortly thereafter.
On 23 November 2021, the price climbed to $3.36 and as of 26 November, it fell to $2.80, and ranks 49th in the list of cryptocurrencies by market capitalisation at $3,713bn, according to CoinMarketCap.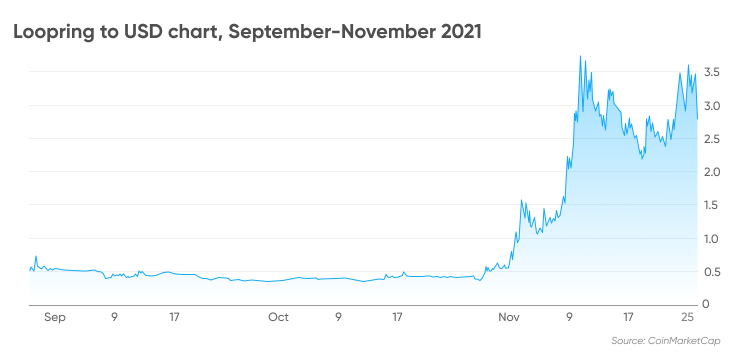 Loopring price chart September–November 2021 – Credit: Capital.com
Technical analysis provided by CoinCodex shows that short-term sentiment on LRC is neutral, with 21 indicators displaying bullish signals compared with 9 bearish as of 26 November, 10:00am GMT.
The daily simple and exponential moving averages are giving strong buy signals, according to data from TradingView, while the relative strength index (RSI) is at 57 as of 26 November 2021. An RSI reading of 30 or below indicates an oversold or undervalued condition, while a reading of 70 or above signals that the asset is overbought or overvalued and may be primed for a trend reversal.
Faster settlements through cutting-edge cryptography
The unique proposition of the Loopring crypto is that it relies on cutting-edge cryptography known as zkRollups. The average fee on Ethereum has risen by a staggering 2,300% since late June this year and is currently at $46.36, according to data from BitInfoCharts.
However, zkRollups facilitates faster settlements since it enables Loopring exchanges to complete key computations outside of the Ethereum blockchain. It can bundle up hundreds of transfers into a single transaction that is then settled on the blockchain, adding a huge boost to the project.
Loopring founder and CEO Daniel Wang believes that the adoption of Layer-2 is inevitable for public blockchains.
"Users favour validity-proof based Layer-2s as they offer quicker finality and thus deal with capital more efficiently. We are yet to see new Layer-1s built with Layer-2s in mind (so all Layer-1 transactions are still Layer-2 validations). But such a Layer-1 will occur one day, or some blockchains will evolve into this design, i.e. Ethereum, and then everything will change," he says.
Can limited adoption pose risks for LRC?
While decentralised exchanges offer benefits that centralised exchanges do not, there are problems that persist in terms of performance and structural limitations, which can affect the extent to which the LRC coin achieves wider adoption.
For example, the effects of fragmented liquidity can cause issues if DEXs do not employ consistent standards to interoperate and if orders are not shared/propagated across a wide network.
The liquidity of limit order books and specifically, their resiliency (how fast filled limit orders are regenerated) can significantly affect optimal trading strategies. The absence of such standards has resulted not only in reduced liquidity, but also exposure to an array of potentially insecure proprietary smart contracts.
Another risk is that since blockchain order books are public, the transaction to place an order is visible by miners as it awaits being mined into the next block and placed into an order book. This delay exposes the user to the risk of being front run and having the price or execution move against him/her.
Loopring price prediction: Buy, sell or hold?
Algorithm-based forecasting service WalletInvestor gave a mixed LRC price prediction. Based on historical data, WalletInvestor sees the price still trading at $2.80 by November 2022, reaching $3.78 in November 2024 and hitting $4.26 by November 2025.
Digital Coin Price, on the other hand, gave an upbeat Loopring prediction, expecting the token to rise to $5.20 in November 2022. The forecasting service sees LRC growing 142.47% to $8.19 by November 2025 and eventually hitting $16.47 in November 2028.
Vantage Point Trading financial analyst Mircea Vasiu told Capital.com: "LRC is one coin that has gained against the US dollar in November. LRC traded close to $4 this month and the price action suggests a new all-time high is possible.
"The pivotal breakout happened when the LRC/USD exchange rate crossed above $1 for the first time. Then after a pennant formation that sent the price close to $4, LRC/USD corrected for a couple of weeks.

"However, the correction ended with an inverse head and shoulders pattern (a bullish reversal pattern that suggests more upside lies ahead). On the flip side, a drop below $2 would invalidate this bullish scenario," the analyst said.
Note that LRC predictions can be wrong. Forecasts shouldn't be used as a substitute for your own research. Always conduct your own due diligence before investing. And never invest or trade money you cannot afford to lose.
FAQs
Is the Loopring coin (LRC) a good investment?

Whether LRC is a good investment for you depends on your personal circumstances and risk appetite. Cryptocurrencies are high-risk assets and highly volatile. You should do your own research, evaluate the level of risk you are prepared to accept before investing and never invest money you cannot afford to lose.
Why is the Loopring coin (LRC) going up?

The cryptocurrency market is driven by various macroeconomic factors. As such, both upward and downward price movements can take place since cryptocurrencies are subject to frequent changes.

Always conduct your own due diligence before investing, and never invest or trade money you cannot afford to lose.
Will the LRC token hit $16 in 2028?

Based on Loopring crypto price predictions from Digital Coin Price, the LRC price could reach $16 within the decade. DigitalCoin predicts a maximum price of $16.47 by November 2028. WalletInvestor, on the other hand, gives a mixed forecast and sees the coin hitting only $4.26 by November 2025.

However, please bear in mind that LRC crypto price predictions can be wrong. Forecasts shouldn't be used as a substitute for your own research. You should always conduct your own due diligence before investing. And never invest or trade money you cannot afford to lose.
Read more: Chromia coin price prediction: Can СHR test new highs?