How many Solana tokens are there? SOL crypto circulation analysis
Subscribe to Weekly Highlights
The major market events for the week ahead right in your inbox.
Subscribe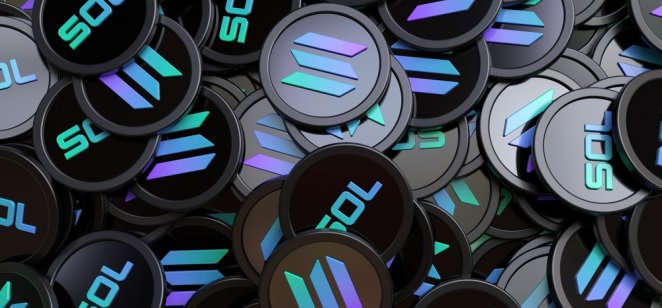 Content
The Solana (SOL) crypto project jumped to the spotlight in 2021 in the midst of the rising popularity of non-fungible tokens (NFTs) as its blockchain offered a cheaper alternative to mint these digital assets compared to Ethereum.
However, the network experienced several negative incidents, including multiple outages – around 12 have been counted to date (30 September) – caused by the malicious bots, which flooded the network with thousands of transaction requests.
Those who invested in SOL, the blockchain's native token, back in November 2021 when it was trading at around $240 a coin, have seen the value of their holdings decline significantly, as the price of SOL is standing at $33.90, as of 2 October, according to CoinMarketCap data.
How many SOL coins are there, and who owns most of them?
In this article, we provide more details about who is currently investing in this so-called 'Ethereum-killer' blockchain project and discuss what that could mean for the future of Solana.
What is Solana?
Solana is a layer-one blockchain that seeks to solve the scalability issues that developers have continuously experienced when building applications on other decentralised networks such as Ethereum.
The project claims to be capable of processing over 2,000 transactions per second at an average cost per transaction of $0.00025, as of 2 October 2022.
The network is powered by the combination of proof-of-history and proof-of-stake consensus mechanisms. They assign the blocks to be minted on the blockchain to validators who have a stake in the network, meaning that they own a certain number of SOL tokens.
| | |
| --- | --- |
| Long position overnight fee | -0.0500% |
| Short position overnight fee | 0.0140% |
| Overnight fee time | 22:00 (UTC) |
| Spread | 66.00 |
| | |
| --- | --- |
| Long position overnight fee | -0.0500% |
| Short position overnight fee | -0.0500% |
| Overnight fee time | 22:00 (UTC) |
| Spread | 0.00000724 |
| | |
| --- | --- |
| Long position overnight fee | -0.0500% |
| Short position overnight fee | 0.0140% |
| Overnight fee time | 22:00 (UTC) |
| Spread | 0.0015735 |
| | |
| --- | --- |
| Long position overnight fee | -0.0500% |
| Short position overnight fee | 0.0140% |
| Overnight fee time | 22:00 (UTC) |
| Spread | 5.50 |
Even though Solana does not impose a minimum stake to participate as a validator, the project does demand the creation of a vote account and, for that purpose, a validator must stake at least 0.02686 SOL.
As of 2 October, the official Solana website indicates that there are 1,997 active validator nodes. To date, the network has processed over 100 billion transactions. The number of transactions processed per second stood at 2,771. In theory, the Solana network could process a maximum of 710,000 transactions per second.
The Solana project was developed by Anatoly Yakovenko, Greg Fitzgerald, and Stephen Akridge. It was born as an Ethereum-powered decentralised app called the Loom Network was later rebranded to Solana. The name honors a place where the co-founders lived together and surfed.
Solana was officially launched in 2018 after the project's testnet started to operate and has grown to become the 9th most valuable blockchain project based on the market capitalization of its native token SOL according to data compiled by CoinMarketCap. As of 2 October, the market capitalization of Solana (SOL) stands at $12 billion.
What is your sentiment on SOL/USD?
Vote to see Traders sentiment!
Solana Historical Price & Performance
The price of Solana has declined by 80.2% so far in 2022, as of 2 October. The token has accumulated an 87.1% loss since hitting its all-time high of $260 a coin in November 2021.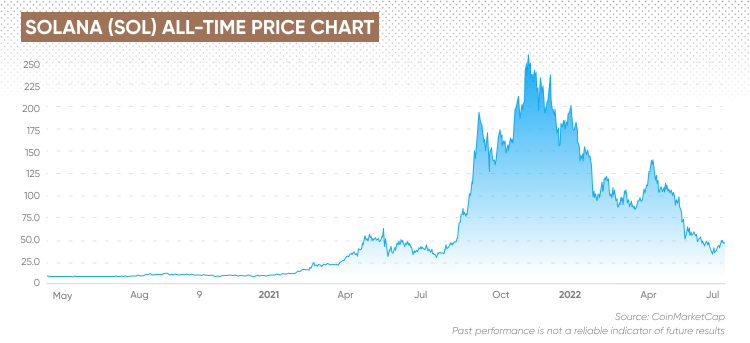 The value of SOL has been primarily affected by a deteriorating global macroeconomic backdrop. Rising inflation has pushed central banks to increase interest rates. As a result, investors have adopted a risk-off attitude and have mostly shunned high-risk assets such as cryptocurrencies and equities.
However, during the seed sale, the value of each SOL token was 4 cents. Those who bought coins then could have reaped sizable gains on their investment as the value multiplied 6,500 times to its all-time high and is still 838 times higher at the current price of $33.90 a coin.
Cryptocurrencies are known for their high price volatility and Solana is no exception. In 2022, the price of SOL experienced several double-digit single-day declines. For example, on 22 January the price went down by 16%. Moreover, in May this year, there were days when the price declined by 18% and 24%.
How Many Solana (SOL) Tokens Are There?
According to Solana Explorer, the total supply of SOL stands at 530,069,917 million. As of 2 October 2022, the total number of Solana coins in circulation stood at 354,913,715 coins.
How many Solana coins are available? In total, 67% of Solana's supply is currently in circulation. Moreover, data from Solana Explorer indicates that 407.5 million tokens (77%) are currently staked.
There is no maximum supply for SOL. The number of coins in circulation progressively increases as validator nodes are compensated for processing the blockchain's transactions.
The Solana Foundation has established an initial inflation rate of 8% for the network and a long-term inflation rate of 1.5%. The staking rewards offered by Solana are typically established based on this parameter.
Based on the developing team's projections for the next 15 years, the total supply of SOL tokens in the world could exceed 800 million at some point. Considering that these projections were drafted in 2020, the total supply could reach those levels by 2035 or so.
Who Are the Biggest Holders of Solana (SOL)?
Solana's ownership is heavily fragmented, meaning that single wallet addresses do not own large percentages of the token's total supply. According to data from CoinCarp, there are currently 9,154,449 wallets that hold SOL

The top 100 holders own around 32% of the token's total supply. The top 10 holders own 10.3% of all available tokens. The top wallet owns 9,337,609 SOL, 1.82% of the coin's total supply.
The most notable movements across the 100 largest wallets holding SOL tokens in the past 7 days include a 1.11 million decline in the number of tokens held by wallet 6ZRCB7AAqGre6c72PRz3MHLC73VMYvJ8bi9KHf1HFpNk. This wallet now owns 1.37 million SOL tokens or 0.27% of the total supply.
Wallet FWznbcNXWQuHTawe9RxvQ2LdCENssh12dsznf4RiouN5 has transferred 1.59 million tokens and now owns 1.77 million SOL tokens or 0.35% of the total supply.
Finally, during this same period, wallet 5VCwKtCXgCJ6kit5FybXjvriW3xELsFDhYrPSqtJNmcD received a total of 222,217 SOL that resulted in an increase in the number of coins held to 883,567 SOL, corresponding to 0.17% of the total supply.
FAQs
How many Solana coins are left?

There is no maximum supply of Solana tokens as the project did not incorporate a hard cap. The developing team's estimations indicate that the token's inflation is around 8% a year and should decline to a long-term average of 1.5%.
How many Solana coins are lost?

In August 2022, as many as 8,000 Solana wallets were compromised, resulting in losses of around $5m worth of SOL. These tokens are not necessarily lost as thieves can trade them and hide their tracks by using crypto mixers and other similar money-laundering mechanisms.
How many Solana coins are mined a day?

Solana coins are not mined as the blockchain is powered by a proof-of-stake (PoS) consensus mechanism. Instead, the project issues new SOL coins to compensate those who stake their holdings. Based on the coin's inflation schedule at the time of writing on 2 October, the annual inflation of SOL stood at 8% and may decline to 1.5% a year in the long term.
Who owns the most Solana coins?

According to data from CoinCarp, wallet 9QgXqrgdbVU8KcpfskqJpAXKzbaYQJecgMAruSWoXDkM owns the most SOL tokens with 6.6 million coins, corresponding to 1.29% of the total supply.
Related reading