How many FTX coins are there? FTT token circulation analysis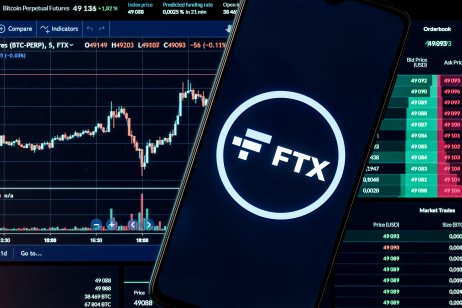 Content
November has been another challenging month for the cryptocurrency industry. FTX, a prominent cryptocurrency exchange, and FTX.US, its US counterpart, filed for Chapter 11 bankruptcy on 11 November, according to media reports.
Following a report indicating possible leverage and solvency issues, the exchange experienced a liquidity crisis. An attempted buyout with competitor Binance (BNB) fell through.
With investor trust in cryptocurrencies dwindling as a consequence of the FTX exchange's bankruptcy, the overall market value of digital assets slipped below $800bn, a level not seen since early 2021, according to CoinMarketCap statistics.
The native token of FTX, FTT, also saw a dramatic decrease, with its price plummeting from $22.14 on 8 November to $3.15 on the same day, a staggering drop of nearly 86%.

FTT was trading at $1.58 on 18 November, down more than 98% from its all-time high of $85.02 on 9 September 2021.
FTX Token (FTT) Live Price Chart
Is FTX dead, or will it rise again from the ashes? Meanwhile, how many FTX coins are there, and how will the collapse affect the coin's tokenomics and future prospects?
What is FTX and how does it work?
FTX was a centralised cryptocurrency exchange that specialised in derivatives and leveraged products. Its headquarters are in the Bahamas.
Sam Bankman-Fried, an MIT graduate and former international exchange-traded funds (ETF) trader at Jane Street Capital, founded FTX in 2018. The company provided various trading products, including derivatives, options, volatility products and leveraged tokens.
At the beginning of 2022, the platform had over a million registered users, reported billions of trading volume daily, and enabled users to trade novel derivative products.
Alameda Research, an assets under management (AUM) quantitative cryptocurrency trading business, backed FTX. Assets under management represent the market value of assets managed on behalf of customers by a business or individual. Interestingly, Alameda Research became the biggest liquidity provider and market maker within a year.
FTX built its own automated OTC RFQ system that increased its daily trading volume. RFQ ("request for quotation") provides institutional-sized access to trading groups, OTC desks, agency brokers, and other players to create and source block liquidity in futures, crypto options and other assets.
The FTX trading platorm's native ERC-20 FTT token could be used to obtain trade discounts and staking rewards. FTX enabled a platform for users to stake their FTT tokens and earn benefits depending on referral rate, maker fee refund and bonus votes.
What is your sentiment on FTT/USD?
Vote to see Traders sentiment!
The current state of FTX
Despite the financial separation that is meant to exist between the two firms as separate legal organisations, Coindesk reported on 2 November that a leaked document claimed to reveal that Alameda Research had an abnormally high quantity of FTT tokens on its balance sheet. Not only did this pose issues for asset segregation, but FTT was deemed insufficiently liquid to maintain Alameda's balance sheet.
In reaction to the Coindesk "revelations", Binance co-founder and CEO Changpeng Zhao declared on Twitter on 6 November that he had chosen to sell the company's FTT holdings.
Zhao said that the transaction would occur gradually to minimise market impact.
However, traders promptly attempted to liquidate their own FTT positions, causing an estimated $6bn capital shortage on FTX in three days.
On 8 November, Binance moved to rescue FTX by acquiring the company, with Zhao saying that the transaction would enable FTX to fulfil its obligations at the time. However, Binance said on 9 November that it would no longer acquire FTX, citing "corporate due diligence" as the reason. Binance cited FTX's regulatory probes and allegedly mismanaged cash reports.
As a result of corporate due diligence, as well as the latest news reports regarding mishandled customer funds and alleged US agency investigations, we have decided that we will not pursue the potential acquisition of https://t.co/FQ3MIG381f.

— Binance (@binance) November 9, 2022
On 11 November, FTX, Alameda Research and several other Bankman-Fried-related entities filed for bankruptcy in Delaware. Bankman-Fried resigned as CEO. John Ray III was appointed interim CEO.
More than $600m in digital assets were allegedly stolen from FTX on 11 November, soon after the company filed for bankruptcy, according to a Gizmodo article.
How many FTX coins are there: FTT tokenomics
According to CoinMarketCap, FTT has a maximum supply of 352.17 million tokens, indicating a hard cap on the total amount of tokens that can be mined during the course of its existence.
How many FTX coins are in circulation? As of November 18th, FTT was trading at $1.58 and had a circulating supply of 328.89 million tokens, resulting in a market value of $511.42m.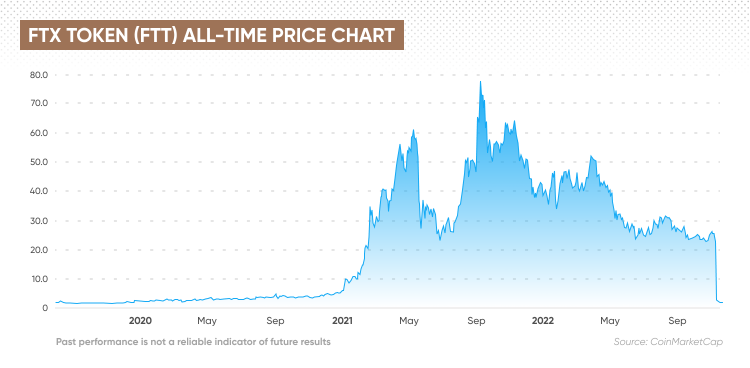 According to the initial allocation criteria data provided by Coingecko, 59.3 million FTT tokens, or 16.95% of the total supply, were issued to general investors in three rounds between $0.1 and $0.8. Other significant individual and institutional investors controlled 51.63% of the tokens.
In addition, 6% of the supply was allocated to Team Tokens, 6% to the FTT Liquidity Pool, 3% to the Ecosystem Fund, 3% to the User Acquisition Fund, 1.50% to the Safety Fund, 1.50% to the Insurance Fund Insurance, 1.50% to the Adviser Tokens, and 8.93% to Team Tokens that remain locked.
Who owns the most FTT tokens?
According to statistics published by CoinCarp, there were a total of 24,244 FTT holders, as of 18 November. The top 10 FTX holders had 93.63 percent of the entire token supply, while the top 100 held 99.35 percent.
Such a significant concentration of tokens in a small number of wallets indicates that the distribution of FTT tokens could be prone to pump-and-dump schemes.
According to CoinCarp statistics, one anonymous wallet owned 195.86 million FTT tokens, or 59.55% of the total supply, making it the biggest FTX holder. Another wallet owned 45.85 million tokens or 13.94% of the supply.
Meanwhile, Binance, the biggest cryptocurrency exchange by trading volume and market capitalization, held 74.75 million tokens in various wallets, representing 22.73% of the total supply.
Multiple exchanges held substantial volumes of FTT tokens. For example, KuCoin (KCS) owned 1.02%, Bitfinex and Huobi Global held 0.21% each, and ByBit held 0.12%.
Since crypto wallets are anonymous, the identities of these FTT whales were not publicly disclosed. These might be FTX investors, employees or developers.
The bottom line
Over only a few days this week, FTX, the fourth-largest cryptocurrency exchange in the world at the time, fell in an astoundingly rapid spiral.
Sam Bankman-Fried, its figurehead, has resigned as CEO. FTX and its affiliated firms have filed for bankruptcy.
This shocking downfall has sparked concerns about the viability of FTX and the crypto sector as a whole, as well as the possibility of a chain reaction affecting larger financial markets.
While knowing how many FTX coins exist is essential for assessing a project's tokenomics and ownership concentration, you should always perform your own research. Before making trading decisions, consider the most recent news, technical analysis, and diverse expert viewpoints.
Remember that previous results are not indicative of future returns. And you should never trade with funds you cannot afford to lose.
FAQs
How many FTX coins are available?

According to CoinMarketCap, FTT has a maximum supply of 352.17 million coins and a circulating supply of 328.89 million.
Who created FTX?

Sam Bankman-Fried, a 2019 MIT graduate and former Jane Street Capital international ETF trader, created the Bahamas-based FTX cryptocurrency exchange in 2019.
Who owns the most FTX coins?

According to CoinCarp statistics, an anonymous wallet held 195.86 million FTT tokens, or 59.55% of the total supply, making it the biggest token holder.