How many cardano coins are there? ADA circulation analysis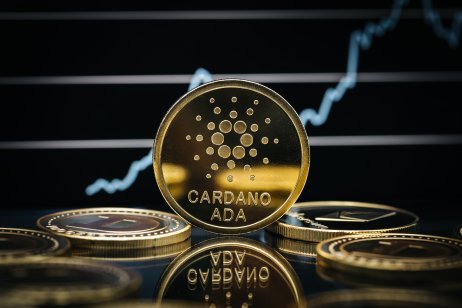 Cardano (ADA) is a blockchain platform that is often dubbed as the "Ethereum killer". Over the last few years Cardano and its native cryptocurrency ADA gained popularity and ADA's value is trading at more than 1800% above its launch level, as of 12 August.
Yet what's the total value of the blockchain and how many cardano coins are there? Here we take a look at ADA's circulating supply - an important metric in cryptocurrency markets that suggest how scarce a digital asset is.
What is Cardano?
Cardano is a decentralised proof-of-stake (PoS) blockchain launched in 2017 as a third-generation cryptocurrency platform used to build smart contracts and create decentralised applications (dApps), and protocols, such as new cryptocurrency tokens, games and more.
Cardano was founded by Charles Hoskinson, Ethereum's co-founder, who left the project after falling out with Vitalik Buterin, the blockchain's other co-founder, over whether Ethereum should be commercialised.
Cardano was designed as a more scalable, interoperable and sustainable blockchain, intending to improve on the problems Bitcoin and Ethereum have. This led the supporters to label Cardano as an "Ethereum killer".
Its PoS mechanism is stated to be the "most environmentally sustainable blockchain protocol" as it eliminates the high energy resources required by the proof-of-work (PoW) algorithm, which Bitcoin (BTC) and Ethereum (ETH) are often criticised for.
According to the project's website, Cardano is the first platform created based on peer-reviewed research and evidence-based methods. The project was designed by engineers and academics in the cryptography and blockchain fields.
Cardano is designed to be developed in "eras" named after prominent figures in poetry and computer science history: Byron, Shelley, Goguen, Basho, and Voltaire. Basho is the current era of the blockchain (as of 12 August) which intends to bring more scaling and optimisation to the network, while Voltaire will be the last era in the Cardano development.
ADA is the native cryptocurrency of the Cardano network. It was named after Ada Lovelace, a 19th century mathematician, recognised as the first computer programmer and the daughter of Lord Byron.
ADA tokens can be used as a secure exchange of value without the need of a third party to mediate the exchange. Each ADA transaction is recorded on the Cardano blockchain.
ADA holders also hold a stake in the Cardano network. Stored ADA can be delegated to a stake pool through which holders can earn rewards for participating in securing the network.
The token can also be used as a payment method on the network. Once voting is introduced in the Voltaire update, the token will be used as a voting mechanism for on-chain governance.
Cardano provides two native wallets:
The Daedalus Wallet – a desktop wallet developed by the blockchain research and engineering firm IOHK that downloads a full copy of the blockchain and independently validates each transaction in its history.

The Yoroi Wallet – works as a "one-click-install" application. It does not download a copy of the blockchain's history making it a simple and fast means of storage.
The token price spiked to the record high of $2.9634 on 2 September 2021 amid wider optimism in the cryptocurrency markets. Since then, the coin's price has slumped over 80% as tightening monetary policy, recession fears and the crash of Terra Luna ecosystem triggered a shift to risk-off.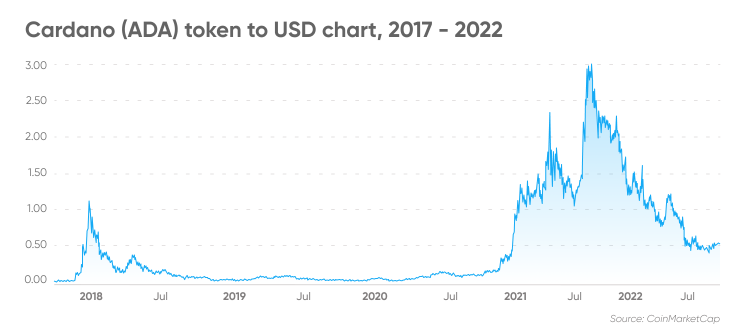 How many cardano coins are there?
ADA's initial coin offering (ICO) started in September 2015 and lasted until January 2017. Around 25.9 billion tokens were allocated for sale and all were sold during the ICO. While this represented 57.6% of the total ADA token supply, how many ADA coins are there remaining?
Unlike other cryptocurrencies, such as ETH, that do not have a maximum supply, there is a limit on the amount of ADA tokens.
According to data provided by CoinMarketCap the maximum supply of ADA tokens is capped at 45 billion. As of 12 August, there were more than 33.9b billion cardano coins in circulation. The total supply of ADA coins stood at about 34 billion.
The data from Statista showing how many cardano were in circulation between September 2017 and July 2022 noted that ADA's circulating supply surged between August 2020 and September 2020 from 25.9 billion to 31.1 billion.
As the crypto market started to gain more exposure, ADA's circulating supply started to steadily grow, reaching 33.2 billion tokens by February 2021 and surging to 33.7bn in March 2022.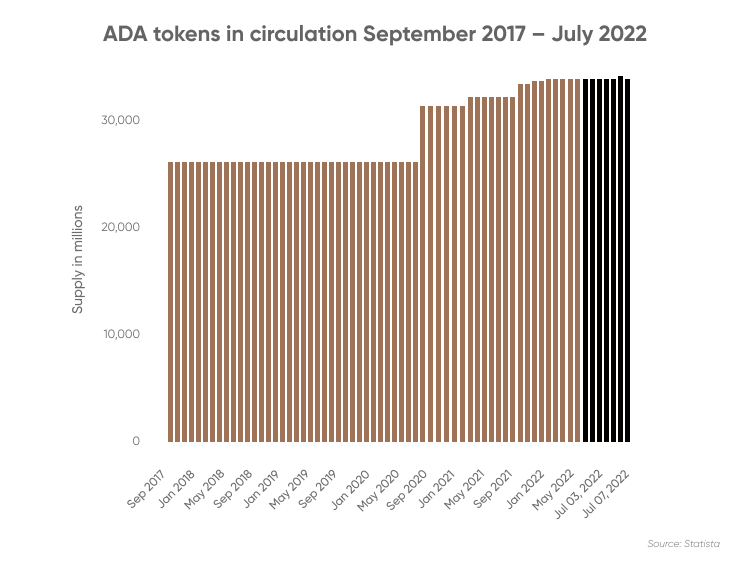 Who are the biggest whales?
When the network launched, around 2.5 billion tokens were allocated to IOHK and 2.1 billion of the then cardano circulating supply was given to EMURGO, an international blockchain development company that worked on the early foundation of the platform's protocol. In addition, 648 million coins were given to the Cardano Foundation for the platform's promotion and a push for wider adoption.
Around 16% of ADA coins in circulation were given to the project's founders and the remaining 84% split among investors. But how many cardano are owned by cryptocurrency whales?
Limited data is available online as to who owns the most cardano tokens. However, in April, the on-chain and social metrics platform Santiment tweeted that the asset's largest whales were holding 46.6% of the total token supply, adding that a big part of the addresses were owned by large exchanges.
Data provided by Cardanoscan showed that as of 12 August the top ADA whale owned over 987 million coins, valued at around $525m at the time of writing.
The second biggest ADA holder owned 987 million tokens, followed by wallets with 240 million, 200 million and 186 million tokens. The top five ADA whales owned over 2.5 billion tokens, which amounts to around 5.5% of the total maximum supply and 7.35% of the total supply. The wallets are anonymous.
In early March, reports emerged that the balance of many ADA whale accounts "has grown exponentially in 2022, from 8.09b to 12.19b ADA," IntoTheBlock said on Twitter.
In August, Santiment added that a total of $138m worth of ADA was bought by whale and shark wallets within a week in mid-June.
The bottom line
Unlike other coins, ADA has a maximum supply of 45 billion tokens. Its circulating supply has grown rapidly since 2020, and the coin is popular among whales.
Remember, while it's important to know how many cardano coins are there, you should always conduct your own due diligence before trading, looking at the latest news, fundamental and technical analysis and analyst commentary.
Note that past performance does not guarantee future returns. And never trade money you cannot afford to lose.
FAQs
How many cardano are available?

As of 12 August, there were more than 33.9 billion cardano coins in circulation. The total supply of ADA coins stands at about 34 billion, and the maximum supply of 45 billion.
How many cardano coins are left?

The total supply of ADA coins stood at around 34 billion at the time of writing, while the maximum supply is capped at 45bn. This means there were around 11 billion more cardano tokens that can be mined as of 12 August.
Does cardano have a limited supply?

Yes, Cardano does have a limited supply of tokens in circulation, which is capped at 45 billion.