Gemini Trust looks to acquire more crypto assets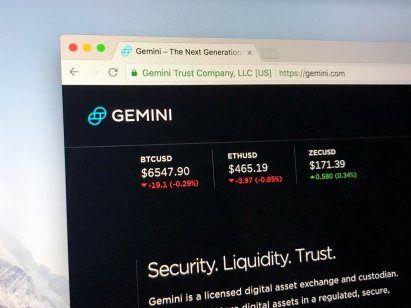 Gemini Trust is aiming to accumulate more cryptocurrency-related assets on the belief that institutional investor adoption of crypto and the blockchain will increase.
The company operates a crypto exchange that allows customers to buy, sell, and store digital assets.
"We expect institutional adoption to continue picking up steam in the coming years," Dave Abner, Gemini's global head of business development, told Capital.com on Friday. "The past year was a pivotal moment for institutions as digital assets became the best performing asset class of the past 10 years, and we saw Bitcoin prices reach a new baseline.
"We think of institutions like a cruise ship. It takes time for them to turn, but once they have decided to incorporate crypto into their strategies it is just a function of connecting with their service providers and setting up the strategies," Abner said.
Landscape has evolved
On Thursday, Gemini acquired trading platform provider Omniex in order to serve more institutional investors.
Pending closure of the transaction in the second quarter of this year, the Omniex acquisition will be Gemini's sixth. The deal came after Gemini acquired Bitria, a crypto-asset portfolio management platform for wealth and assets managers last week.
"As you can see, we're always looking at the market for acquisitions to help us grow our business by either adding capabilities that we weren't planning on building or to speed up our development process, giving us features that might take longer to build than to buy," Abner said.
What is your sentiment on BTC/USD?
Vote to see Traders sentiment!
Gemini prime
Omniex, which posts crypto prices on about 35 exchanges and over-the-counter (OTC) trading desks, will be rolled into a new crypto brokerage service package known as Gemini Prime. Gemini has been offering the prime service to a select client base over the past year.
Abner said the acquisition allows Gemini to expand its offerings and scale up its capabilities to serve thousands more institutional investors in coming years.
"The crypto landscape has evolved in recent years to look much more like the traditional financial ecosystem, but tailored specifically to the digital asset class," he said. "At Gemini, we want to be the bridge between traditional finance and crypto finance."
The full rollout of Gemini Prime will integrate Omniex with Gemini's existing custody, clearing and OTC trading capabilities, and simplify trading for institutional investors. Gemini pledged to provide a single access point to multiple exchanges and OTC liquidity sources, tools and algorithms to ensure best execution and trade transparency, and an institutional-grade trading experience.
Three purchases in 2021
In 2021, Gemini acquired Guesser, Blockrize, and Shard X.
By acquiring Guesser, Gemini obtained a crypto real-time predictions platform. Through Blockrize, Gemini launched a credit card that allows users to earn rewards in Bitcoin. ShardX is a startup company that develops security technology for crypto custodians.
In 2019, Gemini acquired Nifty Gateway, a platform for trading non-fungible tokens (NFTs) known as nifties. Nifty Gateway facilitates nifty purchases purchases for some of popular crypto-games and applications, including OpenSea, Gods Unchained, and CryptoKitties. With Nifty Gateway, users can purchase NFTs directly with traditional money, known as fiat currency, using their credit cards.
Abner called Gemini "an active participant in the growth of the crypto ecosystem."
Read More: Twitter adds NFT integration for profile pictures