Gamium price prediction: Entering the multi-metaverse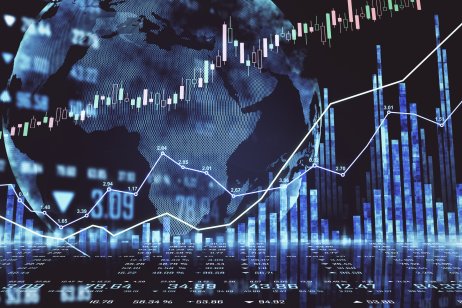 Since its launch at the end of March 2022, the native cryptocurrency of the decentralised social metaverse Gamium, GMM, has grown around tenfold, rising from its initial coin offering (ICO) of $0.0003 to $0.005811 by 4 May 2022.
Still in the early stages of its development, the platform has a lot to look forward to in the coming years, but has already managed to gain a Twitter following surpassing 96,500 people and an international fanbase.
What are some of the long-term expectations for the token and where could the gamium crypto price prediction be headed in the years to come?

What is Gamium?
Gamium is the first ever Decentralised Social Metaverse that unites all the metaverses in existence.
Founded in 2021 and launched at the end of March 2022, Gamium is powered by smart contracts It's a Web3 tech company that aims to innovate how humans interact in the digital space. Its Decentralised Social Metaverse is connecting a number of layers into one place:
An avatar – Avatars are non-fungible tokens (NFTs) that represent their user. The avatar is the core of the Gamium metaverse. They are minted as soon as a player joins the platform and store all the information linked to a player's actions within the metaverse.

Decentralisation – users can benefit from smart contracts as well as public, distributed and verifiable data. Gamium is powered by its two native tokens, GMM and MST, and will eventually evolve into an avatar-owned platform.

Economy – users can manage their digital assets with ease, transfer value and benefit from the platform's socialise-to-earn model.

Governance – users are allowed to create Decentralised Autonomous Organisations (DAOs), and propose and vote on new governance systems and platform updates.

Socialisation – the Gamium metaverse benefits from a public and private chat, voice chat, forum and survey options. It allows users to embark on social experiences and special events.

Decentralised apps (dApps) - Gamium allows users to use apps from Gamium and from third parties.
The platform uses a socialise-to-earn monetisation model, rewarding users for socialising within its metaverse. People can make money by liking, commenting or even moderating the platform.
The Gamium metaverse is built just like the real world where avatars are encouraged to apply for jobs. Each job has a special remuneration, objective and requisites. Jobs can also offer users economic rewards through smart contracts.
The metaverse is set in Gamium World – a fully immersive three-dimensional (3D) environment where players can:
Purchase LANDs – a digital piece of real estate which functions as a unique NFT.

Build ASSETs – NFTs that can be minted, burned, transferred or sold in a marketplace. Users can build ASSETs which can be placed and used on LANDs. The most notable ASSETs are buildings which have exclusive applications and functionality.
GMM is Gamium's governance and medium of exchange token meanwhile MST (Metaverse Seal Token) is a utility and reward coin. The MST coin is used for some social features such as creating a post, accessing exclusive content, purchasing NFTs and using Gamium apps. The MST token is also given to users as a reward for interacting with content.
The GMM coin is a medium of exchange between different metaverse currencies. The token's maximum supply stands at 50 billion, with over 3.48 billion coins in circulation, according to data provided by CoinMarketCap, at the time of writing (4 May 2022). The token has a market capitalisation surpassing $20.098m, giving it a rank of 725.
Bullish trend was short-lived
The gamium cryptocurrency launched at the end of March 2022 with an ICO of $0.0003 and hit an all-time high of $0.01197 by 3 April 2022 – an over 3,000% surge in the six days following its launch.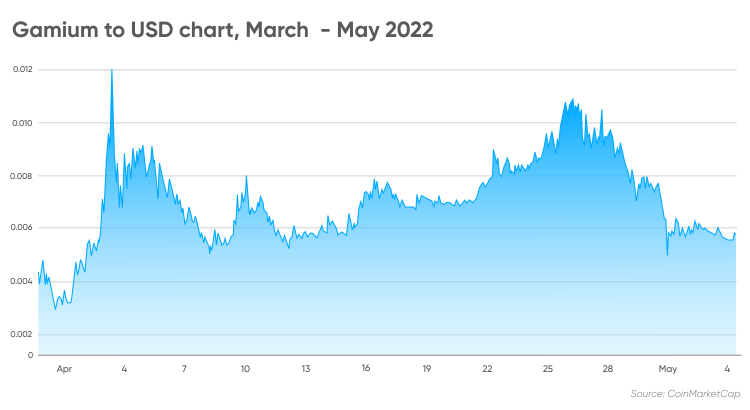 This success was celebrated as the token was launched on a number of top cryptocurrency exchanges including BitMartExchange , CoinMarketCap and CoinGecko as well as the platform teased that it would be soon announcing two major partnerships for its Gamium LANDs feature.
The positive trend witnessed by the gamium token price was short-lived as it proceeded to drop nearly 41% to $0.007075 on the following day as the Gamium team issued a warning message on Twitter notifying its fans of potential GMM scammers.
The GMM/USD price chart continued to struggle through a volatile ride during the next few days before dropping to price levels as low as $0.005065 on 8 April 2022.
⚠️PLEASE, BEWARE OF SCAMMERS⚠️

It's common to receive direct messages from scammers on Telegram, Discord, Twitter, and other Social Media. And also to be added to scam Telegram groups/channels.

OUR ADMINS/TEAM WILL NEVER SEND A DIRECT MESSAGE FIRST OR ADD YOU TO A GROUP/CHANNEL

— Gamium - The Decentralized Social Metaverse ???? (@Gamiumcorp) April 3, 2022
Positive gamium coin news followed on 15 April 2022 as the platform announced its partnerships with Binance NFT and Galler.io, sending its token to skyrocket by 54.9% back to $0.00785 on 16 April 2022 since its 8 April value.
In the following few days, GMM moved sideways before starting to pick up momentum on 21 April 2022. Three days later, the platform announced that its co-founders would be organising a live broadcast to talk about Gamium's future plans. Ahead of the broadcast, the gamium cryptocurrency jumped by 37.1% to $0.01077 on 26 April 2022 from its previous April high.
However, positive GMM token sentiment was once again short lived as the coin took a downwards turn at the end of April 2022 falling by more than 50% to $0.00499 on 1 May 2022.
GMM forecast: Milestones to look out for
During the live broadcast titled "Broadening the Vision" on 27 April 2022, one of Gamium's co-founders, Alberto Rosas, noted that the team behind the project is working on creating and perfecting the Gamium app, which will make accessing the metaverse more accessible for a wider range of users.
In addition to that, in the first two quarters of 2022, the project is planning to launch a Gamium World Showroom, through which users will be able to visit all the buildings in the metaverse.
"A very important event" will follow in the third quarter of 2022 – the avatar generation centre which will allow users to have their identity in the decentralised social metaverse.
By 2023, Gamium is planning to launch its Gamium World Alpha and Beta versions.
"Gamium's support is around $0.0505 and it has a good position to go forward if the team pushes the correct buttons," BigONE Exchange chair in Asia, Anndy Lian, told Capital.com.
He added that because the platform covers a wide range of aspects from socialise-to-earn, the metaverse and Web3, it has great potential for future growth:
"Gamium is looking to solve the problem of interoperability, consolidates metaverses and creates digital assets that are multichain and multiverse compatible. On top of this, their socialise-to-earn and gamification elements bring everything together. Web3 plays a big part in their roadmap."
Lian added that if Gamium is able to fulfil its roadmap, the GMM prediction could be bullish, expecting more uptrends and traction.
"If they cannot, then they will fall in the realm of projects that have the vision but do not have the ability to execute to bring it to the next level. They would also need to be listed on sizable exchanges in order to reach that next level. The next three to six months would be critical for them – make or break."
Gamium price prediction 2022-2030
Algorithm-based forecasting service Wallet Investor was suggesting a bullish outlook for the future of the GMM price prediction at the time of writing (4 May). The site noted that GMM is "an awesome long-term investment", adding that it has a long-term earning potential amounting to 2,670.03%.
Based on its analysis of past price performance, WalletInvestor predicted that the token could cost $0.0364 in 2023 and reach $0.159 by 2027.
DigitalCoinPrice also supported the upbeat gamium coin price prediction, expecting the token to reach a target price of $0.00792 by the end of 2022 and grow to $0.0125 by the end of 2025.
By the end of 2027, the site projected the GMM crypto price prediction could reach $0.0146. Its long-term outlook showed the cryptocurrency has the potential to reach $0.0281 by 2030.
Note that analyst and algorithm-based price predictions can be wrong. Forecasts and analyst expectations shouldn't be used as a substitute for your own research. Always conduct your own due diligence and rely on your own projections, and never invest or trade money you cannot afford to lose.
FAQs
Is the gamium coin a good investment?

Whether GMM is a good investment for you depends on your personal circumstances and risk appetite. Cryptocurrencies are high-risk assets. You should do your own research and evaluate the level of risk you are prepared to accept before investing. Never invest money you cannot afford to lose.
How high can gamium token go?

At the time of writing (4 May), algorithm-based company Wallet Investor noted that the gamium crypto price prediction could reach $0.0364 in 2023 and jump to $0.159 by 2027. Meanwhile DigitalCoinPrice forecasted that the token could be worth $0.00792 by the end of 2022 and $0.0125 by the end of 2025.

It should be noted that predictions can be wrong. Forecasts shouldn't be used as a substitute for your own research. Always conduct your own due diligence before trading, and never trade money you cannot afford to lose.
Can gamium (GMM) reach $0.01?

Both algorithm-based forecasting services gave a bullish gamium (GMM) prediction expecting the token to surpass the $0.01 mark in the near future. According to Wallet Investor's projection, GMM was expected to surpass the $0.01 mark by 2027 reaching $0.159. On the other hand, DigitalCoinPrice's expectations outlined that the gamium coin could surpass the $0.01 mark much faster – by the end of 2025.