FTX crash the movie: Michael Lewis casts SBF, Binance chief CZ as Luke Skywalker and Darth Vader
Subscribe to Weekly Highlights
The major market events for the week ahead right in your inbox.
Subscribe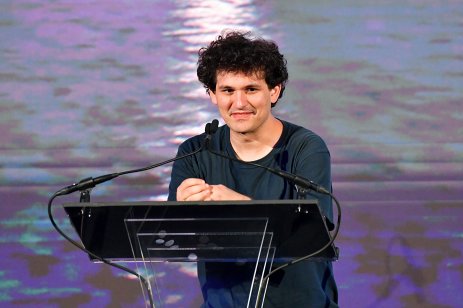 Content
Michael Lewis, the author of the The Big Short, Flash Boys and Liar's Poker, has spent the past six months with Sam Bankman-Fried, the former CEO of the now bankrupt cryptocurrency derivatives exchange FTX.
Lewis intends to write a book about Bankman-Fried and FTX, but has not yet started it.
The Ankler, Hollywood's insider newsletter, reported that a letter from agent Matthew Snyder from Creative Artists Agency (CAA), the US talent and sports agency based in Los Angeles, was sent to potential buyers of the film rights for the book.
Attempting to sell the idea of the book to film producers, Snyder described what Lewis had learned from his time with the former FTX CEO.
Snyder said: "His [Bankman-Fried] childhood, early success on Wall Street, embrace of effective altruism and the creation of a crypto empire that catapulted him in record time into the ranks of the richest people in the world seemed more than sufficient for a signature Michael Lewis book."
The events leading up to FTX filing for Chapter 11 bankruptcy have "provided a dramatic surprise ending to the story", said Snyder, adding that it will also highlight "the rivalry between Bankman-Fried and Binance head Changpeng Zhao".
According to the Snyder email, Lewis "likens them to the Luke Skywalker and Darth Vader of crypto" from the Star Wars film franchise.
BTC to USD
Links up three of Lewis' books
In August 2022, Lewis told Financial News that he did not want to reveal who he was going to write about, but he had "found a character through whom I can write about – it weirdly links up Flash Boys, The Big Short and Liar's Poker."
It now turns out the "character" Lewis must have been referring to was Bankman-Fried. Lewis added:
"I guess it is possible it will be framed as a crypto book, but it won't be a crypto book. It'll be about this really unusual character. You'll learn all about crypto and you'll learn about what screwed up market structure in the United States and so on."
In July 2022, Lewis interviewed Bankman-Fried on stage in the Bahamas, where FTX is headquartered, at Crypto Bahamas conference organised by FTX.
Lewis – who was also listed as a conference speaker – reportedly told the former FTX CEO at the time: "There's a status upheaval in the financial world, and you're sitting right in the middle of it."
Prominent speakers at the event also included former UK prime minister Tony Blair, former US president Bill Clinton and Bahamas Prime Minister Philip Davis
What is your sentiment on BTC/USD?
Vote to see Traders sentiment!
Related reading