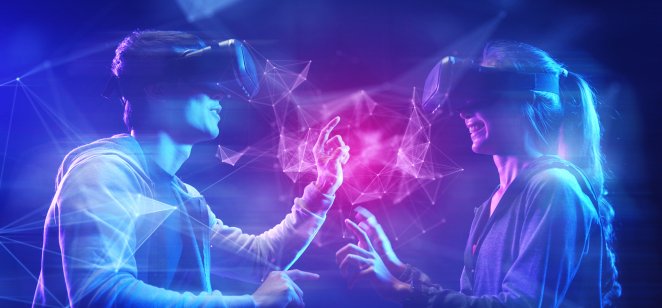 Content
Much has been said about leverage in bitcoin flying at its all-time high, but there are a number of coins with higher leverage than bitcoin, a report from Arcane Research shows.
Metaverse tokens are usually used as a unit of exchange in various gaming and virtual reality environments. These virtual tokens soared since Facebook/Meta's rebrand announcement last autumn, and four of these coins are now among cryptocurrencies with the most elevated leverage.
Leverage is "a catch-all term for when a trader uses borrowed money to invest or trade". The majority of leveraged trading uses derivatives, such as futures contracts. A perpetual contract is an agreement between parties to buy or sell an asset at a certain price. Unlike a classic future contract, a perpetual contract has no expiration or settlement date.
Open interest shows the total of outstanding, unsettled contracts in the market.
The funding rate is a fee, which is periodically paid by one party to the other one. When the funding rate is positive, traders with long positions pay to those with short positions. When the funding rate is negative, traders with short positions pay those with long positions.
The funding rate can serve as an indicator of traders conviction and sentiment in the market. When the funding rate is positive, it shows excess traders who are expecting the price of a token to go up. Conversely, when the funding rate is negative, it indicates FUD (fear, uncertainty and doubt) in the market.
Axie Infinity (AXS)
Axie Infinity has the highest open interest/market capitalisation ratio of the gaming tokens, sitting at 4.44%. "The open interest growth mostly being accompanied by a negative funding rate indicates that traders possibly hedge their metaverse bets through shorts in AXS," according to Arcane.
It is the 35th coin by market capitalisation, with $4.9bn.
Axie Infinity is a play-to-earn WEB3 game built on the Ethereum blockchain, where players meet to collect, raise, breed and battle digital pets dubbed 'Axies'. Its native token (AXS) is used to trade Axies.
What is your sentiment on BTC/USD?
Vote to see Traders sentiment!
Gala Games (GALA)
Gala's open interest/market capitalisation ratio is currently 4.15%. GALA, is currently the 57th coin, with $2.2bn market capitalisation.
Gala Games was launched in 2011 by Eric Schiermeyer – a co-founder of social and mobile games company Zynga, which has launched games like Poker, Mafia Wars and Farmville.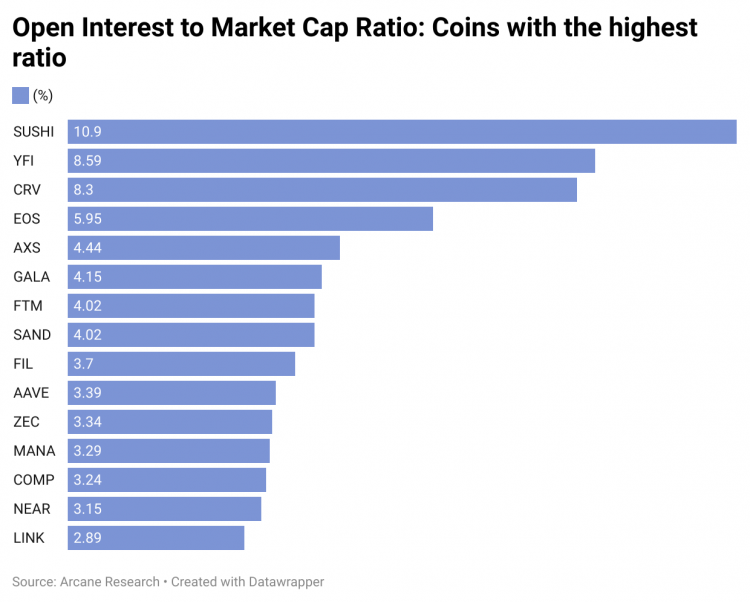 Open Interest to Market Cap Ratio: Coins with the highest ratio
Sandbox (SAND)
The Sandbox is a blockchain-based virtual world that allows users to create, build, buy and sell digital assets in the form of a game. The Sandbox's native currency, SAND – is 4.02%, according to Arcane's count. SAND currently has a market capitalisation of $4.4bn, making it the 37th largest coin.
GALA and SAND's "perpetuals (contracts that do not have expiry or settlement date) have generally seen more positive funding rates than AXS and MANA, further indicating that traders use AXS and MANA to hedge metaverse exposure."
Decentraland (MANA)
MANA is the 32nd coin by market cap with $5.5bn. Its open interest to market capitalisation stands at 3.29%.
Decentraland is "a virtual reality [VR] platform powered by the Ethereum blockchain", as per its whitepaper. The virtual land is permanently owned by the community whereby gamers use MANA to create, experience and monetise content and applications.
Read more