Cryptocurrency update: Market value hits $2.1trn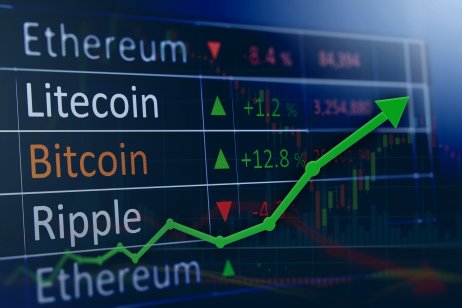 The momentum behind cryptocurrency shows no sign of abating any time soon, as total market capitalisation surpassed the $2trn level for the first time in three months. According to CoinGecko it hit $2.1trn on Saturday (14 August), representing a 2.5% increase in 24 hours.
The growth of key players that contributed in no small part to the healthy total included Bitcoin, which reached $48,152 at one point and Ethereum at $3,320.
The cryptocurrency duo accounts for 60.7% of the market, by value, with Bitcoin's dominance at 42.4% and Ethereum's at 18.3%.
Big players
Cardano, another big player in the crypto sector, recorded a 47% rise in the seven days to Saturday, securing a share value of $2.24 at one point on Saturday.
Dogecoin has seen its share price rise fairly steadily in recent weeks, but while the $0.34 price reached over the weekend is a high, the cryptocurrency's overall share price remains way lower than the May peak of $0.72.
The increase in cryptocurrency stock comes hot on the heels of the US Senate's approving of legislation to tighten up tax reporting rules on cryptocurrencies, a law that was vehemently opposed by the crypto industry.
What is your sentiment on BTC/USD?
Vote to see Traders sentiment!
Further legitimisation of crypto
Despite plying pressure on brokers working in the crypto field, it has been welcomed by shareholders as a further sign that cryptocurrencies are seen as a legitimate entity.
Bloomberg reported NYDIG Global Head of Research Greg Cipolaro as stating on Saturday: "The price of Bitcoin was surprisingly resilient in the wake of the news. We interpreted this price action as extremely bullish…we think the recognition of the crypto industry by lawmakers was ultimately a legitimising event, one that should give investors comfort that this industry is here to stay."
The fact that the senate is reported by Cointelegraph as offering "cautious reassurance that the new legislation won't impact innovation and growth in the blockchain industry" can only have boosted confidence among investors.
Monday opening prices encouraging
The cryptocurrency market has remained bullish, if early morning trading is anything to go by. Bitcoin has slipped 0.3% to $47,446, hardly an earth-shattering fall.
Ethereum's position has also remained fairly flat at $3.284. Likewise, early Monday trading has not seen any change in Carano's share price, which currently stands at $2.14.
Trade Bitcoin to US Dollar - BTC/USD CFD
Read more: Cardano shoots up close to $2 on anticipated network upgrade