Cryptocurrency CityCoins comes to New York City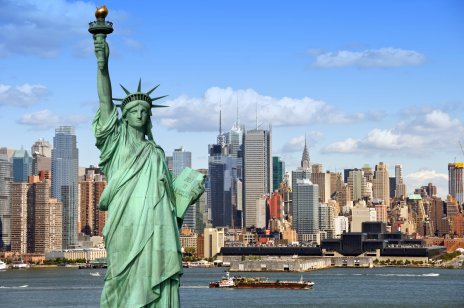 CityCoins launched its latest offering, NYCCoin, on Thursday as a follow-up to MiamiCoin, which debuted in August and has already generated over $20m (£15m).
The thrust of the program is that coins are mined via the Stacks protocol, with 70% of mining rewards heading to users, or "stackers," and 30% going into a treasury that New York City can convert into fiat currency, the US dollar, at its convenience. In addition to the fixed funding for the city, individual users can program the tokens to produce non-fungible tokens or Web 3.0 apps, further diversifying contributions.
"CityCoins like NYCCoin are grassroots initiatives," CityCoins said. "As communities grow around CityCoins, they can encourage their mayor to claim the reserved city treasury wallet and begin putting its funds to use."
Bullish mayors
Miami mayor Francis Suarez has been enthusiastic about cryptocurrency in general and this product specifically. Miami's commissioners voted on a proposal regarding MiamiCoin, but thus far the full extent of New York City's endorsement seems to be tweets and other public statements from mayor-elect Eric Adams.
"We're glad to welcome you to the global home of Web3! We're counting on tech and innovation to help drive our city forward," Adams tweeted on Monday.
Suarez and Miami have appropriated the funds for crypto education, efforts to mitigate climate change and to improve conditions in underserved communities. Suarez has also advocated for a bitcoin option to compensate city workers. While Adams, who was elected last week but has yet to take office, has not formalised any specific agreement, he has been a major proponent of cryptocurrency and teaching area students about blockchain and related technologies.
Both mayors have vowed to take their salary in bitcoin – Suarez for an entire year and Adams for his first three paychecks.
"In New York we always go big, so I'm going to take my first three paychecks in bitcoin when I become mayor," Adams tweeted last week. "NYC is going to be the centre of the cryptocurrency industry and other fast-growing, innovative industries! Just wait!"
What is your sentiment on BTC/USD?
Vote to see Traders sentiment!
Austin next
Suarez estimated that MiamiCoin could generate as much as $60 million over its first year in existence and Adams has been ebullient about the prospects in New York.
Texas's capitol of Austin lost out to New York City to become the second site for a municipally oriented cryptocurrency.
"We voted on what city should be next," Patrick Stanley, a CityCoins community lead, told Bloomberg, stating the debate between Austin and New York was settled after a speech by Adams.
According to CityCoins website, AustinCoin will be launching soon.
Read more: How to buy Bitcoin? Find the best way to invest in crypto