Cryptos pose sanctions risk warns US Treasury Department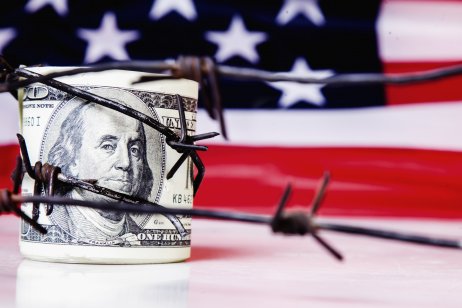 The increasing use of digital currencies and alternative payments platforms are emerging as new ways of hiding cross-border transactions, threatening the efficacy of US sanctions, a new report from the US Department of the Treasury has found.
The Treasury Department said that new technologies are offering "malign actors" opportunities to hold and transfer funds outside the traditional dollar-based financial system in a report published on Monday.
"They also empower our adversaries seeking to build new financial and payments systems intended to diminish the dollar's global role. We are mindful of the risk that, if left unchecked, these digital assets and payments systems could harm the efficacy of our sanctions," the report added.
Biden instigated sanctions review
The report, a review of the US sanctions, was ordered earlier this year, shortly after President Joe Biden took office in January.
Though the report did not specify which of its "adversaries" are building to build new financial and payments systems, the report appears to be referring to China. A key rival of the US and subject to several of its sanctions, China has been developing a digital version of the yuan.
While China has denied suggestions that the digital yuan aims to replace the dollar, it has not prevented discussions on various forums about such a possibility. The US dollar has been the world's reserve currency since 1944.
US Treasury should "invest" in digital knowledge
For sanctions to be effective and not undermined by cryptocurrencies, the Treasury's report recommended better communication of sanctions and build an outreach with new constituents of the financial system, such as those in the digital assets sector.
Further, the report also suggests modernisation of the Treasury's workforce and operational capabilities. "The Treasury should invest in deepening its institutional knowledge and capabilities in the evolving digital assets and services space to support the full sanctions lifecycle of activities," the report stated.
Read more: Digital yuan will not drive internationalisation of the RMB