Crypto news: ETH hits new high amid record total market cap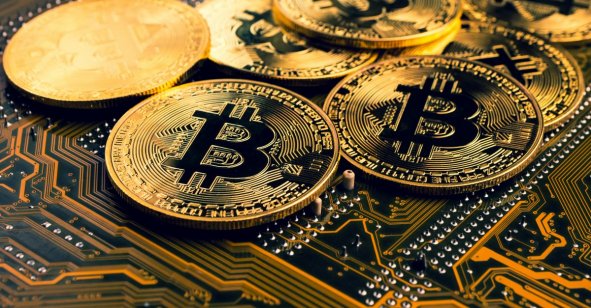 The total market capitalisation of cryptocurrencies has climbed to an unprecedented $2.75trn (£2.02trn), helped by some of the best-known coins reaching all-time highs of their own.
Ether set a new lifetime high of $4,638.45 on Wednesday early morning in London, pushing the market value of the second largest cryptocurrency close to $550bn. Solana hit its own fresh peak of $232.65. Polkadot, one of the top 10 coins by market capitalisation, broke its own record yesterday.
Amidst the overall bullishness, will we see the flagship cryptocurrency join the rally and challenge its resistance levels? Bitcoin was trading between $63,000 and $64,000 on Wednesday morning. After being in consolidation mode for two weeks, moving mostly between $58,000 and $64,000, the closest technical resistance is now around $64,000, a level that marked the top of the spring rally, according to a note from analysts from research firm Arcane.
Should bitcoin break through the upper end of its consolidation range, the next resistance would be $67,000, Arcane believes. At the same time, the lower end of the current consolidation range – the $58,000 mark – would act as an important support level: "This level was flipped from resistance to support amid bitcoin's 15 October breakout and has acted as strong support within the current consolidation range. If the $58,000 support level fails, bitcoin has support within the $54,000-$56,000 level and strong support around $50,000," the analysts wrote.
What is your sentiment on DOGE/USD?
Vote to see Traders sentiment!

Chart: Bitcoin consolidation range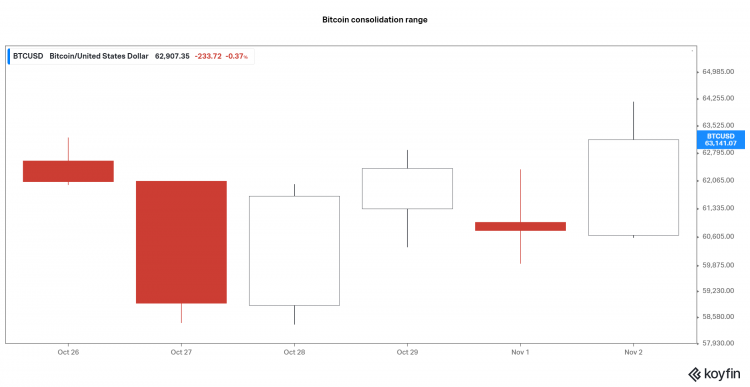 Bitcoin consolidation range chart – Credit: Koyfin

Quote of the day:
JP Morgan's strategists offer their bitcoin outlook after their model placed the main cryptocurrency's price at "fair value at around $35,000" and the price target of $73,000 as "reasonable".
"This challenges the idea that a price target of $100K or above, which appears to be the current consensus for 2022, is a sustainable Bitcoin target in the absence of a significant decline in Bitcoin volatility."
Roundup of the biggest coins by market capitalisation:
Bitcoin was down 0.3% over the past 24 hours to $63,090 at around 11:00 GMT (UTC)
Ether was up 2.6% to $4,562.36
Binance Coin added 1% and was trading at $550.23
Key winners and losers:
Ether and Solana's latest gains brought the coins to their all-time record levels. Ether was up 5.4% and Solana 12.3%
Shiba Inu was the only major coin in the red during London's early morning hours, after losing 7% over the last 24 hours
Other crypto news:
The US Department of Justice is hiring a prosecutor to head its nascent National Cryptocurrency Enforcement Team. The unit's job will be to investigate and prosecute crimes in which cryptocurrency is used as an illicit tool.
Australia's largest bank, the Commonwealth Bank of Australia, will offer cryptocurrency trading services to customers.
Read more on Capital.com: Ether and Solana scale new peaks, while BTC awaits upgrade