Crypto news: BTC short squeeze "likely" in near term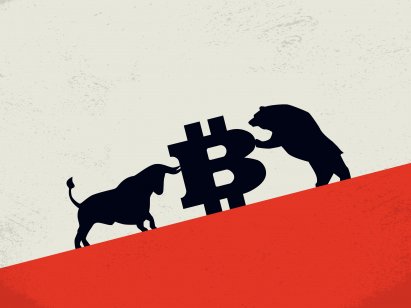 With bitcoin (BTC) open interest at an all-time high, its price declining, and some indicators pointing to bearish sentiment in the market – the Crypto Fear and Greed Index shows the market is experiencing extreme fear – some market watchers have hinted at a possibility of a short squeeze of traders shorting bitcoin in the near-term future.
In a report published today, blockchain analytics firm Glassnode said: "Since November, bitcoin futures has been in a regime of long liquidation dominance, where traders betting on 'Number Go Up' are consistently on the losing side. This value recently spiked to a local high of 69%, its highest value since the May 2021 crash.
"Factoring in this observation with the aforementioned rise of open interest into declining price, and the probability of a local reversal is increasing. Short traders, who have not been punished for taking on increasing risk, may find themselves candidates for a near-term squeeze."
The report echoed similar sentiment from another cryptocurrency analytics firm, IntoTheBlock, earlier this week. "Potential short squeeze ahead," the company tweeted. "The ratio of bitcoin's open interest relative to its market capitalisation has reached the highest level in over a year. The last time the open interest/market capitalisation ratio increased while bitcoin's price decreased was in July 2021, which marked the bottom."
What is your sentiment on BTC/USD?
Vote to see Traders sentiment!
Other crypto news:
American socialite Kim Kardashian and boxer Floyd Mayweather are among those being sued over their promotion of cryptocurrency EthereumMax, the legal intelligence website Law360 reports. "Defendants touted the prospects of the company and the ability for investors to make significant returns due to the favorable 'tokenomics' of the EMAX Tokens," investor Ryan Huegerich alleges in his suit, according to Law360. "In truth, defendants marketed the EMAX Tokens to investors so that they could sell their portion of the float for a profit."
Quote of the day:
Andre Drummond NBA player, team Philadelphia 76ers
"I'm excited to announce I'm taking part of my salary in BITCOIN."
Top coins by market capitalisation
As of 11:40 GMT:
Winners and losers
Near protocol (NEAR) and cosmos (ATOM) added 12.34% and 4.06% respectively over the last 24 hours, making them the biggest daily gainers out of 50 biggest virtual tokens
Sandbox (SAND), helium (HNT) and uniswap (UNI) lost 4.83%, 4.20% and 3.72% respectively.
Read more: Crypto selloff continues as investors remain bearish