Crypto news: US government holds crypto mining hearing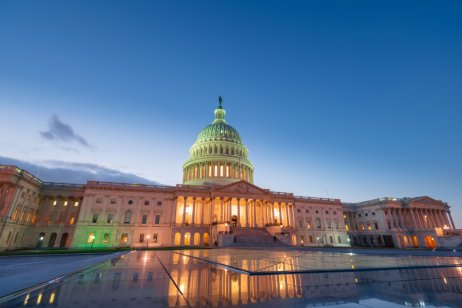 Bitcoin (BTC) was flat in London morning trading, with the overall cryptocurrency market adding 0.66% over the last day (as at 11:30 UTC).
Meanwhile, keen crypto market watchers are looking towards Capitol Hill in Washington, as the US government's House Committee on Energy and Commerce's Subcommittee on Oversight and Investigation is due to hold a hearing today on the energy impact of blockchain and cryptocurrency mining.
Last year saw what came to be known as the great mining migration. In May, China – which until that point had been the world's cryptocurrency mining capital – banned the practice. Many crypto miners moved to North America, and by mid-October, the United States claimed the top spot for miners, with 35.4% of Bitcoin's hash rate taking place in the States, according to the Cambridge Centre for Alternative Finance.
The price of bitcoin and the entire cryptocurrency market is vulnerable to mining bans. China's announcement sent BTC plummeting at the time. More recently, at the beginning of 2022, an electricity outage in Kazakhstan coincided with a dip in the crypto market. Yesterday, the vice-chair of the European Securities and Markets Authority, Erik Thedéen, called for a blanket ban on energy-intensive, proof-of-work cryptocurrency mining in an interview with the Financial Times. His call has so far not sparked a notable market reaction, but Europe has never been a top destination for crypto miners.
What is your sentiment on BTC/USD?
Vote to see Traders sentiment!
Other crypto news
Self-proclaimed bitcoin inventor, Australian computer scientist Craig Wright, pushed back against a new trial against him requested by the estate of his late friend and collaborator, Dave Kleinman. Wright argues that attorneys for the estate, whose executor is Kleinman's brother, Ira Kleinman, failed to object to alleged violations of a pretrial order barring the parties from discussing the relationship between Kleinman and his brother.
The US market regulator, the US Securities and Exchange Commission, has given out a total of some $2.35bn in fines against digital asset market participants since 2014, citing data provided by Cornerstone Research.
Top coins by market capitalisation
As of 11:30 UTC:
Winners and losers
FTX token (FTT), a native token of cryptocurrency exchange FTX, grew 9.76% over the last day and 14.48% over the last week.
Polygon (MATIC) and shiba inu (SHIB) lost 12.53% and 12.46% respectively over the last seven days.
Read more: Will the crypto market decline continue in 2022?