Crypto news: HODL bitcoin? Long conviction 'uptrending'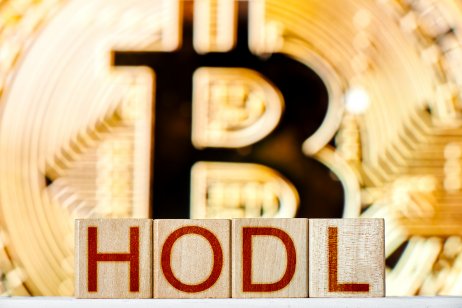 The cryptocurrency market has had an underwhelming start of 2022 so far. Bitcoin (BTC) is down 7.4% year to date and is trading 37.8% below its all-time high recorded last November.
Meanwhile, the extreme fear in the market has been at the highest in months, the Crypto Fear and Greed index shows.
But data about long-term holdings indicates a more positive outlook, an analysis by cryptocurrency exchange Kraken shows.
In a recent report, Kraken looked at the BTC HODL Waves metric, which measures the proportion of BTC circulating supply that has not moved for long periods of time. HODL is a code for a deep conviction among cryptocurrency market enthusiasts. It originated as a misspelling of 'hold' in an internet forum.
"There doesn't appear to be any abnormal selling (among long-term holders) despite the year-end pullback," Kraken's report noted. "Long-term holding conviction is uptrending after moving sideways for the past several months.
"However, should the market weaken further and dormant coins begin to be sold off, BTC's existing supply shock would fade as more immediately marketable BTC supply grows.
"Though such would imply that the bears have taken market control for the moment, for the time being it seems that the bulls have yet to lose the battle."
???? BTC's HODL Waves indicates that long-term holding conviction is rising after moving sideways for the past several months.

For the time being it seems that the bulls are still in the fight ???? ????

Read the report from Kraken Intelligence: https://t.co/09rs1yenEB pic.twitter.com/fuQGtrKYrm

— Kraken Exchange (@krakenfx) January 16, 2022
Quote of the day: 'Nothing more than a pyramid scheme posing as currency'
Jon Stephenson von Tetzchner, chief executive of Vivaldi Technologies, the company behind the Vivaldi web browser, wrote in a blog post:
What is your sentiment on ADA/USD?
Vote to see Traders sentiment!
"Cryptocurrency has been touted by many as a revolution in currency, the future of investment, and a breakthrough technology. But if you look beyond the hype, you'll find nothing more than a pyramid scheme posing as currency."
Other news:
Singapore's central bank is looking to tame cryptocurrency promotions, Reuters reports. The Monetary Authority of Singapore has issued guidelines to discourage crypto trading by the public.
Top coins by market capitalisation
As of 09:35 UTC:
Winners and losers
Cardano (ADA) defied the price movements of major virtual tokens, adding 8.95% over the past 24 hours and 33.75% over the last week. Meanwhile Near protocol (NEAR) recorded another all-time high, reaching as high as $20.42, having risen 38.07% over the past seven days.
Terra (LUNA) lost 5.59% over the last 24 hours, making it the biggest daily loser in the top 10 coins by market capitalisation
Read more: Cardano outperforms rivals as DApp deployments gather pace