Crypto exchange AscendEX confirms weekend hack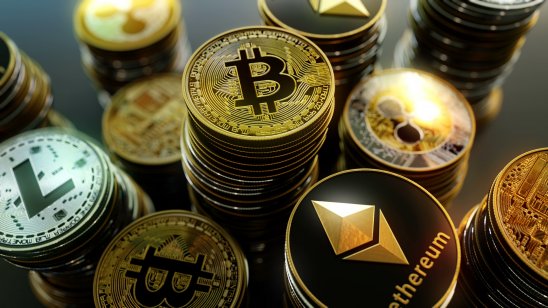 Cryptocurrency exchange AscendEX has reportedly lost up to $77.7m (£58.6m) in a hack which took place over the weekend.
"On 11 December at approximately 22:00 UTC, AscendEX identified a number of unauthorised transfers from one of our hot wallets," AscendEX said in a series of Tweets.
"A security response was initiated immediately. Cold wallets are unaffected, and any impacted users will be reimbursed 100%."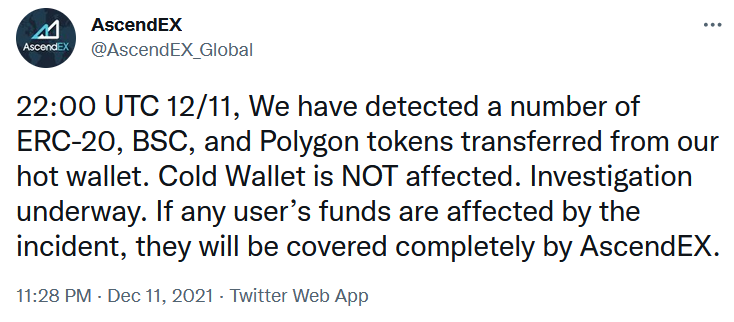 A Tweet from AscendEX confirms the hack – Photo: Twitter
Remediation Tweets
The exchange also outlined remediation steps it was taking in the Twitter posts.
"We are working alongside chain analytics firms and law enforcement to monitor the transferred assets. We are also in close contact with other CEXs to blacklist wallets associated with the incident."
Security research firm PeckShield estimated AscendEX's losses at $77.7m across three blockchains: $60m on Ethereum (ETH), $9.2m on Binance Smart Chain (BSC) and $8.5m on Polygon (MATIC).
What is your sentiment on ETH/USD?
Vote to see Traders sentiment!

Research firm PeckShield tweets the amount of losses – Photo: Twitter
No official word
There were no statements on the official AscendEX website or company blogs about the hack.
AscendEX did not immediately respond to a request from Capital.Com for comment.
According to data from Coinmarketcap.com, AscendEX – formerly known as BitMax – is ranked 35 out of its 304 listed crypto exchanges with volume of $101.6m in the past 24 hours.
Last week, crypto exchange BitMart suffered a hack with losses estimated between $150m to $200m.
Read more: Crypto platform BitMart loses 0m in weekend hack